De mensenversnipperaar
1 augustus 07:57, 2005
"There was a machine designed for shredding plastic. Men were dropped into it and we were again made to watch. Sometimes they went in head first and died quickly. Sometimes they went in feet first and died screaming. It was horrible. I saw 30 people die like this. Their remains would be placed in plastic bags and we were told they would be used as fish food . . . on one occasion, I saw Qusay [President Saddam Hussein's youngest son] personally supervise these murders."
Times Online, 18 maart 2003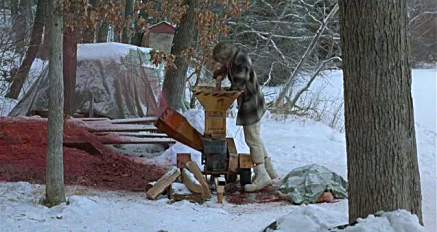 Arnaud de Borchgrave, voor oplettende lezertjes reeds bekend van het opzetje met Michael Ledeen om Jimmy's broer Billy Carter een poets te bakken (Billygate), was vanaf 1950 Newsweek's voornaamste buitenlandcorrespondent. Hij schreef in 1980 samen met Robert Moss de spionageroman The Spike over KGB operaties in de media ten tijde van de Vietnamoorlog. Vriend Ledeen mocht het boek recenseren.
De NRC schreef in 1981:
[M]et The Spike, een boek waarvoor Reagan tijdens zijn verkiezingscampagne reclame maakte en dat in de Verenigde Staten een bestseller werd, is iets vreemds aan de hand. Het werd toen het vorig jaar op de Amerikaanse markt verscheen op de voorkant aangeprezen als een verhaal dat zo explosief is dat het alleen als fictie verteld kan worden. Op de omslag van de pocketeditie die sinds kort in Nederland te krijgen is heet het dat The Spike gaat over de geheime geschiedenis van onze tijd. De Borchgrave is een rechtse Amerikaanse journalist die zich beroemt op zijn uitstekende contacten met westerse inlichtingendiensten. De Engelse publicist Moss is een goede vriend van het Chileense bewind en schreef eerder Chile's Marxist Experiment, een boek dat door de regering Pinochet als propagandawerk werd verspreid.
[..]
Door The Spike als fictie te schrijven maar als werkelijkheid te presenteren, hebben de Borchgrave en Moss een slimme truc uitgehaald. In het boek zitten zoveel verwijzingen naar echt bestaande personen en instellingen en worden bovendien verzonnen namen zo afgewisseld met die van Jimmy Carter, Jane Fonda, Leonid Brezjnew, dat het toch als non-fiction gelezen en besproken wordt.
De titel van de roman verwijst naar het 'spiken' (negeren) van verhalen door de media vanwege hun politieke kleur, een vast thema van De Borchgrave. In dit hoofdredactioneel gebruikt hij de term bij een voorbeeld dat Ledeen beschreef; de Amerikaanse media hebben volgens hem dezelfde agenda als Al Jazeera.
Kort na publicatie van het boek vertrekt De Borchgrave bij Newsweek, naar verluidt ontslagen omdat hij dossiers bijhield over collega's. Hij wordt hoofdredacteur van The Washington Times en CEO van UPI, respectievelijk de krant en het persbureau van 'Dominee' Sun Myung Moon.
In maart 2003, bij het begin van de Irakoorlog, doet De Borchgrave verslag vanuit Jordanië. Daags na de invasie vertelt hij over een groep anti-oorlogsdemonstranten en levende schilden die met ongecensureerd video-materiaal de Jordaanse grens bereikten. Eén van hen, de priester Kenneth Joseph, zijn de schellen van de ogen gevallen en is sterk vóór de oorlog doordat verschillende Irakezen voor zijn camera vertelden over een industriële plastic shredder waar mensen levend in werden gegooid.
Het gerucht van een mensenversnipperaar circuleert dan al enige tijd. Vlak voor de oorlog, als er in het Britse parlement over wordt gedebatteerd, publiceert parlementslid Ann Clwyd het opiniestuk See men shredded, then say you don't back war in de Times. Clwyd is Blair's speciale gezant voor mensenrechten en voorzitter van Indict, een Britse organisatie die vanaf '96 campagne voert voor een tribunaal ter vervolging van oorlogsmisdaden en misdaden tegen de menselijkheid in Irak. Dat artikel heeft grote invloed en de shredder, die volgens Clwyd in Abu Ghraib staat, is wereldnieuws. Als de Australische premier de deelname aan de oorlog motiveert in een toespraak, noemt hij onder andere de mensenversnipperaar. Het verslag van De Borchgrave zorgt voor een tweede publiciteitsgolf.
Na de val van Baghdad ontstaan er twijfels over het artikel van De Borchgrave. Videomateriaal ontbreekt en Kenneth Joseph blijkt geen anti-oorlogsdemonstrant of menselijk schild, maar de kleinzoon van in 1919 uit Irak gevluchtte Assyrische Christenen, die in 2002 is benaderd door het Amerikaanse Ministerie van Buitenlandse Zaken. Joseph schrijft in oktober van dat jaar:
Currently, the State Department is attempting to put together a coalition of Iraqi Nationalist Groups to decide on a future Government, but the Assyrian Christians as the only non-Islamic group in the mix are at a decided advantage.
[..]
The next few months are extremely critical as the plans for a post-Sadaam Iraq are put together and the government and divisions of authority are being decided.
Ook bij het stuk van Clwyd blijken nogal wat kanttekeningen te plaatsen.
Van de Iraakse mensenversnipperaar ontbreekt tot heden ieder spoor.
Bestaat de mensenversnipperaar alleen in spionageromans?
'Dominee' Moon, de eigenaar van de Washington Times, verplaatst in 1972 het hoofdkwartier van zijn Unification Church naar de V.S. De kerk wordt gezien als een fanatieke sekte gefinanciëerd met Koreaans en Japans geld. Moon raakt betrokken in de gate die tussen Watergate en Billygate zit: Koreagate, een schandaal waarbij politici in Washington door de KCIA (de Koreaanse geheime dienst) zijn omgekocht. De kwestie wordt door het Congres onderzocht. Eén van de getuigen is Kim Hyung Wook, een gevluchte oud-directeur van de KCIA. Kim verdwijnt in '79 spoorloos als hij in Parijs een affaire begint met een Koreaanse actrice.
Als gevolg van het onderzoek wordt Moon in '82 wegens belastingfraude veroordeeld tot een boete en 18 maanden cel. In juli '84 belandt Moon in de gevangenis, kort nadat de hoofdonderzoeker, Robert Boettcher, van het dak van zijn appartement aan Central Park doodvalt.
De verdwijning van Kim Hyung Wook wordt in april van dit jaar opgelost als een KCIA-agent bekent Kim te hebben vermoord samen met een tweede, door de Mossad getrainde, KCIA-agent:
We then anesthetized him inside a Cadillac and pushed his body into a grinder at a chicken farm located 4 kilometers northwest of Paris at about 11 p.m., to feed chickens.
Noot:
Wie verantwoord zijn papier wil vernietigen kan terecht bij de firma Fargo Electronics: The Fargo P210/4 (Straight Cut) has received a medium ethical rating. Ethical issues into which research was carried out include political donations and animal testing.
Notice
: Undefined variable: name in
/home/tj/var/www/alt-f4.org/comments.php
on line
3
Notice
: Undefined variable: email in
/home/tj/var/www/alt-f4.org/comments.php
on line
4
Notice
: Undefined variable: url in
/home/tj/var/www/alt-f4.org/comments.php
on line
5
Notice
: Undefined variable: com2 in
/home/tj/var/www/alt-f4.org/comments.php
on line
6