Kwam de kogel wel van links?
21 november 07:07, 2005
De kogel kwam van links, niet van rechts. [...] Hoe lang moeten we nog tolereren dat een vijfde macht van niet-democratisch gekozen organen ons de wet dicteert?
Peter Langendam, Het Parool, 13 mei 2002
Als officieel voorzitter van een nieuwe politieke beweging laat je je niet leiden door een teveel aan subtiliteit bij het verwerken van de dood van de Goddelijke Kale. En je bent niet de enige, er zijn er meer die vragen hebben rondom deze moord.
De titel van dit stuk refereert echter aan iets anders: de moordaanslag op president John F. Kennedy. Oude koek, zult u wellicht zeggen. U bent bekend met de magic bullet theorie, de Zapruder film, de dood van agent Tippit; kortom u hebt Oliver Stone's JFK gezien, en u denkt het verhaal van haver tot gort te kennen. Uw attitude, kortom, is gebaseerd op door uzelf geaccepteerde waarheden, zonder uw eigen onderzoek te hebben gedaan. Zulks is ook vrij logisch, gezien de huidige afstand (in zowel tijd en plaats) van het gebeurde.
Er is echter een eenvoudige manier om delen van deze theorie te toetsen, en dat is door de film die Abraham Zapruder maakte van de moordaanslag te bestuderen. De (uiteraard doelbewust gecreërde) controverse rondom JFK spitst zich natuurlijk toe op de vraag óf Lee Harvey Oswald inderdaad 3 schoten vanuit de Texas School Book Depository loste, óf dat ie 'maar' een patsy ('zondebok') was. Een voortdurend continuum van twijfel, dus. Het zou mooi zijn als u daar, voor uzelf, klaarheid in kan brengen.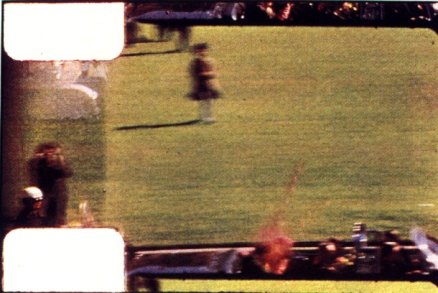 Analyse
Alt-f4 heeft alhier een digitaal verbeterde en gestabiliseerde kopie van de Zapruder film opgeduikeld. Als we deze film goed bekijken, zien we twee gebeurtennissen. Op het moment dat de open auto achter het verkeersbord tevoorschijn komt, grijpt Kennedy naar zijn keel, en maakt de arm van Gouverneur Conally (zittend recht voor Kennedy) in een flits een beweging naarboven. Conally kijkt om, en duikt weg. Kennedy zakt licht voorover en zijdelings weg. Twee seconden later volgt het fatale schot. De centrale vraag hier is: kwam dit laatste schot van links, of van rechts? Het antwoord 'links' ondersteunt de lone gunman theorie (de kogel komt uit de book depository), 'rechts' duidt op een schutter op de grassy knoll, een tweede schutter dus.
De bewegingen van het lichaam van Kennedy rondom dit fatale schot zijn als volgt. Kennedy, reeds geraakt in zijn hals, zakt langzaam voorover. Op dat moment: het fatale schot. Het lichaam van Kennedy maakt een ruk naar achteren en links, en valt weg. Einde aanslag. Hier zijn drie mogelijkheden over deze beweging van Kennedy's lichaam op een rijtje gezet:
De kogel kwam uit de book depository, raakte Kennedy achter in het hoofd, en verliet het lichaam weer aan voorzijkant van het hoofd. Kennedy was inmiddels al met zijn kin op zijn borst gezakt, een daardoor stuitert zijn hoofd terug, waarop het hele lichaam naar achter en links wegvalt.
De kogel kwam van de grassy knoll; raakte Kennedy in de voorzijkant van zijn hoofd. De klap is zo hard dat z'n lichaam de impulsrichting van de kogel overneemt, en daardoor een ruk naar linksachter maakt.
De kogel kwam van een niet nader te bepalen richting, de beweging van Kennedy's lichaam naar achteren is het resultaat van een lichamelijke reflex.
Bestudeer nu de Zapruder Film nauwkeurig. Zet hem bijvoorbeeld in een loop, maar ga door totdat je voldoende vertrouwen hebt met wat je daar ziet gebeuren, en bepaal je standpunt ten opzichte van de drie bovenstaande opties.
Er valt over bovenstaande verklaringen het volgende te zeggen: verklaring 1 gaat uit van dat kennedy's hoofd op zijn borst leunt. Aan de beelden te zien is dat niet zo, of Kennedy's nek moest ineens fiks korter zijn dan van hem bekend was. Ook geldt dan, de totale impulsoverdracht vanuit de achterkant was, en het lichaam in geheel toch nog een versnelling naar voren zou hebben gekregen. Optie 3, de lichaamsreflex, valt ook af, juist gegeven het feit dat het begin van een lichaamstreflex meestal pas na 50 tot 100 millisconden te zien is. In de Zapruder film is te zien dat het lichaam meteen in beweging komt. Hiermee blijft optie 2 als enige serieuze kandidaat over: het lichaam volgt de impulsrichting van de kogel.
Optie 1 is uiteraard onderdeel van de analyse van de Warren Commission; past volledig in de officiële lijn. Interessant is dat deze optie nog steeds actief verdedigd wordt (deze link staat erg hoog in Google). Optie 2 is de Jim Garrison-optie, oftewel de complot-optie. Gepopulariseerd in de film JFK (memorable quotes) en verder uitgediept op sites als deze.
Optie 3 is voor de volledigheid toegevoegd.
Wat is het doel van zo'n analyse?
JFk is niet een primair onderwerp van Alt-F4. We hebben ook weinig toe te voegen aan het reeds bekende. Hij die meer wil lezen kan hierover enorme hoeveelheden aan informatie vinden. Echter, de casus hier was of de officiële verlaring klopt, en dat doet hij duidelijk niet. De fatale kogel kwam van rechts, dus kunnen we concluderen dat er meer dan 1 schutter is geweest. Dan hebben we hier automatisch te maken met een samenzwering. Logisch redeneren vanuit bestaand beeldmateriaal kan dus veel resultaat hebben bij het verifieren van de officieel geepresenteerde onderzoeksrapportage. Op dat moment is het eenvoudig volhouden van zulke discrepanties genoeg om de geloofwaardigheid van het officiële verhaal te ontkrachten.
It's all visuals [..] You campaign as if America was watching TV with the sound turned down. It's all visuals.'
Karl Rove, Bush's Brain
Hoe wordt er rondom 911 met zulk beeldmateriaal omgegaan?
WTC7: Eerder werd hier de vreemde kollaps van WTC 7 behandeld. De afgelopen jaren is in het wereldje van conspiracy websites hier al flink op gehamerd. Twee weken terug kwam uit onvermoede hoek ene Stephen Jones, natuurkundeprof aan de Brigham Young University in Utah (nauwelijks een politiek bolwerk te noemen), met deze uitgebreide analyse over WTC 7. Deze figuur is niet van de crackpot/tinfoil-hat brigade, maar moet dat blijkbaar wel snel worden: MetaFilter filtert meta, maar ook MSNBC probeert de doos van pandora weer te sluiten. Tucker Carlson raffelt in zijn show Jones en z'n gekke theorie zo snel mogelijk af, maar voelt zich wonderlijk genoeg genoodzaakt om twee dagen daarna het onderwerp nogmaals weg te trappen met een vaderlijk strenge preek, dit vanwege het feit dat er wel erg veel klachten van kijkers over de behandeling van Jones binnenkwamen:
Ponder that for a second: The U.S. government killed more than 3,000 of its own citizens. For no obvious reason. Then lied about it. Then invaded two other countries, killing thousands of their citizens as punishment for a crime they didn't commit.
If you really thought this - or even considered it a possibility - how could you continue to live here? You couldn't. You'd leave the United States on the next available flight and not come back. You'd have no choice. Continuing to pay taxes to a government capable of something so evil would make you complicit in the crime. Tucker Carlson, The Situation, MSNBC
Een waar woord, Tucker, maar is dit niet een reden om echt de boel eens een keer te gaan onderzoeken? Aan deze kant van de oceaan zitten wij ook niet te wachten op een influx aan
Amerikaanse
politiek vluchtelingen, zeker als toch zou blijken dat ene
Tim Osman
achter 9/11 zat.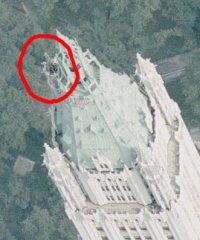 Raketten vanaf the Woolworth: eigenlijk te weird. Het verhaal is als volgt: op het moment van de inslag van het eerste vliegtuig in de noordtoren werden er raketten gelanceerd van de top van het Woolworth gebouw, richting WTC1. Onder het motto anything goes nowadays: lees, en geniet, en probeer zelf de beelden en aangehaalde getuigenissen te verklaren. (Noot: Alt-F4 heeft z'n theorieen het liefst niet al te driest.)
U kunt het eventueel allemaal zelf navragen bij Richard 'Bo' Dietl, want zijn bedrijfje doet (deed) de beveiliging van het Woolworth gebouw. Hier nog wat meer Dietliaanse Americana uit New York, waar, als je de juiste mercedes hebt, overal gratis kan parkeren. (Mooi toch?)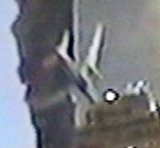 Brommers kiek'n: In vervolg op dit artikel is het waard om een paar andere dingen aan te stippen. Indertijd heb ik mij gebaseerd op een afbeelding waarvan aan de echtheid flink getwijfeld wordt: 'Ghost Gun UA175'. Ik sta gecorrigeerd! Alle bestaande inslagvideo's worden tot nep verklaard, aan de hand toch wel een hele hoop aan geconstateerde rare dingen in deze zeven video's (plus fotomateriaal). Een hieraan gerelateerd zaakje is de snelheid waarmee het vliegtuig zich door de toren verplaatst en er aan de andere kant weer uitkomt: 'Proof of Video Fakery for the Second Hit!!!!!'.
Zeker de eerste link is zeer uitgebreid en grondig. Of de conclusies waar zijn? Geheel overtuigen doen ze (nog) niet, maar eerlijk gezegd ligt dat niet aan de onderzoeksmethode, of de redeneertrant. De gepresenteerde paradigma-shift is zelfs mij te hoog, maar als onzin valt het ook niet helemaal weg te zetten.
De Bell 212: De ons reeds genoegzaam bekende ufoloog met de platte praatjes heeft de beelden van de mysterieuze helikopter boven het WTC nog eens bij elkaar geveegd. Alhoewel hij er alweer vanalles bijsleept, is het aardig om die helikopter in de gaten te houden. Daar wordt ook nog gerefereerd aan de mysterieuze white jet. Beiden duiken ook op in dit stuk. Eigen verantwoordelijkheid eerst, maar ik wil hem u niet graag onthouden. Weet u wat daar gebeurt?
Draagt Alt-f4 nu ook een aluminium hoed?
Uiteraard niet. Hierboven is rijp en groen verzameld. De geloofwaardigheid van deze beelden staan niet altijd vast, en ook is er aan de interpretatie van scribenten af en toe wat af te dingen. Echter het is meestal wel gebaseerd op een grote hoeveelheid aan beschikbaar beeldmateriaal. De beelden komen ook uit veel verschillende bronnen, dus is de kans dat het geregistreerde ook daadwerkelijk zo te zien was, wel erg groot. Dan is de hyperventilerende interpretatie van een platte ufoloog als Rense (op zich best te genieten) randruis: wat gebeurt er nu echt?
Daarmee wordt de vraag: áls een fiks deel van bovenstaande als vermeld gebeurd is, én er geen enkele officiële verklaring voor komt, én mensen die er wél mee komen al snel publiekelijk afgebrand worden: wat is hier aan de hand?
De consequenties van deze vraag blijkt ook iemand als Carlson donders goed te snappen: de vraag kan beter niet gesteld worden, op straffe van het tot leven wekken van boze geesten. Erg boze geesten.
Andere kogels
Inmiddels zijn er ook nog een paar andere rondvliegende kogels die de afgelopen weken voor ophef hebben gezorgd:
Yitschak Rabin: Vorige week zond de israelische TV een documentaire uit waarin de moord op Rabin nog eens werd geëvalueerd. Reden voor Nova om naar Israël af te reizen, en de lijkschouwer te interviewen. Het draait hier om het derde gat dat in Rabins over- en onderhemd was aangetroffen.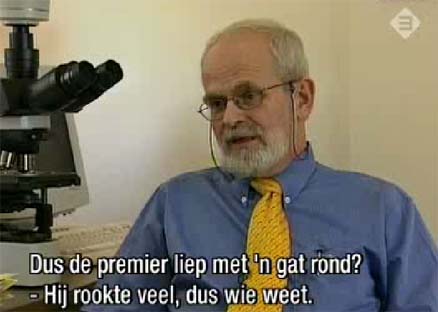 (Mooi toch?)
Louis Sévèke: onze politieke beroepscauseur merkt dit keer iets op wat Alt-F4 beamen kan: 'Het is zo verdomde stil rond de moord op Louis Sévèke!'. Kwam de kogel nou echt van rechts, hebben we hier te maken met een aktie van deze of gene geheime dienst, of was Sévèke betrokken in een LA Confidential-achtige situatie? Of werd ie voor iemand anders aangezien? Speculeren, speculeren...
Notice: Undefined variable: name in /home/tj/var/www/alt-f4.org/comments.php on line 3

Notice: Undefined variable: email in /home/tj/var/www/alt-f4.org/comments.php on line 4

Notice: Undefined variable: url in /home/tj/var/www/alt-f4.org/comments.php on line 5

Notice: Undefined variable: com2 in /home/tj/var/www/alt-f4.org/comments.php on line 6