Cocaine One
25 mei 20:01, 2006
Terwijl 4,6 ton aan cocaïne in de haven van Rotterdam enkel genoeg is voor de rubriek gemengd nieuws, doet de vangst 10 april j.l. in Mexico van 5,5 ton meer stof opwaaien.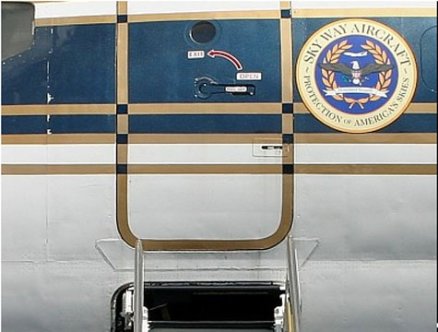 De N900SA, een DC-9 in de kleuren van de Amerikaanse regering. Suggereert men een officieel tintje?
Bovenstaande DC-9, inmiddels bijgenaamd 'Cocaine One', werd in beslag genomen in Mexico terwijl het op weg was van Caracas, Venezuela. Aan boord waren 120 koffers, elk gevuld voor 50 kilo. De DC9 landde op het vliegveld van Ciudad del Carmen, om de waren over te laden in een klaarstaand (Mexicaans) vliegtuig. De Mexicaanse douane rolde de zaak op, en arresteerde de piloten van het Mexicaanse vliegtuig. Van de DC-9 onsnapte een piloot, van de ander werd de identiteit niet bekend gemaakt. (achtergrond).
De DC-9 stond op naam van Skyway Communications, een bedrijfje welk voornaamste doel leek om argeloze investeerders geld af te troggelen voor een gloednieuw airborne communications security concept. Verlate dotcom-windhandel, of, ehhh, eerder echte strafbare fraude. De N900SA was bedoeld om het unieke concept aan willigen te demonstreren, zo gaat het verhaal.
De N900SA was tesamen met de N120NE (ook een DC-9) geregisteerd op naam van Royal Sons Inc.. Dit is het begin van een Hopsickeriaans verhaal over CIA-gerunde vliegtuigen, wat Alt-F4 eerder al heeft proberen na te vertellen in verhalen als De Melkrondjes en Zero-eight-foxtrot.
Hopsicker laat zich in deze zaak dus ook niet onbetuigd, en pakt vandaag ferm uit: Porter Goss resignation 'mystery' solved: DC9 with 5.5 ton cocaine was CIA plane (link). Terwijl drunkmen in het voorgaande Alt-F4-stuk (Limos naar Watergate) Goss' plotse ontslag duidt aan de hand van een male prostitution ring in Washington en de hieraan gekoppelde corruptie van Randy Cunningham, benadert Hopsicker zulks vanuit een hele andere hoek.
Hopsicker volgt een paar lijnen: via de eigenaarshistorie van de N120NE (de records van de N900SA worden hem zonder reden door de FAA geweigerd) komt ie dezelfde bedrijfsnamen tegen als reeds bekend van de CIA-vloot rondom Iran-Contra-smokkelaar Barry Seal, alsook bij Bush's favoriete vliegtuig, de Beechcraft 200 met regnummer N6308F (zie Zero-eight-foxtrot). Relaties tussen Goss en Barry Seal waren al bekend van dit kiekje.
WASHINGTON (CNN) -- Porter Goss said Saturday that his surprise resignation as CIA director is "just one of those mysteries," offering no other explanation for his sudden departure after almost two years on the job.
CNN, 6 mei
Niet alleen Florida, ook San Diego
Zowel drunkmen als Hopsicker komen uit op San Diego. Randy Cunningham was congreslid uit het 50e disctrict. Ook is SD de vestigingsplaats van de Wilkes Corp., het nepvehikel van Brent Wilkes.
San Diego is ook de vestigingsplaats van Titan, een grote defense contractor die ook bekend staat van het fêteren van Republikeins Washington, uiteraard vanwege de vette Pentagon-contracten. Titan deed in 2004 een persbericht uitgaan over een nieuw contract met Skyway. Titan zou Skyways (achteraf nietbestaande) producten marketen en verkopen (persbericht). De vraag hier is: was Titan medeplichtig of te goeder trouw? U mag het zeggen.
Op deze plek stond een alinea van 96 woorden. Deze is verwijderd. Zie hier voor meer informatie.
San Diego is trouwens ook bekend van een ander zaak rondom 9/11. Kapers Almihdhar en Alhazmi verbleven daar in een huis van een FBI-informant, en daar waren ze (net als hun collega's in florida) niet erg voorzichtig in hun handelen.
Lees en luisterlijst
Meer lezen? Bijvoorbeeld over de link tussen Skyway en de Kach-partij of andere sappige details:
200.000 professionals
Terrorisme in het algemeen is goed voor de bedrijvigheid:
Homeland Security
Supporting First Responders, securing American Borders, and continuing to Combat the War on Terrorism
L3 Communications (voorheen Titan Corp)
The Titan Corp. says it will acquire Intelligence Data Systems Inc., a high-technology and professional services firm supporting the U.S. intelligence community
San Diego Metro, Daily Business Report
Following the terror attacks of September 11, 2001, ICTS International N.V. stepped up its activities in the development of advanced technological security systems for the homeland security market in general and the transportation industry in particular.
ICTS International
The services we provide can be scaled modularly and are tailored to our clients' individual needs, budgets and capabilities. DEMCO's expertise in preparing various agencies to handle emergencies such as Homeland Security Threats, including conventional and non-conventional terror attacks, Low Intensity Conflicts (LIC), wars, natural disasters and various crisis situations are well known in the industry.
Demco Group, About Us
"Preserving the privacy and loyalty of our clients is our credo"
Demco Group, Our Clients
IN NEDERLAND WERKEN MEER DAN 200.000 PROFESSIONALS SAMEN TEGEN TERRORISME
www.nederlandtegenterrorisme.nl
With a growing base of satisfied customers, we will continue to enhance our reputation of responsiveness, professionalism, and excellence. We stand ready to offer this exceptional and talented group of men and women to assist you in meeting organizational requirements.
BLACKWATER SECURITY CONSULTING
Notice
: Undefined variable: name in
/home/tj/var/www/alt-f4.org/comments.php
on line
3
Notice
: Undefined variable: email in
/home/tj/var/www/alt-f4.org/comments.php
on line
4
Notice
: Undefined variable: url in
/home/tj/var/www/alt-f4.org/comments.php
on line
5
Notice
: Undefined variable: com2 in
/home/tj/var/www/alt-f4.org/comments.php
on line
6