It's Fitzmas Time!
24 oktober 07:08, 2005
"Forget the myths the media's created about the White House. The truth is, these are not very bright guys, and things got out of hand."
Deep Throat, in de film All the President's Men
We zijn een week verder, en nog steeds is er niks gebeurd. Geruchten in overvloed, uiteraard, maar niks om aan vast te houden. In sommige kringen vervalt men dan ook tot voorzichtig pessimisme, zeker als de bron van dat pessimisme John Dean is, bekend van zijn verleden als Special Counsel van Nixon. Anderen rekken de lol met de Fitzmas Bingo Card. Print hem uit, en doe mee!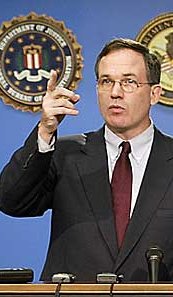 Fitzgerald houdt het bij belangrijker zaken. Zo opende hij zijn eigen web site. Hierover liet hij zijn woordvoerder meedelen:
"I would strongly caution, Dan, against reading anything into it substantive, one way or the other. It's really a long overdue effort to get something on the Internet to answer a lot of questions that we get . . . and to put up some of the documents that we have had ongoing and continued interest in having the public be able to access."
Zwaardere mokerslagen zijn slecht voor te stellen. Gekoppeld aan zijn eerdere mededeling dat "als er iets onthuld gaat worden, dat in Washington gaat gebeuren" wordt zo de spanning wel ontiegelijk hoog opgedreven, en doet men in het Witte Huis vast geen oog meer dicht: "No one in the White House wants to talk about an indictment," said another former official. "No one wants to believe anything's going to happen." Fluiten in het donker, zogezegd.
Judy Miller is inmiddels op een zijspoor gezet, en de NYT probeert ten koste van Miss Run Amok haar geloofwaardigheid terug te winnen. Twijfelachtig, want gemakkelijk natrappen als hier doet een reputatie meestal geen goed (het lijkt wel de volkskrant daar).
Scooter Libby laat zichzelf alvast ook in een beter licht zetten en zo verschijnt dit artikel. We leren dat Scooter een 'avid skier' is, en ook dat hij van tequila houdt. Maar we leren ook:
But friends and associates said Mr. Libby is not at heart a political animal. They suggest that [..] he was acting not as a political hatchet man but in defense of ideas and policies he believed in.
Och jee, een non-politicus die ergens in gelooft... Hij zou de politiek in moeten gaan.
Ondertussen houdt Justin Raimondo zijn ogen op de AIPAC-bal, en brengt Miller in verband met wat de FBI zoal heeft afgeluisterd in die zaak:
the discussion centered on a specific person, not in the United Status government, and her thoughts concerning the nuclear program of the Middle Eastern country
En zo lijkt alles met alles verband te hebben. De special prosecutor heeft het ons met zijn gloednieuwe website wel makkelijk gemaakt: Alt-F4 zal aan deze zaak weinig meer toe te voegen hebben. Komende vrijdag is het de 28e; drie dagen daarvoor staat
één van de laatste zittingen
van de Grand Jury op het program. Zal Fitzgerald zijn
website
gaan bijwerken?
De pers heeft het maar moeilijk met al deze gebeurtenissen. Alhier een weeklacht over de nieuwe mores die uit zulke schandalen voortkomen. Het zou wel een zo kunnen zijn dat in de toekomst regeringsgeheimen 'zomaar' geheim zullen blijven.
Notice: Undefined variable: name in /home/tj/var/www/alt-f4.org/comments.php on line 3

Notice: Undefined variable: email in /home/tj/var/www/alt-f4.org/comments.php on line 4

Notice: Undefined variable: url in /home/tj/var/www/alt-f4.org/comments.php on line 5

Notice: Undefined variable: com2 in /home/tj/var/www/alt-f4.org/comments.php on line 6