Eens een Tsjekist, altijd een Tsjekist
26 november 20:47, 2006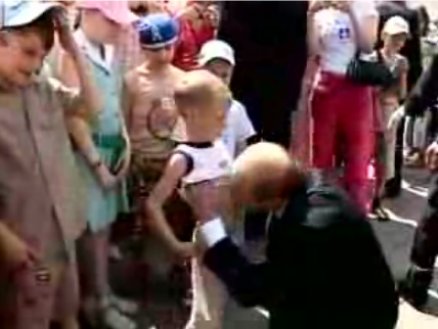 'What is your name?' Putin asked.
'Nikita,' the boy replied.
Putin kneed, lifted the boy's T-shirt and kissed his stomach.
The Kremlin Pedophile, Alexander Litvinenko (Google cache) (lokale kopie)
De vergiftiging van Litvinenko is deze dagen nieuws. Het grote mysterie is wie er achter kan zitten, en toen de Engelse politie bekend maakte dat voor de vergiftiging Polonium 210 gebruikt is, namen de speculaties een geheel andere wending. Polonium 210 is namelijk niet het bijprodukt van (bijvoorbeeld) een normale kernractie, maar wordt specifiek
aangemaakt
. Met zijn halfwaardetijd van 138 dagen is het spul net zo houdbaar als vers fruit, en ook produceert het spul alsgevolg van radioaktief normaal verval aanzienlijke hitte, zodanig dat vervoer en opslag van een kleine hoeveelheid al snel extra koelingsmaatregelen vergt.
Polonium vervalt uiteindelijk tot lood 206 onder het uitzenden van alfa-deeltjes (netronen/protonenklontjes), en is daarmee heel anders radioaktief dan bv. plutonium en uranium. Alfa-deeltjes dringen niet door materie heen, de eerste luchtmolecuul of huidschilfer houdt het al tegen. Maar eenmaal door een persoon ingenomen of ingeademd werkt de radioactiviteit juist zeer dodelijk. In deze heeft polonium niet echt zijn gelijke onder oudere bekenden als plutonium 239/240. Een andere gebruik van polonium 210 is als neutronenbron, voor de efficiënte ontsteking van een kernbom.
De snelle halfwaardetijd impliceert een korte tijd tussen (specialistische) produktie en toepassing; dus is de kans dat dit spul uit een anonieme bron (zwarte markt) verkregen is, redelijkerwijs uit te sluiten.
Police and security services believe the assassin secretly sprayed a mist of radioactive polonium-210 on Mr Litvinenko's meal at a sushi bar. The Sun, 25 nov
Nu ben ik geen vergiftigingsspecialist, maar is lijkt mij een riskante operatie, vanwege dat a) het spul slecht transporteerbaar is zonder afdoende koeling , b) gevaar voor eigen leven bij het toepassen van de spray. Maar dat is speculeren. Er wordt inhoudelijker gespeculeerd bij NRC-correspondent Coen van Zwol.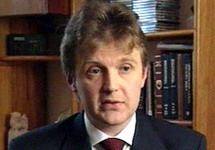 Wie is Alexander Litvinenko? Litvinenko is net als Poetin een ex-KGB-er. Waar Poetin ooit eens keer over zichzelf opmerkte: 'Eens een tsjekist, altijd een tsjekist' (De Tsjeka is de voorganger van de KGB), was Litvinenko toch echt uit het netwerk gevallen. Litvinenko kwam het eerst in het nieuws toen hij eind jaren negentig publiekelijk verklaarde dat hij als FSB(KGB)-agent opdracht had gekregen om een van de Oligarchen en de aartsvijand van Poetin, Boris Berezovski, uit de weg te ruimen. In die tijd was Poetin hoofd van de FSB, onder president Jeltsin. In 2000 lukte het Litvinenko om met hulp van de rechterhand van Berezovski naar het Verenigd Koninkrijk te ontkomen. Sindsdien heeft hij frequent de publiciteit gezocht met zaken die zijn nieuwe broodheer belangrijk vond: de strijd tegen Poetin.
Kompromat
Aan het begin van dit artikel wordt gelinkt naar een pamflet van Litvinenko net een week na de beruchte scene van een president Poetin die kleine Nikita op de buik kust. Litvinenko noemt Poetin subtiel de 'Kremlin Pedophile', en insinueert dat de lege gaten in Poetins biografie te maken had met Poetins vermeende belangstelling voor jongetjes. Poetin legtde het later zelf nog een keer uit, en Litvinenko's insinuatie viel nogal dood. Geen wonder, want nog geen 4 maanden later was Poetin zelf nog een keer in het nieuws, met zijn komplimenten aan de president van Israel, verdacht van verkrachting: "Say hello to your president. He really surprised us..., I met him. He didn't look like a guy who could be with 10 women."
Bommen in Moskou, 1999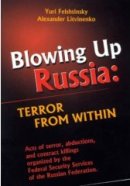 Litvinenko heeft ook een boek geschreven, over de bomaanslagen in Moskou in 1999. (amazon). Het is het verhaal van hoe de bomaanslagen de opmaat vormden voor de verkiezing van Poetin tot president, en de tweede Tsjetsjeense oorlog (Wikipedia: Russian Apartment Bombings), (Terror-99).
Het is bij bovenstaande links op zich goed te realiseren hoezeer de rol van Boris Berezovski wordt gepromoot als redder van het vrije woord, ik laat het aan de lezer om de hier aangehaalde bronnen te wegen als (enerzijds) authentiek activisme tegen terreur, of (anderzijds) een door Berezovski gesponsord gevecht tegen Poetin c.s. Het kan immers ook beide zijn, onafhankelijk van elkaar.
Bom(men?) in Oklahoma, 1995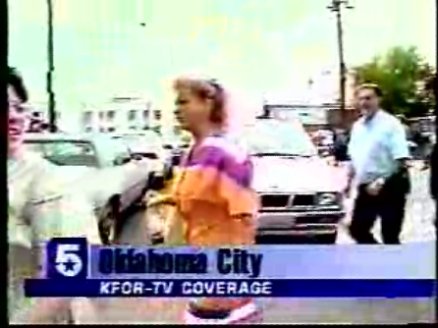 'Oh my god, another bomb'
Hoe doen de Amerikanen zulks? Een beetje losstaand van bovenstaande, maar dit snoepje (
youtube, 4 min
) van infowars wil ik u niet onthouden. Het betreft een compilatie van berichtgeving van lokale televisiestations op de dag zelf van de bomaanslag op het Alfred P. Murrah building in Oklahoma City. U ziet dat de lokale autoriteiten en reporters consequent telfouten maken en over méér dan 1 bom spreken. Ook refereren ze aan de professionele uitvoering.
Gelukkig kwamen de federale autoriteiten snel in aktie en werd deze collectieve geesteswaan van de Oklahomanen rechtgetrokken. We weten nu dat het 1 'crude bomb' was, geplaatst door Timothy McVeigh. Die zijn gerechtigde doodstraf dan ook niet ontliep.
Over Oklahoma valt veel te vertellen, misschien gebeurt dat hier nog eens. U kunt het verhaal echter ook zelf napuzzelen door bv. een tekst als oklahoma andreas strassmeir in google in te tikken.
From the London Daily Telegraph 21-October-1997
FBI 'knew in advance' of Oklahoma bomb
By Hugo Gurdon in Washington
http://www.io.com/~patrik/pritchar.htm

Mr Evans-Pritchard writes: " 'There comes a time in every botched operation when the informant has to speak out to save his skin, and that's now, Andreas'. "

" 'How can he?' Strassmeir shouted into the telephone. "What happens if it was a sting operation from the very beginning? What happens if it comes out that the plant was a provocateur?'

'A provocateur?'

'What happens if he talked and manipulated the others into it? What then? The country couldn't handle it. The relatives of the victims are going to go crazy. He's going to be held responsible for the murder of 168 people.'

'That is true.'

'Of course the informant can't come forward. He's scared shitless right now.'

'It sounds to me as if you've got a problem, Andreas.'

'Scheisse'. "
Historiën als deze geven Francisco van Jole's anti-9/11-woorden van 8 sept j.l. ook wat meer reliëf:
"[Ze] willen kortom de geschiedenis wissen. En dat is geen complot, maar heel erg griezelig."
Moeten we nou blij zijn dat zulke zaken in Rusland een stuk meer in de openbaarheid komen...? Of moeten we gewoon concluderen dat ze in Rusland zelf ook zeer diep in de doofpot worden gestopt?
Toegift: Kamera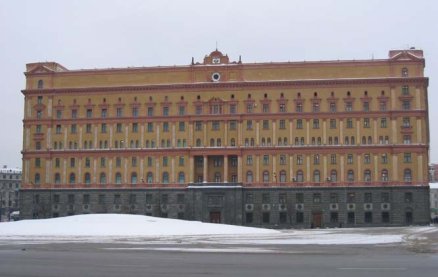 Loebjanka, hoofdkwartier FSB (v/h KGB, NKVD, Cheka)
Met al deze speculatie is het wel aardig om eens in het gifmengersverleden van de KGB te duiken. In 1921, toen de KGB nog de Tsjeka heete werd het gifmengerslaboratiorium van de KGB een zelfstandig afdeling, geheten Kamera (Russisch voor 'de kamer'). Polonium hebben ze nooit gebruikt, maar rondom de dioxinevergiftiging van Joestjenko in de Oekraïene was er speculatie genoeg; gezien de meer creatieve aanslagen uit het verleden. De Wall Street Journal dook er in.
Notice: Undefined variable: name in /home/tj/var/www/alt-f4.org/comments.php on line 3

Notice: Undefined variable: email in /home/tj/var/www/alt-f4.org/comments.php on line 4

Notice: Undefined variable: url in /home/tj/var/www/alt-f4.org/comments.php on line 5

Notice: Undefined variable: com2 in /home/tj/var/www/alt-f4.org/comments.php on line 6