Zionisme, wat is dat nou? (deel 1)
22 juli 00:19, 2006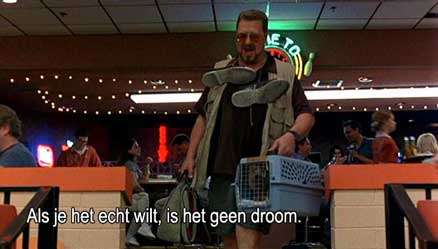 Walter Sobchak kwoot Altneuland
Bovenstaande titel werd door Zutman lang geleden aangekondigd. In commentaar bij Cocaine One kwam het voorgenomen artikel opnieuw ter sprake. En een maand geleden refereerde hij eraan tijdens zijn heilloze zendingswerk bij de accu der kennis (pas op met uw kleding).
Blijkbaar is er nogal wat terughoudendheid om over het onderwerp te schrijven. Het 35e World Zionist Congress dat vorige maand werd gehouden was bijvoorbeeld een mooie aanleiding. En de actualiteit zou een artikel de nodige urgentie geven. Wellicht dat Zutman nog later toekomt aan zijn verhaal, voorlopig moet u het doen met mijn poging.
Eerst maar eens horen wat de pundit bij uitstek, Leon de Winter, te vertellen heeft:
Political correctness prevented most Arab leaders from expressing this popular hatred of Jews: most refer to Zionists and Israelis. But on the streets it's the Jews this and the Jews that. Anything bad, it's the Jews who did it. That's anti-Semitism.
[..]
And Israel is the solution, not the problem. Israel is the Jewish bastion. Jews from across the world can find refuge there. Israel defends and rescues Jews wherever there's trouble. In a world in which Jewish security has always had to rely on the whims of others, Jews have finally taken charge of their own destiny.
This is the raison d'etre and the purpose of the Zionist movement.
De terughoudendheid is gezien het onderwerp niet onbegrijpelijk. De eerste alinea van het citaat hierboven demonstreert waarom we hier met een heikel onderwerp van doen hebben: zionisme staat niet gelijk aan Israël, en Israël is natuurlijk niet 'de joden', zo merkt De Winter terecht op. Maar antisemitisme leidt al gauw tot antizionisme en lieden die de non sequitur als denkvorm goed geoefend hebben, kunnen een kritisch geluid over zionisme eenvoudig interpreteren als antisemitisme. Een etiket is dus licht geplakt. (Dat anti-zionisme weinig met antisemitisme te maken hoeft te hebben, bewijst bijvoorbeeld Neturei Karta, een groepje ultra-orthodoxe joden dat meent dat de staat Israël illegaal is volgens de thora.)
Het onderwerp van De Winter's verhaal - Islamitisch antisemitisme - was vorige maand inzet van een academische rel in Utrecht. Pieter W. van der Horst, hoogleraar judaïstiek aan de theologische factulteit vooral gespecialiseerd in de pre-islamitische periode, zag zijn leerstoel wegbezuinigd worden en werd vervoegd met pensioen gestuurd. Hij greep zijn afscheidsrede aan, om eens flink leeg te lopen over moderner tijden en te ventileren wat hij had geleerd via MEMRI. De rector magnificus werd door de faculteit gevraagd eens te praten met Van der Horst. Moest hij niet tegen zichzelf in bescherming worden genomen?
Toen de kwestie uitlekte, viel al snel het hoge woord: censuur! De NRC kopte hoofdredactioneel 'De bange rector' en het CIDI organiseerde rap een spoeddebat rondom de kersverse ridder van het vrije woord. Gelukkig is de rede in diverse smaken verkrijgbaar, voor de liefhebbers ook als speciale aanbieding tezamen met het CIDI Jubileumboek. Over het wetenschappelijk gehalte ervan wil ik hier verder niet uitweiden, de lezer kan het stuk zelf op z'n merites beoordelen (Alt-F4 is geen kennisaccu). Ter illustratie van de controverse slechts dit citaat:
Over Iran en zijn rabiate anti-joodse leiders die Israël met een atoombom van de kaart willen vegen, hoef ik weinig te zeggen. Dat regime, dat de Holocaust ontkentmaar er wél graag zelf een wil veroorzaken, vormt de grootste bedreiging voor Israëls voortbestaan sind 1948: het werkt onverbloemd aan een 'Endlösung.'
Iran en Endlösung is een graag gezien duo, de laatste tijd. Wellicht had Van der Horst de opzichtige hoax over een Iraanse jodenster in gedachten, waar 's Neerlands' populairste weblogs (zie De afgelikte boterham) zo gretig in trapten. Dat verhaal werd in de wereld gebracht door Amir Taheri, lid van Benador Associates, zeg maar de Speakers Acadamy van de neoconservatieven (zoals Perle, Woolsey en Ledeen). Het lijkt niet zomaar een onjuiste weergave van de feiten, maar een tamelijk malicieus artikel inclusief gefingeerde ministersnaam.
Ruim voor de affaire Van der Horst speelde in de V.S. een andere academische rel. Twee hoogleraren, John Mearsheimer (politicoloog aan de universiteit van Chicago) en Stephen Walt (hoogleraar internationale betrekkingen en decaan van de John F. Kennedy School of Government van Harvard), schreven het stuk The Israel Lobby and U.S. Foreign Policy in opdracht van de Atlantic Monthly, dat het weigerde af te drukken. Uiteindelijk verscheen het in de London Review Of Books. De stelling van Walt en Mearsheimer is dat het buitenlandse beleid in de V.S. belangrijk wordt beïnvloed door een lobby van pro-Israëlische groeperingen (bijvoorbeeld christelijke zionisten als Tom Delay), waardoor belangen worden gediend die niet noodzakelijkerwijs die van de V.S. zijn, en dat het taboe is om over deze lobby te spreken. Ook dit stuk kan de lezer zelf op z'n merites beoordelen.
Na publicatie barstte er een storm van kritiek los op de twee schrijvers. Hier was antisemitisme in het spel, en de instemming van voormalig Klu Klux Klan-leider David Duke werd breed uitgemeten in vrijwel alle media, bijvoorbeeld door MSNBC, de Washington Post en Harvard-collega Dershowitz (zelf niet onomstreden). Het logo en de naam van Harvard werden uit het stuk verwijderd en er kwam een prominente disclaimer. De neoconservatieve columnist Max Boot, lid van het bovengenoemde Benador Associates, doet een poging tot satire omdat de leerstoel van Walt gesponsord wordt door de joodse oud-directeur van Enron:
Then I noticed that Walt occupies a professorship endowed by Robert and Renee Belfer, Jewish philanthropists who are also supporters of Israel. The only explanation, I surmise, is that Walt must himself be an agent of those crafty Israelites, employed to make the anti-Israel case so unconvincingly that he discredits it.
Harvard krijgt prompt wat telefoontjes:
Harvard, the observer said, had received "several calls" from "pro-Israel donors" expressing concern about the Walt-Mearsheimer paper. One of the angered contributors is said to be the donor who underwrote the chair occupied by Dean Walt, Robert Belfer.
Vrij effectief, zo meldt de Times:
It has confirmed that Stephen Walt, the co-author of The Israel Lobby and US Foreign Policy, will be stepping down in June as academic dean of the prestigious John F. Kennedy School of Government to become an ordinary professor.
Of toch niet, want Walt laat zelf weten dat die beslissing al veel eerder was genomen. Terwijl het niet lukte om Walt weg te krijgen, lukte het wel om de voorgenomen aanstelling van Juan Cole bij Yale te blokkeren. Hij nuanceerde ooit het Ahmadinejad-citaat dat Van der Horst hierboven aanhaalde, als zou Israël van de kaart geveegd moeten worden. Ironisch genoeg komt Cole voor in het stuk van Walt en Mearsheimer:
Groups within the Lobby put pressure on particular academics and universities. Columbia has been a frequent target, no doubt because of the presence of the late Edward Said on its faculty. Jonathan Cole, the former Columbia provost, reported that, "One can be sure that any public statement in support of the Palestinian people by the pre-eminent literary critic Edward Said will elicit hundreds of emails, letters and journalistic accounts that call on us to denounce Said and to either sanction or fire him."
Over naar de actualiteit.
De aanleiding voor de oorlog in Libanon en Israël is de ontvoering van twee soldaten door Hezbollah in Noord-Israël, nadat het Israëlische leger met 'Operatie Zomerregen' de Gazastrook was binnengetrokken op zoek naar de ontvoerde soldaat Gilad Shalit. Als vergelding ontvoerden de extremistische joodse Gilad Shalhevet Brigades (een club die op de sympathie kan rekenen van de verboden Kach-partij, zie ook Cocaine One) twee Palestijnen in Jerusalem.
Vòòr de ontvoeringen leek de situatie echter weinig anders: eind mei schoot Hezbollah al katjoesja's (de Russische raketten uit de Tweede Wereldoorlog) af op Israël en ook toen vergeldde het leger met bombardementen in Libanon. Eén katjoesja kwam terecht bij de berg Meron, waar Israël een bunker heeft om al het vliegverkeer in Libanon en Syrië te monitoren, op dezelfde plaats als waar vorige week twee van de eerste Israëlische burgerslachtoffers vielen door katjoesja's. Die aanval kwam twee dagen nadat twee leden van de Islamitische Jihad in Libanon waren gedood bij een bomaanslag. Het Israëlische leger bombardeerde vervolgens de Palestijnse basis in Sultan Yacoub, waar het in '82 dertig soldaten verloor bij de invasie.
A Clean Break
Toen in 1996 Netanyahu premier van Israël werd, bracht een groepje Amerikanen, de Study Group on a New Israeli Strategy Toward 2000, onder leiding van Richard Perle (zie The Prince Of Darkness) advies uit aan de Likud-partij. In de studiegroep zaten onder andere Douglas Feith (de latere omstreden onderminister van defensie) en David Wurmser (Cheney's adviseur over het Midden-Oosten). Men pleitte voor A Clean Break met het socialistische zionisme:
Israel has the opportunity to make a clean break; it can forge a peace process and strategy based on an entirely new intellectual foundation, one that restores strategic initiative and provides the nation the room to engage every possible energy on rebuilding Zionism.
Hoe? Enkele alinea's verder, onder het kopje 'Securing the Northern Border':
An effective approach, and one with which American can sympathize, would be if Israel seized the strategic initiative along its northern borders by engaging Hizballah, Syria, and Iran, as the principal agents of aggression in Lebanon
Om Syrië aan te pakken was isolatie van het land noodzakelijk, ook aan de oostelijke grens:
Israel can shape its strategic environment, in cooperation with Turkey and Jordan, by weakening, containing, and even rolling back Syria. This effort can focus on removing Saddam Hussein from power in Iraq — an important Israeli strategic objective in its own right — as a means of foiling Syria's regional ambitions.
In Irak zou, net als in Jordanië, het Hashemitsche koningshuis aan de macht moeten komen, zoals dat in 1921 was aangesteld door de Britten, als beloning voor bewezen diensten in de Eerste Wereldoorlog (met instemming van het democratisch ogende percentage van 96% procent van de bevolking). In de jaren 50 werd de laatste koning afgezet door het Baath regime. Een idee dat nog tot vlak voor de oorlog met Irak werd omarmd door Cheney en Wolfowitz.
De grootste pleitbezorgers van de oorlog in Irak, zagen de omverwerping van Saddam Hoessein tien jaar geleden als een opstapje om via Hezbollah Syrië en Iran aan te pakken. Hetzelfde groepje Benador-leden (Perle, Feith, Woolsey, Ledeen, Wurmser etc.) komen we tegen als in 1997 het United States Committee for a Free Lebanon wordt opgericht door de Libanees-Amerikaanse zakenman Ziad Abdelnour. De vergelijking met het Iraaks Nationaal Congres en Achmed Chalabi dringt zich op, vooral wanneer in 2003 een wet wordt aangenomen waarin het USCFL haar doelstelling herkent (analoog de Iraq Liberation Act van 1998).
En dezelfde namen duiken weer op in de Lebanese Study Group van The Middle East Forum van Daniel Pipes (zie Positief Nieuws!). Dat forum heeft zichzelf ten doel gesteld om niet zozeer terrorisme te bestrijden, als wel de radicale Islam.
11 September
In het rapport van de 11 september commissie, dat op sommige punten toch minder grondig is, wordt de relatie van Al-Qaeda met Hezbollah en Iran uitvoerig besproken. Een relatie die Nethanyahu ruim een week na de aanslagen al legde in een ovationele speech voor het Amerikaanse congres:
These terrorist states and terror organizations together form a terror network, whose constituent parts support each other operationally as well as politically. For example, the Palestinian groups cooperate closely with Hezbollah, which in turn links them to Syria, Iran and Bin Laden.
Het idioom van 11 september wordt sinds vorige week weer met graagte uitgevent:
Newt Gingrich heeft een nieuw contract met Amerika: Wereldoorlog III
Of toch een oud contract met Israël? Dan Gillerman, ambassadeur van Israël bij de Verenigde Naties, loopt er geruime tijd van over.
Bonus:
Mearsheimer spreekt voor het eerst sinds de controverse, onder andere over de oorlog met Libanon. deel 1 en deel 2.
Notice
: Undefined variable: name in
/home/tj/var/www/alt-f4.org/comments.php
on line
3
Notice
: Undefined variable: email in
/home/tj/var/www/alt-f4.org/comments.php
on line
4
Notice
: Undefined variable: url in
/home/tj/var/www/alt-f4.org/comments.php
on line
5
Notice
: Undefined variable: com2 in
/home/tj/var/www/alt-f4.org/comments.php
on line
6