Do you invest in Teflon?
10 september 19:26, 2006
Morgen, maandag 11 september 2006 viert men een zeker jubileum. In afwachting daarvan had ondergetekende afgelopen tijd wat plezier in het sturen van bepaalde discussies op het gebied 9/11. Lees bijvoorbeeld hier, deze draad, of deze; zelfs tot op GeenStijl aan toe. (Met dank aan de weblogs die al dit tijdverdrijf mogelijk maakten.) Alt-F4 had op zich geen plannen tot wat radicaals. De gekte kwam echter via andere kanalen tot ons; over media-aandacht valt niet te klagen.
Zo maakten het NOS Journaal, Goedemorgen Nederland en Eénvandaag deze week gewag van het enorme opgeld dat samenzweringstheorieën betreffende 9/11 maken. Waar het Journaal een keurige mededeling maakt, laat Goedemorgen Nederland een van de Nederlandse proponenten uitvoerig an het woord. Voor Francisco van Jole reden om daar zijn videocolumn in het Vara-programma 'De Leugen Regeert' aan te wijden.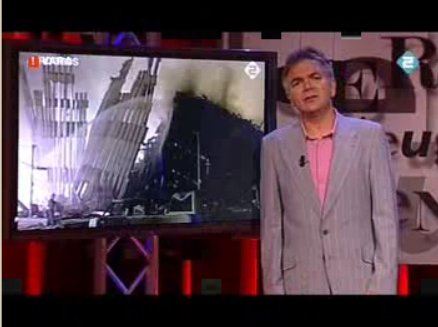 "Ze willen kortom de geschiedenis wissen. En dat is geen complot, maar heel erg griezelig." [beleefd applaus]
Videofragment (19 MB) hier, link naar volledige uitzending hier.
Van Jole is duidelijk geen fan van al die theorettes, en brengt het met zulk een aplomb dat zelfs ondergetekende geërgerd in de e-mail klom. Zulk een aktie is meestal niet slim, en zijn reactie was dan ook voorspelbaar:
Ik verwacht ook niet van iemand die dergelijke lariekoek slikt dat hij met me eens is.
Wat is dat eigenlijk, lariekoek?
We lezen mee met zijn videocolumn:
"'Bijna de helft van de amerikanen gelooft niet meer in het officiële verhaal van de waarheid.' En zo is de toon gezet. Maar wat is dat nu eigenlijk, bijna de helft van de Amerikanen? 'Third of Americans suspect Government conspiracy'. En daarmee zijn we meteen aangeland bij het probleem van deze verhalen. Steeds wordt de waarheid geweld aangedaan, danwel verdraaid."
In augustus 2004 is een poll gehouden onder Newyorkers, waarin 49% van de NYC residents (en 41% van alle inwoners van NY) aangeeft te geloven in government conspiracy. In mei 2006 is er een poll gehouden onder een dwarsdoorsnede van de Amerikaanse bevolking, uitkomst dat circa 42% van de Amerikanen in een cover-up gelooft. Augustus j.l. werd er een derde poll gehouden, deze kwam uit op 36%. 'Bijna de helft' en 'van alle Amerikanen', kloppen dus, de verbinding van beide feiten is verkeerd. Echter, allebei zijn momentopnames, en 36%-42% procent karakteriseren als 'bijna de helft': u mag het zelf beslissen. De eindzin van Van Jole laat ik voor zijn rekening. (Zie ook 'Do not invest in Teflon' beneden.)
"[filmpje]:'We weten niet eens dat Bin Laden helemaal niet gezocht wordt voor de aanslagen'. Is dat zo? Hier hebben we de Most Wanted poster van de FBI, en inderdaad, 11 september staat daar niet bij. [...] mag het vreemd lijken, maar vanuit een juridisch standpunt is het volstrekt logisch.' [...] [filmpje Bush]:'I want justice... and... there is an old poster out west that I recall wanted dead of alive" Bush wil Bin laden dood of levend."
Het juridische standpunt van de FBI, daar is wat voor te zeggen. Al Capone werd in 1946 bijvoorbeeld veroordeeld vanwege belastingfraude, niet vanwege zijn misdaadsyndicaat. Daartegen kun je ook dit zeggen:
The Department of Justice than decides whether it has enough evidence to present to a federal grand jury. In the case of the 1998 United States Embassies being bombed, Bin Laden has been formally indicted and charged by a grand jury. He has not been formally indicted and charged in connection with 9/11 because the FBI has no hard evidence connected Bin Laden to 9/11."
FBI says, "No hard evidence connecting Bin Laden to 9/11"
's Lands wijs, 's lands eer. Echter, de reden
dat
Bin laden niet formeel is aangeklaagd zal een heleboel Amerikanen zeer doen verwonderen. Misschien leiden een opeenstapeling van zulke zij-feitjes tot die "bijna de helft" (of 36%) van hierboven? Er is meer. 5 juli jongstleden meldde MSNBC: "
Report: CIA unit that hunted bin Laden closed
". Misschien was het een politieke vergissing, vrijdag j.l. ging er er ineens een roddel rond: "
CIA Re-opens Bin Ladin Unit??
". Van Jole besluit dit punt met een filmpje van Bush. Van Bush bestaat ook deze uitpraak, dd 13 maart 2002:
I don't know where bin Laden is. I have no idea and really don't care. It's not that important. It's not our priority.
Bush Quotes about Bin Laden
Het belang van het vangen van Bin Laden wordt sinds kort ook in andere delen van de wereld niet zo hoog gevonden:
Osama bin Laden, America's most wanted man, will not face capture in Pakistan if he agrees to lead a "peaceful life," Pakistani officials tell ABC News.
Huffingtonpost, 5 september j.l.
Tot nu toe (helaas) geen reactie uit het Witte Huis.
"... wie dan nog beweert dat Bin Laden niet gezocht wordt voor 11 september bedriegt de boel. En dat geldt voor alles. Bijvoorbeeld dat de torens niet zijn ingestort maar zijn opgeblazen. Ja, dat instorten van die gebouwen was onverwacht. Maar dat komt vaker voor, en dan nog veel bizarder. [filmpje van de Tacoma Bridge]"
De Tacoma Narrows Bridge is het klassieke voorbeeld van een lichte brug die met te weinig demping is ontworpen. Wat bij zware wind tot problemen leidt. Die brug was toen net een half jaartje open. Een probleem wat zich op kleinere schaal ook voorgedaan heeft bij de Erasmusbrug in Rotterdam. Ontwerpfout bij de Tacoma Bridge: nieuwe revolutionaire constructie, ontworpen in 1940 zonder computers. Oorzaak bij de Erasmusbrug: te licht en zuinig ontworpen, wellicht door een te enthousiast gebruik van computers ;-).
Als je dit voorbeeld aanhaalt, heb je juist aan de WTC-torens een slechte. Deze torens waren natuurlijk ook ontworpen op een aanzienlijke windbelasting, waaraan ze dan ook 30 jaar prima voldeden. Naar verluidt kon het op de bovenste verdiepingen best zwiepen, iets wat de constructie prima kon hebben. De mensen op die verdiepingen hadden het er vast moeilijker mee.
Het grotere probleem met Francisco's vergelijking is dit: al deze dingen komen allemaal langs bij het eerstejaars college 'Inleiding van de Civiele Techniek' aan de TU Delft. Al die dia's van ingestorte stadions, bruggen, gebouwen, staan niet op zich in zo'n college. Er is analyse geweest, een oorzaak gevonden, die je aldaar dan ook met een ingenieurs-eigen leedvermaak krijgt verteld. Waar is dat bij het WTC?
"...overigens zijn er geen serieuze wetenschappers te vinden die twijfelen aan de oorzaak."
Wat ik keer op keer tegenkom, is dat men zorgvuldig iedere analyse wbt WTC1/2 met termen als 'believe', 'what is currently known', etcetera, lardeert. Laat staan dan men iets durft te zeggen over WTC 7. Een willekeurig voorbeeld:
What about World Trade Center 7?
I have not studied WTC in any great detail...
[...]
The author respect people's right to question theories, but at the present time the author does not believe there is enough evidence for him to change his views on this incident.
Tim Wilkinson, University of Sydney, Civil Engineering
Overigens kan ik mij voorstellen dat het etiket 'niet serieus' niet goed is voor je carriere. Zeker bij zo'n beladen onderwerp als dit. Iets wat dat bevestigt, is dit perbericht van de 'Scholars voor 9/11 truth' beweging:
Three professors who are members of Scholars for 9/11 Truth have been threatened with the loss of their positions for their research and teaching about the events of 9/11. Other attacks are coming from national magazines, such as TIME and U.S. NEWS, which have cover-stories this week suggesting that those who believe 9/11 involved a conspiracy may need psychological counseling.
SCHOLARS FOR 9/11 TRUTH persbericht van afgelopen zaterdag
Van Jole's redenering: wie serieus is, doet niet aan 9/11. Mensen die aan 9/11 research doen zijn eigenlijk dus niet goed bij hun hoofd. Goed dat ze worden ontslagen!
"...maar terwijl de complotters voortdurend vragen om onderzoek, negeren ze de resultaten als hun die niet uitkomen.Zo vertellen ze niet dat het Amerikaanse tijdschift Popular Mechanics vorig jaar in een special [..] waarin de belangrijkste claims van de complotdenkers punt voor punt van tafel veegt."
Met de inhoud van die special zijn 9/11 CT'ers het uiteraard oneens, en ook wat betreft ondergetekende schort er het nodige aan. PM propageert bijvoorbeeld de beruchte 'pancake theory', om uit te leggen hoe torens WTC 1 en 2 zijn ingestort. Daar valt het nodige op af te dingen, laten we ons beperken tot het feit dat het NIST deze instortingstheorie verlaten heeft (zo lijkt het). Zie verderop in dit artikel. Komisch is het aanhalen van een populaire-wetenschappelijk tijdschrijft als definitieve bron. Gebruiken we de KIJK voor het onderzoeken van de Schipholbrand, van okt. 2005?
[ zipperdepip: Shanksville (van Jole als vliegtuigexpert), confetti, Rick de Vente zegt 'black ops', Men in Black, alienfilmpje. Best leuk gedaan. Close, but no cigar. ]
"...bijvoorbeeld door te vertellen wie Rick de Vente aangeschoven bij Goede Morgen Nederland, nu eigenlijk is. Op zijn eigen website vertelt hij over andere complottheorieen die hij aanhangt, en waarschuwt hij tegen het gebruik van magnetron en pan."
Moet Alt-F4 nu ook gaan waarschuwen tegen het gebruik van Teflon? Uiteraard niet. Onzin blijft onzin, iedereen blijft verantwoordelijk voor zijn eigen woorden.
"...De media mogen de suggesties van de complotverhalen niet overnemen. Het zijn geen onschuldige fantasieen. [...] Met andere woorden: 11 september is eigenlijk niet gebeurd. Ze willen kortom de geschiedenis wissen. En dat is geen complot, maar heel erg griezelig."
Een citaat (gezien het Volkskrantverleden van Van Jole):
De Volkskrant wil meer met de wereld dan de NRC. In de Volkskrant zit een bepaald ongenoegen. Een drive om iets aan de wereld veranderen. Op bepaalde cruciale momenten komen ze er, huns ondanks eigenlijk, niet onderuit om dat goed te laten zien. Ik vind het wel sympathiek, maar ik moet er ook altijd een beetje om gniffelen. Zijn ze zichzelf weer even niet de baas.
Folkert Jensma bij zijn afscheid als hoofdredacteur, NRC van afgelopen zaterdag 9 september (niet online)
...dat het in deze zaak zulke groteske vormen kon aannemen, dat had ik niet verwacht. Echt werkelijk, indrukwekkend.
Terzijde: wat doet de NRC met het Vroolijke Jubileum?
In het zaterdags bijvoegsel van dezelfde krant schrijft 'Natuurkunde voor jou'-man Karel Knip al die 9/11 samenzweringstheorieen van zich af, steunend voor zijn conclusie op Popular Mechanics. Niet echt een vilein stuk, maar het klopt gewoon niet. En in Wetenschap en Onderwijs gaat dezelfde Karel Knip rekenen met de energetische berekeningen van de WTC-instortingen, zoals die door Jim Hoffman zijn gemaakt. Men is er dus mee bezig, men ruikt eraan, gaat er op zitten. Men gaat er wat mee doen. Interessante ontwikkeling; gelukkig geen Volkskrantiaanse taferelen.

Niet Popular Mechanics, NIST is belangrijk
Het National Institute of Standards en Technology heeft de laatste tijd ook gereageerd op al die samenzweringstheorieen, met een FAQ. Dit is een belangrijk document, want eigenlijk de eerste officiële reactie in bijna een jaar tijd. Een punt-voor-puntsgewijze ontleding (hi Francisco!) van deze tekst is reeds door anderen gedaan, maar het aanhalen ervan is toch nuttig. NIST schrijft:
NIST's findings do not support the "pancake theory" of collapse, which is premised on a progressive failure of the floor systems in the WTC towers (the composite floor system—that connected the core columns and the perimeter columns—consisted of a grid of steel "trusses" integrated with a concrete slab; see diagram below). , the NIST investigation showed conclusively that the failure of the inwardly bowed perimeter columns initiated collapse and that the occurrence of this inward bowing required the sagging floors to remain connected to the columns and pull the columns inwards. Thus, the floors did not fail progressively to cause a pancaking phenomenon.
Answers to Frequently Asked Questions, vraag 2
Eh? De afgelopen 5 jaar was de 'pancake theory' toch de officiele theorie? Voluit, overal gepromoot. Waarom nu niet? Heb ik even niet opgelet? Dat vermelde 'binnentrekken' is volstrekt nieuw. Waarom dit? Waar zijn de rekenmodellen? (Waar zijn jullie mee bezig?)
When NIST initiated the WTC investigation, it made a decision not to hire new staff to support the investigation. After the June 2004 progress report on the WTC investigation was issued, the NIST investigation team stopped working on WTC 7 and was assigned full-time through the fall of 2005 to complete the investigation of the WTC towers. With the release and dissemination of the report on the WTC towers in October 2005, the investigation of the WTC 7 collapse resumed.
Answers to Frequently Asked Questions, vraag 14: 'Why is the NIST investigation of the collapse of WTC 7 taking so long to complete?' Heh? Kan wil/men geen werk uitbesteden?
Concreet gezien roept deze FAQ meer vragen op dan hij beantwoordt. De gestelde alternatieve bezwijktheorie alsook de lage prioriteit van WTC7 zet een mens aan het denken. Het is een officiëel onderzoek (door het Amerikaanse Congres in 2002 ingesteld) dus we wachten weer geduldig verder af. Er kan echter veilig (zonder verdere onderbouwing) gesteld worden dat Popular Mechanics (die gewoon de pancake theory bracht) factueel incorrect is, op een centraal punt. Blijven jullie wel opletten, dames en heren journalisten en columnisten?
Do not invest in Teflon
Francisco maakte nogal gewag van percentages. Hier de MSNBC poll van afgelopen donderdag 8 september: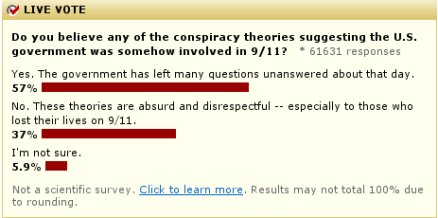 MSNBC poll: Do you believe any 9/11 conspiracy theories?
Uiteraard is dit geen wetenschappelijk verantwoorde enquete, maar eerdere van zulke on-line polls stonden een paar maanden terug op 35%. My advice:
do not invest in Teflon
.
Notice
: Undefined variable: name in
/home/tj/var/www/alt-f4.org/comments.php
on line
3
Notice
: Undefined variable: email in
/home/tj/var/www/alt-f4.org/comments.php
on line
4
Notice
: Undefined variable: url in
/home/tj/var/www/alt-f4.org/comments.php
on line
5
Notice
: Undefined variable: com2 in
/home/tj/var/www/alt-f4.org/comments.php
on line
6