De torens die bukken
10 juli 02:14, 2005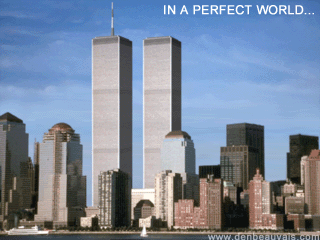 Wat doe je, als de bestaande beelden niet voldoen? Als de beelden van 11 september 2001 nog steeds te confronterend en te pijnlijk blijven? Je zoekt naar een alternatieve afloop, en als die niet geboden wordt, dan maak je die zelf. In jouw eigen perfecte wereld hadden die torens naar je geluisterd, en gracieus gebukt voor het naderend onheil. Zoals je toen tegen de teevee had moeten schreeuwen. Je had ze een gracieusheid willen toewensen, tot aan de TV-antenne bovenop toren 2.
De realiteit is anders, natuurlijk. Binnen ekele uren na de ineenstorting kwam er een een storm van duiding uit Amerikaanse regeringskringen: "het is Al Qaeda, het zijn 19 Arabieren, de FBI heeft zitten slapen en we komen later wel met een officieel onderzoek." Dat laatste liet echter op zich wachten. Het enthousiasme vanuit de Regering Bush voor zulk soort zelfreflectie was minimaal, om te zeggen: niet-bestaand. Er was immers werk aan de winkel, het terrorisme moet verslagen worden! Inmiddels zijn we goeddeels 4 jaar verder. De officiele antwoorden, die na veel gechicaneer zijn gekomen, blijken bij nader onderzoek incompleet en inconsistent.
Er komt een punt waar je de officiele antwoorden niet meer vertrouwen kan, en zelf op onderzoek uit moet.
He cut me off. ''That's not the way the world really works anymore,'' he continued. ''We're an empire now, and when we act, we create our own reality.''
White house aide
Hunkert u ook naar die wereld waar gebouwen kunnen bukken voor aanstormende vliegtuigen?
Notice
: Undefined variable: name in
/home/tj/var/www/alt-f4.org/comments.php
on line
3
Notice
: Undefined variable: email in
/home/tj/var/www/alt-f4.org/comments.php
on line
4
Notice
: Undefined variable: url in
/home/tj/var/www/alt-f4.org/comments.php
on line
5
Notice
: Undefined variable: com2 in
/home/tj/var/www/alt-f4.org/comments.php
on line
6