The art of pre-emptive nuclear war
11 september 22:37, 2005
U.S. nuclear superiority is nothing to be ashamed of; rather, it will be an essential element in preserving American leadership in a more complex and chaotic world.

Rebuilding America's Defenses — Strategy, Forces and Resources For a New Century
Vier jaar geleden vlogen er vliegtuigen gebouwen binnen. Voor TweeVandaag was dat afgelopen vrijdag aanleiding om Andreas von Bülow en Michael Meacher aan het woord te laten. Het verhaal dat beiden vertelden zal lezers van Alt-F4 niet onbekend in de oren klinken.
Centraal in hun betoog staat het hierboven aangehaalde rapport van september 2000 van de Project for the New American Century (PNAC), het neoconservatieve clubje rond William Kristol, zoontje van neocon-uitvinder Irving. In dat rapport wordt onder meer aangedrongen op een grootschalige transformatie van de nationale veiligheidsstrategie en het defensiebudget. Een langzaam proces zo vrezen de schrijvers, tenzij...
Further, the process of transformation, even if it brings revolutionary change, is likely to be a long one, absent some catastrophic and catalyzing event like a new Pearl Harbor.
De gebeurtenissen van een jaar later stelden de bovenstaande alinea in een opmerkelijk daglicht, vooral omdat die gebeurtenissen als katalysator dienden voor een oorlog. "All war is based on deception" schreef Sun Tzu 2400 jaar geleden in The Art of War, een boek met cult-status onder neocon-vorsers die verlegen zitten om een panklaar citaat.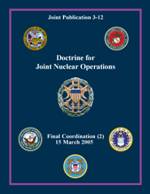 Het Pentagon mag ook graag Sun Tzu aanhalen. Hoofdstuk twee van de vrijgegeven Doctrine for Joint Nuclear Operations begint met dit citaat:
It is a doctrine of war not to assume the enemy will not come, but rather to rely on one's readiness to meet him; not to presume that he will not attack, but rather to make one's self invincible.
Vandaag schrijft de Washington Post over deze doctrine, die de richtlijnen voor het gebruik van nucleaire wapens vastlegt. Het document is de eerste revisie door de regering Bush van de vorige versie uit 1995.
De voornaamste wijziging betreft een nieuw hoofdstuk over regionale conflicten (Theater Nuclear Operations), een onderwerp dat ook door de PNAC uitgebreid wordt behandeld. In Rebuilding America's Defenses staat:
Moreover, there is a question about the role nuclear weapons should play in deterring the use of other kinds of weapons of mass destruction, such as chemical and biological, with the U.S. having foresworn those weapons development and use. It addition, there may be a need to develop a new family of nuclear weapons designed to address new sets of military requirements, such as would be required in targeting the very deep underground, hardened bunkers that are being built by many of our potential adversaries.
De vraag van de PNAC wordt beantwoord in de nieuwe doctrine:
Geographic combatant commanders may request Presidential approval for use of nuclear weapons for a variety of conditions. Examples include:

An adversary using or intending to use WMD against US, multinational, or alliance forces or civilian populations.
Imminent attack from adversary biological weapons that only effects from nuclear weapons can safely destroy.
Attacks on adversary installations including WMD, deep, hardened bunkers containing chemical or biological weapons or the C2 infrastructure required for the adversary to execute a WMD attack against the United States or its friends and allies.
To counter potentially overwhelming adversary conventional forces, including mobile and area targets (troop concentration).
For rapid and favorable war termination on US terms.
To ensure success of US and multinational operations.
Eerder werd hier melding gemaakt van Cheney's nucleaire ambities in Iran. Inmiddels zijn die ambities veralgemeniseerd (ze hebben geen betrekking meer op één bepaald land) en verruimd (ze gaan niet meer over vergelding).
Eenmaal de schaamte voorbij is succes verzekerd met pre-emptive nuclear war.
Noot:
Meer over de doctrine hier, hier en hier. Liefhebbers kijken ook naar saillante details in de revisies.