De roze balletten
17 augustus 07:32, 2005
Hierboven ziet u Larry King. Hij zingt Star-Spangled Banner, ter opening van de Republikeinse conventie van 1984 voor de herverkiezing van Reagan, in Dallas. Duidelijk is dat deze Larry niet die vlinderdas is van CNN, maar wie is hij wel?
King heeft in zijn woonplaats Omaha, Nebraska, een aantal ondernemingen. De belangrijkste is de Franklin Community Federal Credit Union, een spaarbank voor een arme zwarte wijk in de stad. Zijn ster in de Republikeinse partij stijgt eind jaren zeventig snel, als hij vice-voorzitter van de National Black Republican Council wordt. Hij huurt een duur huis aan Embassy Row in Washington en wordt een graag geziene gast in hoge Republikeinse kringen, met een extravagante smaak, reizend in gecharterde jets en altijd vergezeld door een entourage van jonge mannen.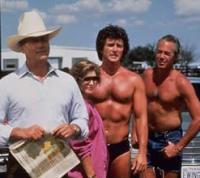 Tijdens de conventie van '84 huurt King de Southfork Ranch waar de TV-serie Dallas wordt opgenomen en organiseert en groot feest voor de partij. Vier jaar later mag Larry weer zingen, ditmaal op de conventie in New Orleans. Het inmiddels tradionele King-festijn wordt dan gehouden in een pakhuis met Mardi-Gras parafernalia als dramatische decorstukken.
Dat jaar, '88, eindigt voor King minder florissant: de IRS en de FBI doen een inval in de Franklin kredietbank en sluiten de tent. Er ontbreekt 39 millioen dollar. Het establishment in Omaha, dat de bank van harte steunde in de werving van fondsen, verkeert in shock.
Al snel verandert het schandaal van karakter. Pedofilie, seksueel misbruik, kinderprostitutie en -handel worden aan de aanklacht toegevoegd. Kinderen, voornamelijk uit Boys Town, het grootste katholieke weeshuis in de V.S., werden met privé-jets naar hooggeplaatsten door het hele land gevlogen.
Tachtig kinderen worden geïdentificeerd als slachtoffer. Nogal wat prominenten van Omaha blijken betrokken bij de zaak: de politiechef Robert Wadman, een aantal politie-officieren, de eigenaar van de lokale krant, een columnist, een financier en een rechter. Vier kinderen willen getuigen. Twee trekken hun verklaring in, nadat de broer van één van hen omkomt bij een potje Russische roulette. De andere twee, Paul Bonacci en Alisha Owen, blijven bij hun verklaring, ook als Alisha's broer dood in een politiecel wordt aangetroffen. In 1991 beslist de jury dat er sprake is van een carefully crafted hoax. King wordt veroordeeld tot 15 jaar, wegens fraude.
Bonacci en Owen worden beiden veroordeeld wegens meineed. Opvallend is de bijzonder zware straf voor Owen: 9 to 27 jaar celstraf. Tijdens het proces werd ze in de lokale pers afgeschilderd als een slet; ze kreeg op haar vijftiende een dochter, Amanda, verwekt door de sheriff. Deze Robert Wadman laat nogal een spoor achter. Eerder vertrok hij uit Utah als politiechef nadat er een rechtzaak werd aangespannen door de weduwe van de man die hij doodschoot wegens ontduiking van de leerplicht. Voordat de Franklin-zaak is afgewikkeld vertrekt Wadman naar Aurora, Illinois, waar hij wederom politiechef wordt. Na de jury-uitspraak spant hij een rechtzaak aan tegen Amanda Owen, de 5-jaar oude dochter van Alisha, om $4000 onkostenvergoeding te krijgen voor een nooit uitgevoerde bloedproef. De ingediende declaratie blijkt niet te kloppen omdat Wadman op moment van de vermeende test op vakantie was. Hij moet de proceskosten betalen.
De Franklin-affaire is behalve door jusitie ook onderzocht door een speciale commissie, in opdracht van de senaat van Nebraska. De hoofdonderzoeker is Gary Caradori, een gepensioneerde rechercheur. Hij ontvangt in Chicago in juli '91 duizenden belastende foto's, diskettes en documenten van de verdwenen huisfotograaf van Larry King. Hij belt de voorzitter van de onderzoekscommissie en meldt dat hij de smoking gun heeft en vliegt met zijn zoontje terug naar Nebraska in zijn privé-vliegtuig. Het vliegtuig stort neer boven Aurora. Een hulpsheriff van Wadman is als eerste bij de resten van het vliegtuig, waar hij verspreid over het veld kinderporno aantreft. Als de FBI arriveert, wordt het veld afgezet, worden de foto's in beslag genomen en krijgt de hulpsheriff te horen dat hij niet mag vertellen wat hij heeft gezien. Enige maanden daarna raakt de hulpsheriff zwaar gewond bij een auto-ongeval waarbij zijn vrouw om het leven komt. Wadman is dan wegens de publiciteit rond het Franklin-schandaal vertrokken naar North Carolina, waar hij politiechef wordt in Wilmington.
Over de affaire werd in 1993 een documentaire gemaakt door Yorkshire Television in opdracht van Discovery Channel. Op 3 mei 1994 zou deze documentaire, Conspiracy of Silence, worden uitgezonden in de VS, zo stond in de programmabladen aangekondigd. Op het laatste moment werd de uitzending geschrapt. Yorkshire Television kreeg een half miljoen dollar betaald voor de productie en moest alle kopieën vernietigen. Een raar en nogal ongeloofwaardig verhaal. Maar wat doet de gelekte ruwe versie hier?
In 1999 kreeg Paul Bonacci, één van de slachtoffers, een schadevergoeding van 1 miljoen dollar toegekend in een rechtzaak tegen Larry King, die niet verscheen voor de rechtbank.
Op het Southfork-feest was ook George H.W. Bush aanwezig. Volgens een getuige in de Franklin-zaak verdween papa Bush van de ranch met een jonge zwarte jongen. Dat detail uit de affaire werpt een interessant licht op een gerelateerde kwestie.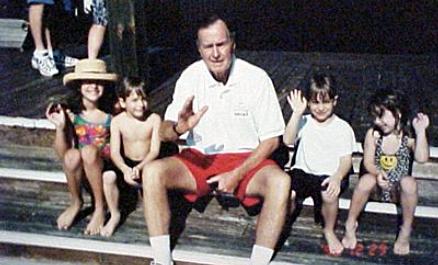 Craig J. Spence, tijdens de Vietnamoorlog ABC-correspondent, wordt eind jaren zeventig lobbyist in Washington en organiseert feesten tijdens de Reagan-periode. Die feestjes, waar de cocaïne rijkelijk rondstuift, worden gefrequenteerd door hier regelmatig terugkerende namen als William Casey en Arnaud De Borchgrave. Spence start een callboyservice, met klanten uit regeringskringen, het leger en het Congres.
Op 29 juni 1989 opent de Washington Post met een vette kop:
Homosexual prostitution inquiry ensnares VIPS with Reagan, Bush
'Call boys' took midnight tour of White House
Er volgen nog talloze onhullingen. Spence wordt gedagvaard voor creditcardfraude via de escortservice. Uit het onderzoek blijkt dat Spence 'zakenpartner' is van Larry King. Bonacci getuigt bovendien dat hij bij de middernachtelijke bezoekjes aan het Witte Huis aanwezig was. Spence vertelt journalisten dat hij met belastend materiaal zal komen over omkoping van bewindslieden. Zover komt het niet: eind '89 wordt hij aangetroffen in een hotelkamer in Boston, overleden aan een overdosis slaappillen.
Begin van dit jaar werd Jeff Gannon ontmaskerd als Witte-Huisverslaggever, zoals hier al vaker is aangestipt. Hij bleek dezelfde persoon te zijn als James Guckert, die zichzelf adverteerde als homoseksuele escort op websites als Militarystud.com, MaleCorps.com, WorkingBoys.net en MeetLocalMen.com. Gezien bovenstaande voorgeschiedenis begonnen bij sommige mensen de alarmbellen te rinkelen, vooral nadat Gannon's vrije toegang tot het Witte Huis bekend werd.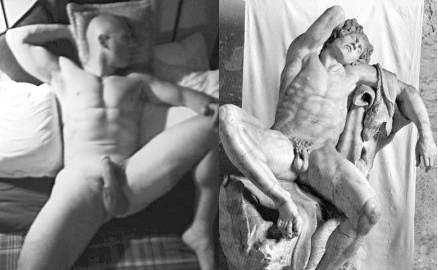 Lieden met gevoel voor hermetica zagen een derde identiteit met dezelfde initialen opdoemen: Jeff Gannon is Johnny Gosch.
Gosch werd in '82, als twaalfjarige, ontvoerd op zijn krantenronde in Des Moines, Iowa. Samen met een andere krantenjongen, die twee jaar later ook in Des Moines werd ontvoerd, is hij het eerste 'vermiste kind op een melkpak'. De nooit opgeloste ontvoering wordt toegeschreven aan het netwerk rond Larry King.
Behalve de initialen is er nog een frappant toeval met de namen. De hoofdredacteur van de krant die Gosch bezorgde heette James Gannon. Deze Gannon was destijds weinig coöperatief bij het oplossen van de ontvoering. Tenslotte is er nog Gannon's voorganger: Michael Gartner. Hij is tegenwoordig eigenaar van diverse lokale bladen in Iowa. Eén daarvan, Pointblank, publiceerde begin april een uitgebreid artikel over de Gosch-Gannon connectie. Daags na publicatie werd het blad opgeheven toen Gartner de concurrent Cityview kocht en beide bladen onder die naam liet verder gaan. De website waar het artikel stond, verdween en voor de hoofdredacteur die het artikel schreef was geen plaats meer bij het nieuwe blad.
Notice
: Undefined variable: name in
/home/tj/var/www/alt-f4.org/comments.php
on line
3
Notice
: Undefined variable: email in
/home/tj/var/www/alt-f4.org/comments.php
on line
4
Notice
: Undefined variable: url in
/home/tj/var/www/alt-f4.org/comments.php
on line
5
Notice
: Undefined variable: com2 in
/home/tj/var/www/alt-f4.org/comments.php
on line
6