Lafheid & incompetentie als politieke keuze
7 september 07:25, 2005
Some who had lost everything - even their food for the day - could have escaped, but preferred to die. So did others, who had failed to rescue their loved ones. Nobody dared fight the flames. Attempts to do so were prevented by menacing gangs. Torches, too, where openly thrown in, by men crying that they acted under orders. Perhaps they had received orders. Or maybe they just wanted to plundered unhampered.

Nero was at Antium. He returned to the city only when the fire was approaching the mansion he had built to link the Gardens of Maecenas to the Palatine. The flames could not be prevented from overwhelming the whole of the Palatine, including his palace. Nevertheless, for the relief of the homeless, fugitive masses he threw open the Field of Mars, including Agrippa's public buildings, and even his own gardens. Nero also constructed emergency accomodation for the destitute multitude. Food was brought from Ostia and neighbouring towns, and the price of corn was cut to less than 1/4 sesterce a pound. Yet these measures, for all their popular character, earned no gratitude. For a rumour had spread that, while the city was burning, Nero had gone on his private stage and, comparing modern calamities with ancient, had sung of the destruction of Troy.

Tacitus, Annales XV (Michael Grant)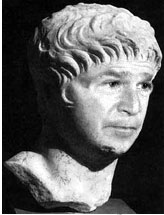 Het vergelijken van moderne calamiteiten met antieke is een precaire bezigheid. Metaforen gaan altijd wel ergens mank, en voordat je het weet blijf je steken in groteske simplificaties.
Vuur is geen water. Antium is geen Crawford. Het Marsveld is geen Superdome. Bush bezong geen Grieks drama, maar speelde een country-liedje. Na bezoek aan het rampgebied is het Witte Huis niet verloren gegaan. De Domus Aurea is geen fantastisch nieuw huis met veranda voor een senator.
De Christenen en hun God worden niet als zondebok aangewezen, integendeel. Zoals Condoleezza Rice afgelopen zondag zei:
The Lord is going to come on time — if we just wait.
Het psychologische profiel van Nero komt niet overeen met dat van George W. Bush. In 2000 werd tijdens het eerste presidentiële debat tussen Bush en Gore aan de kandidaten gevraagd hun slagvaardigheid in crises te illustreren. Bush antwoordde:
I remember the floods that swept our state. I remember going down to Del Rio, Texas. I've got to pay the administration a compliment — James Lee Witt of FEMA has done a really good job of working with governors during times of crisis. But that's the time when you're tested not only — it's a time to test your mettle, it's a time to test your heart when you see people whose lives have been turned upside down.
Een tijd om je moed te testen. Yoshi Tsurumi, een oud docent van Harvard, herinnert zich George niet zozeer als een waardeloze student, maar vooral als een pathologische leugenaar: "He would even deny saying something he just said 30 seconds ago."
Van opzet is geen sprake. De geruchten dat het gat in de dijk van London Avenue Canal met dynamiet is gemaakt of dat het gat in de dijk van het Industrial Canal met dynamiet is gemaakt om het rijkere, blanke French Quarter te sparen, zijn vooralsnog geruchten (vergelijk eventueel met het kaartje aan het eind van dit artikel). Er is natuurlijk wel een precedent:
New Orleans' (mainly white) business class pressurised the state to dynamite a levee upstream, releasing water into (mainly black) areas of the delta. Black workers were forced to work on flood relief at gunpoint, like slaves.
Nogmaals, van opzet is geen sprake. In 2001 maakte de Federal Emergency Management Agency (FEMA) een risico-inventarisatie van de grootste bedreigingen voor de V.S. In de top drie stonden een terroristische aanval op New York en een overstroming van New Orleans ten gevolge van een orkaan. Artikelen in bijvoorbeeld de American Scientist van oktober 2001 en in de National Geographic een jaar geleden behandelden het scenario. Vanaf 2004 wordt het budget voor versteviging van de dijken gereduceerd tot 20% van het benodigde, het overige wordt aan Irak besteed. Het budget voor volgend jaar zou zelfs een historisch dieptepunt bereiken.
Het is maar zeer de vraag of een iets ruimer budget wat had kunnen voorkomen: sinds de jaren zestig is big government in Amerika uit, gevoed door de aversie tegen het betalen van belastingen die vervolgens naar de Welfare Queens in Welfare Cadillacs verdwijnen. Een aversie die doorgaans veel minder is als de fondsen voor bijvoorbeeld een oorlog worden gebruikt. De huidskleur van die Welfare Queens is iedereen duidelijk.
Er zijn mensen die nu menen dat de dijken geprivatiseerd moeten worden. Er zijn zelfs intellectuelen die menen dat er toch sprake is van opzet:
In a city corrupted by the welfare state, the job of city officials is to ensure the flow of handouts to welfare recipients and patronage to political supporters-not to ensure a lawful, orderly evacuation in case of emergency. [..]
The worst example is an execrable piece from the Toronto Globe and Mail, by a supercilious Canadian who blames the chaos on American "individualism." [..]
People with values respond to a disaster by fighting against it and doing whatever it takes to overcome the difficulties they face. They don't sit around and complain that the government hasn't taken care of them.
Of zo als George W. Bush als compassionate conservative ooit tegen zijn docent Yoshi Tsurumi beweerde:
People are poor because they are lazy.
Zo komen we bij het onderdeel dat de Nero-metafoor compleet mank maakt: de krankzinnige afhandeling van de crisis. Het Rode Kruis mag de stad niet in, omdat dat de evacuatie zou belemmeren en zelfs een aanzuigende werking zou hebben. Men stuurt water en brandstof terug en sluit alle communicatie af.
De schuld voor die afhandeling wordt door de bevolking bij de burgemeester gelegd. De burgemeester schuift 'm door naar de gouverneur en het Witte Huis. En iedereen wijst naar FEMA.
In het citaat uit het debat tussen Bush en Gore, hierboven, komen we de toenmalige directeur van FEMA tegen: James Lee Witt. Witt kwam bij FEMA na de meest verwoestende orkaan tot dan toe: Andrew. Deze orkaan bereikte op 24 augustus 1992 Florida, toen Bush senior president was, en had grote invloed op de verkiezingen:
On the 27th a local Florida official, in an emotional press conference, charged that federal agencies were not providing enough help. [..] "When there is a crisis overseas the President responds, but we're his people over here and he's not doing anything." [..] By now the White House was aware that it had a political time bomb on its hands, so they drastically increased their support.
Clinton won de verkiezingen en benoemde Witt tot hoofd van FEMA, die het hervormde van stoffige burger-bescherming naar krachtdadige rampenbestrijding. Onder zijn leiding krijgt FEMA een zetel in het kabinet. Vanaf 2001 gaat het snel bergaf met FEMA. Bush benoemt Joe Allbright, een Texaans vrindje zonder ervaring, FEMA wordt gedownsized en het werk geprivatiseerd. Allbright ziet kansen in Irak, vertrekt en laat zich opvolgen door zijn college roommate Michael Brown. FEMA verdwijnt uit het kabinet en wordt ondergebracht bij het Department of Homeland Security, dat zich voornamelijk op terrorisme-bestrijding richt. Exemplarisch voor Bush' FEMA-beleid is het opheffen van een programma voor lokale rampenbestrijding op de dag dat men getroffen wordt door een aardbeving.
De alom geprezen Witt is inmiddels weer ingehuurd om puin te ruimen in New Orleans.
Journalist Matt Frei beschreef en toonde vorige week op BBC World de situatie op straat. Een oude zieke vrouw ziet de eerste politie-auto van de dag en loopt er huilend naar toe, de politieman richt zijn geweer op haar en zegt: "Back-off, lady". Een helicopter hangt boven de grond, er stapt geen witte jas uit, er worden wat flesjes water uitgegooid. Frei zat ten tijde van tsunami in Sri Lanka en meldt dat de situatie nu veel erger is: de voorzieningen zijn ter plaatse, maar door het diepgewortelde wantrouwen tussen overwegend zwarte bevolking en overwegend blanke hulpverleners gebeurt er niets.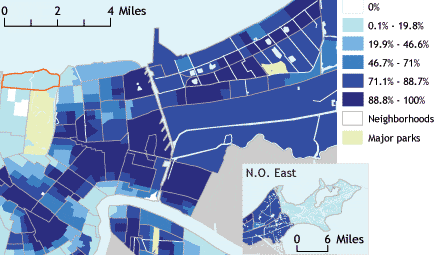 Bovenstaand kaartje geeft niet de waterstanden in New Orleans weer, hoewel er nogal wat overeenkomsten zijn met de satellietfoto's van na de ramp. De percentages geven de bevolkingsdichtheid van de zwarten weer.
De reddingsoperatie is uiteindelijk uitgemond in een grootschalig sociaal experiment: wat gebeurt er als je 25.000 mensen 6 dagen opsluit in het donker met ieder twee maaltijden, nauwelijks water en verstopte toiletten? Mogelijke antwoorden zijn:
Journalisten worden nog niet toegelaten in de Superdome.
Gelukkig komt er snel een onderzoek naar de gebeurtenissen onder deskundige leiding van George W. Bush. En donderdag arriveert Dick Cheney in het gebied om de herstelwerkzaamheden te coördineren. Dankzij zijn korte communicatielijnen met de voornaamste uitvoerder, Halliburton, zullen de werkzaamheden vermoedelijk vlot verlopen.
Notice
: Undefined variable: name in
/home/tj/var/www/alt-f4.org/comments.php
on line
3
Notice
: Undefined variable: email in
/home/tj/var/www/alt-f4.org/comments.php
on line
4
Notice
: Undefined variable: url in
/home/tj/var/www/alt-f4.org/comments.php
on line
5
Notice
: Undefined variable: com2 in
/home/tj/var/www/alt-f4.org/comments.php
on line
6