11-M
13 maart 00:15, 2006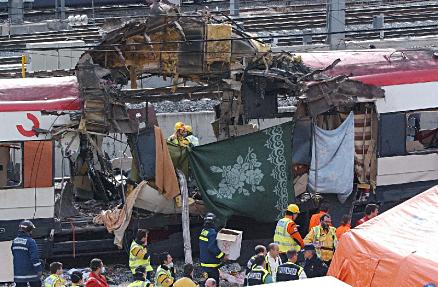 Afgelopen zaterdag was het twee jaar geleden dat er tijdens de ochtendspits in Madrid tien treinbommen ontploften.
De regering Aznar wees zeer stellig richting de ETA, terwijl daar weinig aanleiding toe was; sinds Aznar in 1995 een autobom overleefde was bestrijding ook een persoonlijke kwestie. (Op dezelfde dag in '95 kwamen in Oklahoma City 168 mensen om door een andere autobom, die aanvankelijk werd toegeschreven aan moslims. Sinds 11 september is die theorie populairder dan ooit.) Drie dagen na de Madrileense aanslag, tijdens de Spaanse verkiezingen, werd de verantwoordelijkheid opgeëist door Al-Qaeda.
Vorige week verspreidde Associated Press plots een bericht met een andere strekking. "Al Qaeda, Madrid bombs not linked" aldus twee veiligheidsbeamten betrokken bij het onderzoek naar de aanslagen.
Both men spoke on condition of anonymity, the first because Spanish security officials are not allowed to discuss details of an ongoing investigation and the second due to the sensitive nature of his job.
Dat justitiële onderzoek onder leiding van rechter Juan del Olmo, omvat inmiddels 80.000 pagina's en zal komende maand uitmonden in een aanklacht tegen de verdachten, zodat tegen het einde van dit jaar het proces kan beginnen. Bij gebrek aan aanklacht is tot nu toe slechts mondjesmaat bekend wat het onderzoek heeft opgeleverd. Haast is geboden, want volgens de Spaanse wetgeving moet binnen vier jaar na arrestatie de veroordeling volgen.
Waar de onderzoekers in ieder geval niet over beschikten, is alle informatie die de regering Aznar tussen 11 en 14 maart had vergaard. Alle harde schijven en back-ups waren namelijk bij de regeringsoverdracht zorgvuldig schoongepoetst door een gespecialiseerd IT-bedrijf. Het enige wat de nieuwe premier Zapatero aantrof, was de factuur à € 12.000. Aznar beweert in zijn eigen privé-archief nog wel alle documenten van de Spaanse geheime dienst CNI te hebben, iets waarvoor hij nu aangeklaagd wordt.
Het feit dat de vermeende leiders een paar weken na de aanslag zichzelf opbliezen in Leganès, helpt ook niet echt bij de bewijsvoering. Wat voor informatie is er wèl bekend die het hierboven geciteerde AP-bericht van enige context kan voorzien?
Vanaf het begin voldeden enkele verdachten niet aan het standaard Al-Qaeda-profiel van een Islamitische extremist.
José Emilio Suárez Trashorras, een voormalige mijnwerker, werd op 18 maart gearresteerd voor het leveren van de tweehonderd kilo explosieven die eind februari 2004 werden gestolen uit de Asturische kolenmijn 'Mina Conchita'. Saillant detail: hij was informant voor de narcoticabrigade van de Guardia Civil.
Rafá Zouhier, de enige allochtoon van dit rijtje en bevriend met Trashorras, werd op 24 maart gearresteerd omdat hij geholpen zou hebben bij het transport van de explosieven. Saillant detail: hij was informant voor de Unidad Central Operativa van de Guardia Civil.
Emilio Llano, beheerder van de dynamietvoorraad voor het bedrijf dat de mijn exploiteert, werd op 9 juni gearresteerd. Hij hield ongeveer 3000 kilo explosieven en 13.000 ontstekers buiten de boeken in de drie maanden voor de aanslag.
Carmen Toro, de vrouw van Trashorras, werd ook op 9 juni gearresteerd. Saillant detail: zij heeft een papiertje met de naam en het telefoonnummer van ene Juan Jesús Sánchez Manzano. Rechter Del Olmo herkent bij ontvangst van het dossier die naam: Sánchez Manzano is het hoofd van Tedax, de explosievenopruimingsdienst van de Guardia Civil.
Antonio Toro, de broer van Carmen en eveneens een oud-mijnwerker, werd ook op 9 juni gearresteerd. Hij werd vrijgelaten maar zit sinds december 2004 weer vast. Toro had in 2001 al eens vastgezeten voor handel in drugs en het bezit van explosieven. Saillant detail: Ook Toro is narcotica-informant voor de Guardia Civil.
Het was, kortom, al snel duidelijk dat er nogal wat banden waren met de Guardia Civil. Opvallend, gezien de overige informatie die daar verzameld was.

Er is nog een andere oud-mijnwerker en politie-informant: Francisco Javier Lavandera Villazón, bijgenaamd El Serpiente vanwege zijn hobby — erotische shows met reptielen. Hij vertelde een rechercheur van de Guardia Civil in 2001, nog vóór de aanslagen in New York, dat Trashorras en Toro op zoek waren naar lieden die wisten hoe een mobiele bom te fabriceren. De rechercheur gaf een opname van het gesprek aan zijn chef, die er vervolgens niets mee deed en daarvoor later werd ontslagen.
Tot zover informatie die voor de buitenstaander vrij eenvoudig te verifiëren valt bij diverse bronnen. Het onderstaande is wat zachter materiaal uit één bron.
Nadat Del Olmo het papiertje ontdekte met het telefoonnummer van de Tedax-chef, belde hij dat nummer. Er werd opgenomen door iemand die zich uitgaf voor Sánchez Manzano, maar de stem kwam Del Olmo bekend voor: het was een medewerker van het UCIE (de inlichtingendienst van de politie) die belast was met Del Olmo's onderzoek. De mederwerker verklaarde de naam van Tedax-chef bij wijze van kantoorhumor wel vaker als alias te gebruiken.
De eerste aanwijzing dat de aanslag uit Islamitische hoek kwam, was het nogal opzichtige cassettebandje met koranteksten in de witte Renault Kangoo die daags na de aanslag met enkele ontstekers werd gevonden. Enkele maanden na de aanslag vond de politie dertig meter verder een verlaten huurauto. Omdat men dacht aan diefstal, werd de Skoda Fabia ingeleverd bij een schoonmaakbedrijf, dat flink aan de slag ging en een koffertje vond met kleding (een Palestijnse sjaal met DNA-materiaal) en twee jihad-cassettes. Helaas was de auto toen al schoon, want men denkt dat de springstof wel eens met die huurauto kan zijn vervoerd.
De springstof wist men te traceren, dankzij een tas met een slecht gefabriceerde bom, waarvan de kabeltjes naar de mobiele telefoon niet verbonden waren. De SIM-kaart in die telefoon leidde naar Jamal Zougam, die in de gaten werd gehouden vanwege de bomaanslagen in Casablanca. Hij zou contacten hebben met Abu Dahdah, de Spaanse Al-Qaeda leider die betrokken zou zijn bij voorbereiding van 11 september.
De SIM-kaart werd geactiveerd in de telefoonwinkel van ene Maussili Kalaji. Deze Palestijnse Syriër, door de Russen getraind als lid van Al-Fatah, kwam in '81 als asielzoeker naar Spanje, werd in '89 agent van de Guardia Civil en infiltreerde in extremistische organisaties. Zijn familie werkte ook bij de politie. Lina Kalaji, zijn zus, luisterde als vertaalster alle mobiele telefoons van de verdachten af. En zijn ex-vrouw, Marisol Ruiz Sánchez, was één van de eerste agenten die ter plaatse was bij bovengenoemde witte Kangoo.
Bovenstaande onthullingen komen van de conservatieve Madrileense krant El Mundo. De hoofdredacteur werd door rechter Del Olmo al aangeklaagd wegens het publiceren van al dat moois. Een zekere politieke agenda ten aanzien van de socialisten van Zapatero kan de krant niet worden ontzegd.
Vanwege het cui bono van 11 maart waait de wind voor spannende complotten dit keer uit de rechter hoek. Ook het neoconservatieve National Review (thuisbasis van Alt-F4 favoriet Michael Ledeen) heeft dat door.
Bonusvraag
Waarvoor krijgt Maussili Kalaji op 12 maart 2004 een boete van € 245 en waarom is de PDF waarin dat staat plots verdwenen?
Notice
: Undefined variable: name in
/home/tj/var/www/alt-f4.org/comments.php
on line
3
Notice
: Undefined variable: email in
/home/tj/var/www/alt-f4.org/comments.php
on line
4
Notice
: Undefined variable: url in
/home/tj/var/www/alt-f4.org/comments.php
on line
5
Notice
: Undefined variable: com2 in
/home/tj/var/www/alt-f4.org/comments.php
on line
6