De tweede wet van Newton in de praktijk - 2
3 augustus 07:33, 2005
For secret assassination, either simple or chase, the contrived accident is the most effective technique. When successfully executed, it causes little excitement and is only casually investigated.
The most efficient accident, in simple assassination, is a fall of 75 feet or more onto a hard surface.
A Study Of Assassination, CIA
Afgelopen zondag overleed Wim Duisenberg, goed voor twee retecoole sterren, zonder Gretta schijnt er "eindelijk rust voor Wim" te zijn. Daags ervoor was Arthur Zankel van 's werelds grootste financieringsbank Citigroup van zijn Upper East Side appartement gevallen.
Eergisteren werd John R. Bolton, de omstreden voormalige Onderminister van Buitenlandse Zaken (Wapenbeheersing en Internationale Veiligheid), door George W. Bush benoemd tot VN-ambassadeur. Tijdens de vakantie van de Senaat, een privilège dat doorgaans is gereserveerd voor homoseksuele ambassadeurs van Luxemburg. Dezelfde dag werd hier geschreven over iemand die van het dak viel.
Vandaag nog een paar ogenschijnlijk ongerelateerde vallen:
John J. Kokal valt op 7 november 2003 kort na werktijd van het State Department in Washington. Bronnen over dit voorval zijn bijzonder schaars:
De Washington Post wijdt op 8 november enkele zinnen in een rubriek aan het voorval. De doodsoorzaak moet via lijkschouwing worden vastgesteld. Het Ministerie van Buitenlandse Zaken haast zich te zeggen dat Kokal in een afdeling werkte die zich wel met geheime inlichtingen en onderzoek bezighoudt, maar niet met de analyse van die inlichtingen.
Even later staat er op de site van FoxNews voor enige tijd dit bericht. Kokal werkte voor het INR (Bureau of Intelligence and Research) en werd aangetroffen zonder schoenen en jas. Volgens de brandweer is de politie inmiddels een onderzoek gestart en wordt moord niet uitgesloten.
De Franse site Geopolitique.com (inmiddels opgekocht en gesloten) publiceert op 14 november dit artikel over de zaak. Kokal zou binnen het INR één van de ambtenaren zijn, die het meest actief was om valse bewijzen voor massavernietigingswapens in Irak te ontmaskeren. Hij zou aanvankelijk hebben meegewerkt aan de productie van dergelijke bewijzen.
Zijn vrouw Pamela wachtte op het moment van de val in de parkeergarage van het ministerie. Volgens een voormalig INR-ambtenaar zou toegang tot het dak onmogelijk zijn geweest voor Kokal, vanwege de stringente veiligheidsmaatregelen.
En daar stopt de berichtgeving. Er is, zeg maar, sprake van little excitement.
De relatie tussen het INR en John Bolton wordt belicht in dit eerder gelinkte artikel:
"Bolton seemed to be troubled because INR was not telling him what he wanted to hear." [..] "I was intercepted at the door of his office and told, 'The Under-Secretary doesn't need you to attend this meeting anymore.' " [..] the aide said, "The Under-Secretary wants to keep this in the family."
Er zijn meer voorbeelden van personeelsbestrijding door Bolton bij de helden van het INR:
And he got very red in the face and shaking his finger at me and explained that I was acting way beyond my position. . . . And so, he basically threw me out of his office
Saillant is dat Bolton's neoconservatieve maatje bij het National Security Council, Elliot Abrams, bekend van Iran-Contra, zijn personeelsbestrijding ook serieus opvatte, getuige dit verhaal uit februari 2003:
He said Abrams had "led Miller to an open window and told him to jump," adding, "that's his (Abram's) management style."
Wie het bovenstaande optelt, kan zichzelf een vraag stellen.
Gus W. Weiss valt op 25 november 2003 van het Watergate-complex in Washington, waar hij woont. Hij was CIA-adviseur van 1972 tot 1980, verbonden aan de wetenschappelijke raad van het Pentagon en lid van de National Security Council onder Nixon, Ford en Reagan.
Weiss speelde de hoofdrol in The Farewell Dossier, een nogal fantastische spionagezaak tijdens de Koude Oorlog. Op Weiss' advies plantte de CIA een trojaans paard in microchips die de Russen stalen in de V.S. Die chips werden gebruikt in een Transsiberische oliepijplijn. Het paard zorgde ervoor dat de pijplijn in 1982 ontplofte: the most monumental non-nuclear explosion ever. NORAD zag het vuur via infra-rood satellieten en vreesde een massale raketlancering, maar Gus Weiss came down the hall to tell his fellow NSC staffers not to worry.
Het eerste krantenbericht over de dood van Weiss, ruim een week na de val, kan de doodsoorzaak en de omstandigheden niet melden en citeert een geshockeerde vriend van Weiss:
He was very interested in diplomatic strategy and was very, very opposed to the Iraq war. It was the first military action he ever opposed, but he believed we shouldn't go to war in the Middle East without knowing what we were getting into.
De Washington Times schrijft, weer een week later, dat het om zelfmoord gaat. Daar stopt de berichtgeving over de val.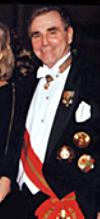 Edward J. von Kloberg III valt op 3 mei 2005 van het Castel Sant'Angelo in Rome. Van Kloberg, een zelf-verklaarde baron, veranderde begin jaren tachtig zijn naam in Von Kloberg, op aanraden van Arnaud de Borchgrave (het onderwerp van eergisteren) die de Duitse klank gedistingeerd vond.
Von Kloberg was lobbyist van de Axis of Evil: Amin, Mobutu, Kabila, Ceausescu, Kim Jong Il, de regimes van Birma en Liberia, Bouterse en Saddam Hoessein. Desi Bouterse werd door Von Kloberg benaderd, nadat hij in de krant steeds maar las over een bloedige Surinaamse dictator. Onder Reagan was Bouterse, die met Libië en Cuba flirtte, niet welkom in de V.S., maar Von Kloberg wist dat te veranderen:
It is fair to say the Surinamese didn't know how to behave here. Van Kloberg was almost Professor Higgins for them.
Hij was een voorstander van dialoog met Irak en schreef daarover opiniestukken.
Zijn einde dramatische einde lijkt een citaat uit Puccini's Tosca, dat bij zijn flamboyante verschijning met cape en Zaïrese Luipaard Orde past. Motief voor de zelfmoord zou een tragische liefde met zijn Litouwse vriend zijn.
Maar waarom had hij een foto van hemzelf en George H.W. Bush bij zich?
Notice
: Undefined variable: name in
/home/tj/var/www/alt-f4.org/comments.php
on line
3
Notice
: Undefined variable: email in
/home/tj/var/www/alt-f4.org/comments.php
on line
4
Notice
: Undefined variable: url in
/home/tj/var/www/alt-f4.org/comments.php
on line
5
Notice
: Undefined variable: com2 in
/home/tj/var/www/alt-f4.org/comments.php
on line
6