See no evil, hear no evil
19 december 07:39, 2005
WTC 7 report will be issued as a supplement to the main report: draft planned for October 2005; final for December 2005.

Decoupling of WTC 7 report necessary to accomodate overlapping staffing demands for work on WTC towers
This change affects mainly the collapse analysis [..]

WTC Part IIC - WTC 7 Collapse Final.pdf (kopie)
Bovenstaande toezegging, uit een powerpoint van het Amerikaanse National Institute for Standards and Technology (NIST) loopt bijna af; de voorlopige versie hebben we nog niet gezien terwijl de definitieve versie eigenlijk nu ongeveer wel gepubliceerd zou moeten zijn. We moeten het dus nog steeds doen met erg weinig om een idee te krijgen van wat er volgens het Amerikaanse normeninstituut met WTC 7 is gebeurd. In een
eerdere aflevering
concludeerde Alt-F4 dat de spectaculaire instorting toch minimaal op gespannen voet stond met wat onder 'veilig bouwen' verstaan wordt; het NIST is bij uitstek de partij die dit onderzoeken moet omdat zij de gevolgen van 9/11 moeten formuleren in nieuwe bouwvoorschriften. Bovenstaande .ppt presenteert een
hypothese
: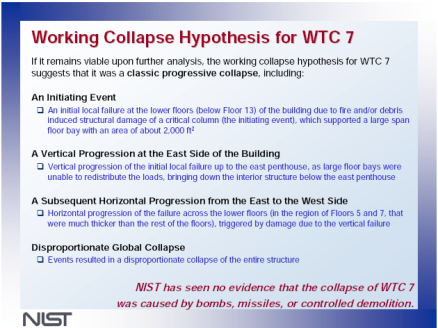 De volgorde der gebeurtenissen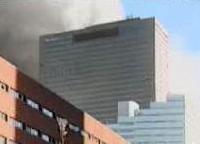 In bovenstaande sheet wordt beschreven wat er globaal op de videobeelden te zien is. Om 17:20 lokale tijd, nadat WTC 7 helemaal geevacueerd is, zakt het gebouw pardoes in. De uren daarvoor waren er al enkele branden te zien, maar niks dat de omstanders deed vermoeden wat er stond te gebeuren. Hier is een opname van de instorting. (Het NIST gebruikt beelden uit dezelfde opname voor hun analyse in deze powerpoint.)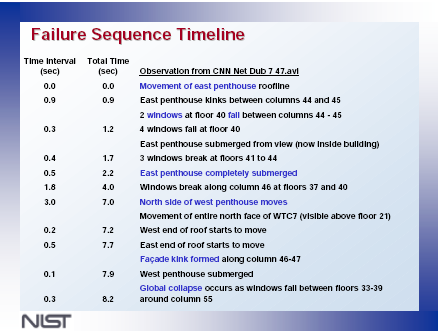 Bovenstaande slide (nr 26 van de powerpoint) somt de dingen die te zien waren vlak voordat het gebouw inzakte (vanaf 8,2 seconden). Deze zijn niet in de gelinkte film te zien. De analyse van wat er van buiten te zien was van de instorting lijkt vrij compleet. Zie slide 23 t/m 38.
Constructie van het gebouw
Slide 20 toont een dwarsdoorsnede van het gebouw, met daarin ingetekend schade aan het gebouw, zoals deze uit foto's en getuigenissen is gebleken. De oranje vlakken tonen de schade. Echter is dit de schade over de gehele hoogte van het gebouw; en was de schade op de laagste verdiepingen eigenlijk beperkt tot het hoekje linksonder. Deze is goed te zien op de foto op slide 42. Het bezwijken gebeurde van onderaf.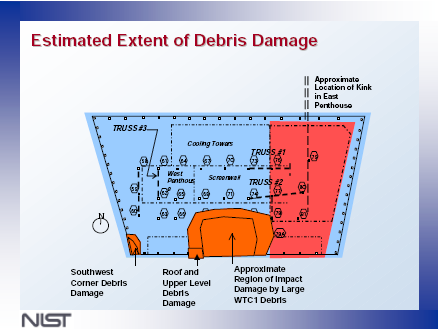 Belangrijker aan deze slide is te zien waar de east penthouse een knik begon te vertonen. Dit is het eerste zichtbare teken dat het gebouw gaat instorten. Dit impliceert dat kolommen 79,80 en 81 als eerste bezweken. Het valt op dat de beschadigde delen van het gebouw op andere plekken zitten.
Slides 8 tot en met 12 geven een preciesere indruk van de constructie van het gebouw, waarbij de volgende kenmerken opvallen:
Complexe fundering van de verticale kolommen. WTC 7 was gebouwd bovenop het lokale electriciteitsverdeelstation. Verschillende verticale dragers steunden dus op een serie van bruggen gebouwd over het station heen. Zie slide 9 en 10.
De verticale kolommen worden zijwaarts ondersteund door vloerliggers; vloerliggers hangen aan deze kolommen. Zie slide 11.
De gevelwanden lijken zelfdragend; dwz. dat ze niet opgehangen waren aan de binnenconstructie maar zelf hun eigen gewicht (+plus aangehangen vloeren) naar beneden afvoeren. Zulk een ontwerp heeft als voordeel dat het gebouw een stuk stijver wordt; men wil niet dat kantoorklerken zeeziek worden van een zwiepend gebouw. (Dat wil overigens niet zeggen dat de gevelwanden uit zichzelf kunnen staan zonder zijwaardse ondersteuning van de binnenconstructie.) Zie slide 8.
Tijdsverloop van bezwijken
Samengevat komt de NIST presentatie op het volgende neer:
Er wordt gesteld dat het op de 4e verdieping van het gebouw rondom kolom 80 extra brandgevaarlijk was; vanwege de grote dieseltanks (2 x 6000 gallons = 45 kuub) die daar geinstalleerd en gevuld waren. Deze tanks zijn maanden later grotendeels leeg teruggevonden.
Kolom 80 bezwijkt; kolommen 79,81 worden extra belast en bezwijken nu ook. De annex aan de oostkant bovenop hete gebouw zakt in.
Kolom 80 is vrijstaand van de funderingsbrugconstructie boven het electriciteitsstation, op een dwarsbalk ('truss 2', slide 33) na. Deze bezwijkt ook. Kolom 77 raakt hiermee zijn steun kwijkt. Ook truss 1 bezwijkt.
De oostkant zakt weg; de gevels blijven echter nog overeind. De funderingsconstructie onderaan bezwijkt nu in een 'progressive collapse'. Dwarsbrug na dwarsbrug bezwijkt, richting de westkant van het gebouw (slide 34 en 35).
De hele binnenconstructie is nu kapot en valt naar beneden. De annexen bovenop het gebouw zijn inmiddels niet meer te zien. Op dit moment begint de gevel pas te zakken; deze wordt meegetrokken door de instortende binnenconstructie. (Dit moment valt ongeveer samen met het begin van de gelinkte video, zie ook slides 36 en 37).
Evaluatie
Het beschreven bezwijkverloop past op zich goed met wat er te zien was. De constructie wordt echter schematisch behandeld. Dit is een probleem om de achterliggende oorzaken op waarde te beoordelen.
Verder valt op dat de initiële gebeurtenis ernstig in het midden gehouden wordt; er wordt vaag gerefereerd aan dieseltanks op de 4e verdieping bij kolom 80, en een gebrek aan brandwerende maatregelen aldaar. Dit is een essentieel en zwak punt, vooral omdat het eigenlijk niet voorkomt dat dit soort dragende staalconstructies door brand bezwijken. Een dieselbrand is daarvoor niet heet genoeg, en ook heb je het fenomeen dat staal warmte erg goed geleidt; weg van een brandhaard. Een instorting wegens brand is bij dit soort gebouwen nog nooit eerder vertoond. Ook is het belangrijk om te noteren dat bij mijn weten niemand op die plek een brand heeft gezien, terwijl de branden op hogere verdiepingen zelfs in deze presentatie op foto's terugkomt.
Het is onmogelijk om de progressive collapse van de vakwerkbruggen boven het electriciteitsstation op waarde te schatten, omdat de dimensionering (afmetingen) onbekend is. Ook is het onbekend hoe de liggers en de diagonalen aan de kolommen bevestigd waren; de liggers en diagonalen hadden namelijk ook gewoon kunnen afbreken. Dan zou tweederde van het gebouw overeind blijven staan (of trager gevallen cq. zijwaards omgevallen zijn).
Gerelateerd hieraan is het feit dat de gevels tot op het laatst blijven staan; terwijl de binnencontructie helemaal bezwijkt, uit zichzelf.
Het nog steeds niet gepubliceerde officiële onderzoekrapport zou in ieder geval een totale berekening van het geschetse scenario moeten bevatten. Slide 30 laat zien dat ze mooie sterkteberekingen met hun computers kunnen maken; met gedetailleerde bouwinformatie kan men het gehele gebouw prima modelleren in de computer. Een fatsoenlijk forensisch rapport zou niet zonder mogen.
Controlled demolition?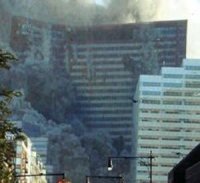 En zo zijn we weer terug bij de aloude vraag. De progressive collapse wordt door het NIST gepostuleerd als een kettingreactie van bezwijkende funderingselementen; het is voorstelbaar dat deze elementen een handje geholpen zouden kunnen zijn. Het interessante aan deze presentatie is eigenlijk dat deze de mogelijkheid van CD in zekere zin ondersteunt: de beschreven manier van instorten is precies zo dat de gevels geheel volgens het boekje naarbinnen worden getrokken door de instortende binnenconstructie. Uiteraard opdat deze niet eindigen op belendende percelen. Een sloper had het niet beter kunnen uitvoeren.
Mocht het NIST met keiharde informatie kunnen komen om deze vuige aantijging te ontkrachten, dan wil de hele wereld dat weten; zeer relevante informatie voor zij die hoge gebouwen willen bouwen. Oftewel: wat weet het NIST wat wij niet weten?
NIST has seen no evidence that the collapse of WTC 7 was caused by bombs, missiles, or controlled demolition.
See no evil, hear no evil?
Noot: Zutman heeft ooit een studie als civieltechnisch ir. afgerond, specialisatie offshore staalconstructies. Dus ook weer niet geheel dilettant op dit gebied.
Notice: Undefined variable: name in /home/tj/var/www/alt-f4.org/comments.php on line 3

Notice: Undefined variable: email in /home/tj/var/www/alt-f4.org/comments.php on line 4

Notice: Undefined variable: url in /home/tj/var/www/alt-f4.org/comments.php on line 5

Notice: Undefined variable: com2 in /home/tj/var/www/alt-f4.org/comments.php on line 6