Een behendigheidsspel
29 juli 07:20, 2005
Do not arouse the wrath of the great and powerful Oz. I said come back tomorrow.
The wizard of Oz
Het uitdrukken van de realiteit in filmbeelden voldoet zelden echt; ook dit keer niet. Toch dringt rondom 9/11 het beeld op van de Tovenaar van Oz, die achter het gordijn aan de hendels trekt. Daarna gaat het echter mis, want moeten we Mohammed Atta dan als Dorothy opvoeren?
Zo komen we op de gele klinkerweg terecht bij een klein detail. Op 5 september 2001, 6 dagen vóór 9/11 bracht Dorothy Atta met enkele medekapers een bezoekje aan een van de boten van het Floridaanse SunCruz Casino. Ook in de hemel zijn all major credit cards accepted, dus is het handig als je in de dagen voor je ultieme jihadsdaad nog even wat extra harde valuta erbij wint. Na 9/11, als dit detail bekend werd, stond de FBI snel klaar om de boeken in te zien. Daarna is er niks raars meer van vernomen. Tot zover Atta.

SunCruz Casino was opgericht en grootgemaakt door Kostas (Gus) Boulis, die sprong in het gat dat de Johnson Act in 1992 had geslagen in het verbod op casino's. Casino's op boten waren, met wat voorbehouden, ineens toegestaan (1). Boulis had al eerder zijn kapitaal verdiend met een Canadese keten van broodjeszaken, en besloot dat dit een goede bezigheid was voor na zijn 'pensionering'. Casino's zijn ook ideale witwasmachines, zeker als ze gelokaliseerd zijn op buitengaats varende boten. Niet goed voor het imago van The Sunshine State, dus proberen de lokale autoriteiten er alles aan te doen om deze boten weg te krijgen.
In 2000 weten ze Boulis eindelijk klem te krijgen, met behulp van een antiek wetsartikel uit 1916 dat schepen die varen onder Amerikaanse vlag ook Amerikaans eigendom moeten zijn. Boulis heeft de Canadese nationaliteit. Men schikt op een miljoen dollar boete en de verplichting om de schepen binnen drie jaar te verkopen. Dit in stilte, om het niet onnodig verliesgevend voor Boulis te laten worden. Boulis schakelt zijn vaste advocaat Art Dimopoulos in om op zoek naar kopers te gaan. Art is partner bij de Washingtonse vestiging van Preston Gates Ellis LLP. Jack Abramoff, een collegapartner, zegt tegen Art dat ie wel een koper kan vinden. Niet veel later komt hij met ene Adam Kidan op de proppen.
Wie is Jack Abramoff? Jack is advocaat en een invloedrijke lobbyist, met veel contacten in de Republikeinse Partij. Geboren in een seculier-joodse familie ziet hij op zijn 12e jaar Fiddler on the Roof, en besluit dat die joodse religie wel fabeltastisch is. In zijn jeugdjaren was hij zeer actief in de Jonge Republikeinen, en als echte Reaganite organiseert hij in 1985 een bijeenkomst voor anticommunistische rebellen in Jamba, Angola:
'I spent Shabbos in Jamba, and when I went out to pray', he told me, the locals thought he was a mystic.
Later neemt zijn lobbyistencarrière in Washington
een hoge vlucht
, en bereikt een hoogtepunt met de verkiezing van George Bush. Zijn nauwe contacten met de republikeinse
congress majority leader
Tom
.. ik bedoel:
Delay
zijn bijvoorbeeld berucht.
Adam Kidan is minder bekend. Kidan had net het door hem opgerichte Dial-A-Mattress verkocht, en was op zoek naar een nieuwe uitdaging. Afkomstig uit het netwerk van Jonge Republikeinen waar Abramoff ook uit kwam, waren ze goede bekenden van elkaar.

Na een eerste afspraak met Boulis worden er al snel plannen gesmeed: Kidan en Abramoff nemen beiden gelijk deel in SunCruz. De deelname van Abramoff moet geheim blijven, z'n advocatenkantoor zou zoiets immers niet waarderen. De afspraak is dat Kidan 'een 8-cijferig bedrag' levert en Abramoff zijn invloed in Washington. Uiteindelijk gaat Boulis door de bocht, en verkoopt 90% van SunCruz voor 145 miljoen dollar aan Kidan en Abramoff. Naderhand stelt hij echter nadere eisen. Om Boulis onder druk te zetten schakelt Abramoff z'n netwerk in, en zo zegt republikeins afgevaardigde Bob Ney op 30 maart 2000 in het Amerikaanse congres:
Mr. Speaker, how SunCruz Casinos and Gus Boulis conduct themselves with regard to Florida laws is very unnerving. [..]
Uiteindelijk wordt op 22 juni een formele overeenkomst getekend. Tijd voor het aanzoeken van een investeringsmaatschappij om het totale bedrag bij elkaar te krijgen. Deze wordt gevonden in Foothill Capital. Al snel blijkt dat de financiën van Kidan hoogst twijfelachtig zijn: Dial-a-Mattress is helemaal niet verkocht maar aan een faillissement ten onder gegaan. Ook Kidan zelf is in 1996 failliet gegaan. Van Kidans originele verklaring dat hij 26 miljoen waard is, blijkt niets waar. Na wat vitamine R (waaronder onder meer een audiëntie bij Tom Delay in de skybox van de Redskins) leent Foothill toch een bedrag van 60 miljoen, op voorwaarde dat beide partners 23 miljoen aan eigen kapitaal inbrengen, geld dat ze niet hebben (of niet van plan zijn er in te stoppen). Later zal Kidan getuigen dat hij en Abramoff met Boulis een andere, mondelinge, overeenkomst hadden gesloten, om die 23 miljoen niet te hoeven betalen. Foothill ruikt onraad en eist bewijs van betaling. Het geleverde stortingsbewijs van de bank zal later vals blijken.
Boulis behoudt een klein aandeel, in de veronderstelling dat hij nog invloed krijgt in het management van de casino's. Kidan verhuist naar Florida, alwaar hij de kosten van zijn luxe huisvesting uiteraard door Suncruz laat betalen. Kidans start als directeur gaat niet ongemerkt: een van zijn eerste daden is bijvoorbeeld het ontslaan van vrienden en familie van Boulis. Boulis is zachtgezegd 'niet blij', en dreigt Kidan met het onthullen van de nietbetaalde 23 miljoen aan de investeringsmaatschappij. Het netwerk wordt ingeschakeld en zo zegt Bob Ney wederom in het congres:
I have come to learn that SunCruz Casino now finds itself under new ownership.
Kidan haalt ondertussen een Newyorks vrindje in het bedrijf, Anthony Moscatiello, als food-and-beverage consultant. De connecties tussen Moscatiello en de maffia-familie van John Gotti is maar aan weinig mensen bekend.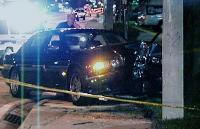 Ondertussen loopt de ruzie met Boulis steeds verder op. Kidan neemt extra beveiliging, en op dat moment wordt er vanuit SunCruz 145.000 dollar overgemaakt naar Gran-Sons, het cateringbedrijf van de Moscatiello's in New York, voor 'cateringdiensten' en 'consulting'. Boulis begint de heren eraan te herinneren dat bij het uitblijven van de betaling van de 23 miljoen hij de verkoop nietig kan verklaren, en voert dit dreigement uit: op 19 januari 2001 spant hij een zaak aan om Kidan uit het bedrijf te werken. Niet alles is vervelend voor Kidan: de volgende dag wordt hij ontvangen door Tom Delay, om de inauguratie van Bush bij te wonen. Op 31 januari haalt de ruzie de voorpagina van de Sun Sentinel. De stille vennoot Abramoff, achtergebleven in Washington, steunt Kidan uiteraard.
Op 5 februari verlaat Boulis zijn kantoor en stapt in zijn BMW. Een paar straten verder wordt hij klemgereden en in zijn auto doodgeschoten.
Tot nu toe is er niemand voor de moord veroordeeld, de politie zoekt nog naar getuigen die bereid zijn te praten. De erven Boulis hebben na een faillisement inmiddels weer de controle over het Suncruz concern verworven. Foothill probeert via rechtzaken de lening van 60 miljoen van Kidan en Abramoff terug te krijgen. De Moscatiello's hebben, voor zover na te gaan, geen cateringdiensten geleverd, of enig rapport geschreven. Bob Ney ontkent uiteraard alles.
Noot:
(Lezertjes herinneren zich wellicht nog de Nederlandse populariteit van Golden Ten casino's van de jaren 80).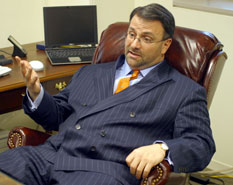 Op dit moment staat Abramoff meer in de schijnwerpers wegens het schandaal rond zijn lobbypraktijken voor de indianencasinos. De beschuldiging is dat hij naar schatting 80 miljoen van verschillende stammen heeft aangewend voor eigen doeleinden. In het dossier staat ook dit:
In 2002, Abramoff and an associate secretly funnel millions to consultant Reed, a former Christian Coalition leader, to help shut down a lucrative Texas casino operated by the Tigua Indians. "We should continue to pile on until the place is shuttered," Abramoff writes to Reed. Then Abramoff persuades the Tiguas to hire him and his associate, public relations consultant Michael Scanlon, to help reopen the casino. "Is life great or what!!!" he exults.

Describing the distribution of one tribal payment, Abramoff discloses how little the Indian tribes were getting for their money: "He (Scanlon) divided the $5 million into three piles: $1 million for actual expenses and $2 million for each of us."

Referring to their tribal clients, Abramoff writes to Scanlon that "the annoying losers are the only ones which have this kind of money and part with it so quickly." In other messages Abramoff refers to his Indian clients as the "stupidest idiots in the land," monkeys, troglodytes, morons and worse.

In 2004, Abramoff recommends that the Tiguas retain him at no cost and at the same time proposes that the Eshkol Academy, a Jewish boys school that Abramoff founded just outside Washington, buy term life insurance policies on tribal elders and receive the benefits upon their death, with the money then channeled back to Abramoff. "In effect, Mr. Abramoff asked to be paid by putting prices on the lives of tribal elders," said retiring Republican Sen. Ben Nighthorse Campbell of Colorado, then chairman of the Senate Indian Affairs Committee.
Notice: Undefined variable: name in /home/tj/var/www/alt-f4.org/comments.php on line 3

Notice: Undefined variable: email in /home/tj/var/www/alt-f4.org/comments.php on line 4

Notice: Undefined variable: url in /home/tj/var/www/alt-f4.org/comments.php on line 5

Notice: Undefined variable: com2 in /home/tj/var/www/alt-f4.org/comments.php on line 6