Ontsproten aan de Meadow Muffin - 2
22 juli 10:07, 2005
Valerie Plame, is an Agency operative on weapons of mass destruction. Two senior administration officials told me Wilson's wife suggested sending him to Niger to investigate the Italian report.
Robert Novak
Bovenstaand citaat blijft vervelend opspelen, zolang de openbare aanklager niet rust. Judy Miller, journaliste van de New York Times, laat niks los over haar bronnen, zit voor derde week in het gevang en heeft kans dat haar heroïsche strijd voor de persvrijheid haar talrijke canards zal overschaduwen. Matthew Cooper, journalist van Time, identificeerde deze week de chef-staf van Cheney, Lewis 'Scooter' Libby, als tweede official, goed voor een piek in diens koers. Novak heeft een akkoordje met de aanklager en houdt zijn mond stijf dicht. Karl Rove (de eerste official) heeft via zijn smetteloze advocaat een Clintoniaanse houding ingenomen.
Karl Rove, de mannetjesmaker van George W. Bush, lekt vertrouwelijke informatie naar columnist Robert Novak. Is dat nieuws?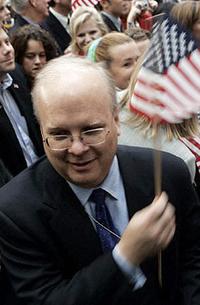 In 1973 wil Rove voorzitter worden van de JOVD, hij goochelt wat met de regeltjes, het zaakje gaat onwel rieken, Bush Sr. is onder de indruk van de lucht en Rove komt met stip de Republikeinse partijtop binnen. Op Thanksgiving geeft Karl zijn ambities om zelf president te worden op, wanneer hij George W. ontmoet: "He was exuding more charisma than any one individual should be allowed to have.".
Hij bouwt in de jaren tachtig in Texas een florerende direct-mail handel op en buigt het Democratisch gezinde Texas om in het voordeel van Bush Sr. Bij de herverkiezingscampagne van Bush in '92 wordt Rove's aandeel in het Texaanse budget voor direct-mail gereduceerd tot een kwart van het oorspronklijke bedrag. Rove vertelt Robert Novak over problemen in de Bush-campagne, Novak schrijft een column en Rove wordt uit de campagne gegooid.
Lekken naar Novak, is dat in '92 nieuws?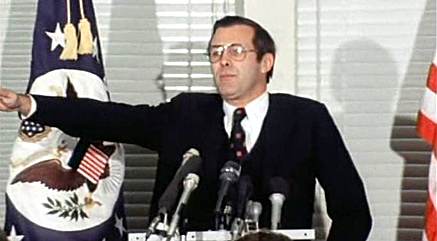 In de vroege jaren zeventig verandert onder Nixon de buitenlandse politiek van de V.S. drastisch. Kissinger wordt oppermachtig en détente is het motto. De Doctor heeft weinig last van ideologie en start onderhandelingen met de Sovjet-Unie. Kissinger's voornaamste criticus is de Democratische Senator Henry 'Scoop' Jackson, die een krachtig optreden tegen de Sovjet-Unie voor ogen heeft. "The formidable" Jackson verzamelt een groep jongelui om zich heen, tegenwoordig bekend als de neo-conservatieven, "headed by the subtle Richard Perle, matched [Jackson's] erudition and exceeded even his finely honed manipulative skills", zoals Kissinger met enig ontzag schrijft.
In 1975 ontketent Donald Rumsfeld in de regering Ford een paleisrevolutie: de Halloween Massacre. Kissinger verliest zijn dubbelfunctie van National Security Adviser, Bush Sr. wordt 'verbannen' naar de CIA, Rumsfeld zelf wordt Minister van Defensie en Dick Cheney volgt hem op als chef-staf. Rumsfeld ziet het Rode Gevaar opdoemen als Kissinger naar Moskou vertrekt om over SALT II te onderhandelenen en sommeert hem onmiddelijk terug te keren. Richard Perle lekt naar Novak, Novak schijft een column met Rumsfeld als redder der natie en SALT II wordt getorpedeerd. In '76 is détente dood en begraven.
Notice
: Undefined variable: name in
/home/tj/var/www/alt-f4.org/comments.php
on line
3
Notice
: Undefined variable: email in
/home/tj/var/www/alt-f4.org/comments.php
on line
4
Notice
: Undefined variable: url in
/home/tj/var/www/alt-f4.org/comments.php
on line
5
Notice
: Undefined variable: com2 in
/home/tj/var/www/alt-f4.org/comments.php
on line
6