Stevige banden
4 november 07:06, 2005
Berlusconi was maandag in het Witte Huis, op dezelfde dag dat in Italië een interview met hem werd uitgezonden waarin hij beweerde dat hij altijd tegen de oorlog met Irak was geweest en bij Bush had aandrongen om de diplomatieke weg te volgen. Over de agenda werd gemeld:
The centre of the meeting, at a difficult time for Bush due to CIA-Gate creating problems for men close to him, should be Iraq, but on the table will also be the Middle East following the recent anti-Israeli declarations by Iranian President, Mahmoud Ahmadinejad. Issues relating to Niger-Gate and the Calipari case will not be touched.
De gezamenlijke perconferentie van Bush en Berlusconi werd afgelast, er was alleen gelegenheid voor onderstaand Flickr-moment, waarbij de stevige banden tussen de twee landen werden benadrukt.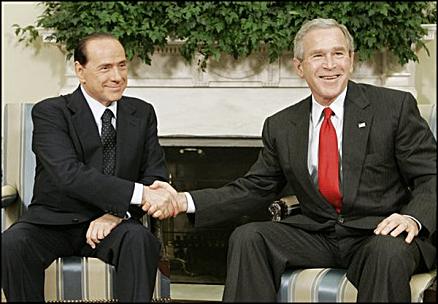 Vorige week verscheen in La Repubblica een drieluik over de Italiaanse betrokkenheid in de Plame-affaire (zie Il Postino). Deze week publiceerden dezelfde onderzoeksjournalisten van de krant twee artikelen over de aanloop naar de Irakoorlog. In Engelse vertaling: deel 1 en deel 2.
De Italianen hadden door training van officieren sinds de jaren tachtig goede contacten met het Iraakse leger. Vanaf december 2002 tot en met de Amerikaanse inval waren 20 SISIMI-agenten in Irak actief om inlichtingen door te spelen en de Baath-legertop tot overlopen te bewegen. Vervelende informatie voor Berlusconi, die in april herkozen wil worden. Italië nam niet deel aan de invasie, pas na de val van Baghdad trad het toe tot de coalation of the willing en het trekt zich tegenwoordig terug uit Irak. Berlusconi overstemt het slechte nieuws met een zelfmoordaanslag tegen hem.
Tot zover deze binnenlandse Italiaanse aangelegenheid. Interessanter zijn de nieuwe inzichten die La Repubblica verschaft in de hier vaker aangehaalde ontmoeting in december 2001 van Michael Ledeen, Larry Franklin, Harold Rhode, SISMI-chef Pollari, de Italiaanse minister van defensie Martino, wat Irakezen en wat Iraniërs. Pollari zegt:
[T]here were maps of Iraq and Iran on the table. I can tell you those Iranians were not exactly 'exiles'. The came and went from Tehran with their passports with no difficulty whatsoever as if they were transparent to the eyes of the Pasdaran.
Over het doel van de ontmoeting zijn in het verleden nogal wat verhalen in omloop geweest. Aanvankelijk ging het om humanitaire hulp in Afganistan. Later zou het om steun voor dissidenten bij de omverwerping van het Iraanse regime gaan. En tenslotte werd gemeld dat er inlichtingen over banden van Al Qaeda met verschillende regeringen in het Midden-Oosten werden uitgewisseld. Nu blijkt de nakende inval in Irak vooral gespreksonderwerp te zijn geweest.
De Iraniërs waren vertegenwoordigers van het regime. Na 11 september wilde Iran zijn strategische belangen in de regio veiligstellen. Regime change in Irak werd in Teheran verwelkomd, vanwege de Iraanse invloed op de shi'ietische meerderheid. De Arabische oliestaten zagen en zien dat uiteraard minder zitten.
De Irakezen waren leden van de Supreme Council for Islamic Revolution in Iraq (SCIRI, een paramilitaire moslim verzetsgroep met geheime cellen door heel Irak en bevoorraad door Iran) en de Badr-brigades, en leden van het Iraaks Nationaal Congres (INC). Het INC was de groep ballingen rond Ahmad Chalabi die zoveel rook de Washingtoniaanse kachelpijp inblies. Het INC ontving zo'n 100 miljoen van de Amerikaanse regering in ruil voor unique intelligence on Iraqi W.M.D.s, zoals Cheney het uitdrukte. Een van de aardigste voorbeelden van die unieke intelligentie was de mobile biowarfare unit die zo fraai in Colin Powell's PowerPoint figureerde, en die achteraf verzonnen bleek door een fantast met codenaam Curveball.
Saillant is dat Chalabi tijdens de ontmoeting in Rome met kopietjes van de vervalste Niger-papieren zwaaide. Vóór de oorlog was Chalabi de knuffel-Irakees van de neocons. In het kort zijn loopbaan:
Verlaat Irak in de jaren zestig, ruim voor het bewind van Saddam Hoessein;
Start begin jaren '80 de Petra-bank in Jordanië;
Vlucht eind jaren '80 naar Syrië als de bank failliet gaat en er 300 miljoen ontbreekt;
Wordt in Jordanië veroordeeld tot 22 jaar gevangenisstraf;
Sticht kort na Desert Storm in de V.S. het INC dat in '98 de Iraq Liberation Act van harte verwelkomt;
Intermezzo: In 2004 vraagt Bush de bevriende koning Abdullah van Jordanië om amnestie voor Chalabi. De koning is verbijsterd.
Wordt in april 2005 minister van olie en vice-premier van Irak;
Krijgt amnestie van de koning van Jordanië;
Weigert de amnestie en zegt dat Jordanië de slachtoffers van de Petra-bank financieel moet vergoeden;
Blijkt voor de Iraanse inlichtingendienst te werken. De Amerikanen vallen zijn woning en het kantoor van het INC binnen;
Gaat deze maand naar Washington voor een charme-offensief: wil premier worden.
De vraag dient zich aan waarom een fervent neo-conservatief en tegenstander van de mullah's als Ledeen zich voor het karretje laat spannen van Iran. Die vraag is al eerder gesteld en beantwoord:
This theory, now official doctrine for the neocons, is at the heart of their Iran strategy. It counts as second Big Mistake of the Iraq war. [..] Big Mistake No. 2, now taking shape, is that Iraq's Shiites are Good Guys who will lead a pro-American Iraq against Iran's "clerical dictatorship." I believe that they really believe this. But the reality is that in a Shiite-dominated Iraq, the hard-liners and the people with guns (i.e., the Badr Brigades) will take over, and they will make common cause with some of the clergy in Iran. It will be a dagger all right, but one aimed at Saudi Arabia's Sunni state. Of course, that too is part of the long-term Israeli-neocon strategy, to overthrow the Saudi king.
In Ledeen's woorden: creatieve destructie.
Ondertussen is Pollari voor de parlementaire Copaco-commissie verschenen en kaatst hij de Niger-affaire weer richting de V.S.: SISMI had de Amerikanen ingelicht over de vervalsingen. Gelukkig leest Michael Ledeen alleen andere Italiaanse kranten dan La Repubblica en verheugt hij zich op een diner in Rome.
Update:
De Italianen ontkennen nu de Amerikanen gewaarschuwd te hebben over de vervalsing. Het lekkende Copaco-lid belde geschrokken het AP om te zeggen dat hij eigenlijk bedoelde dat ze er niets mee te maken hadden.
Notice
: Undefined variable: name in
/home/tj/var/www/alt-f4.org/comments.php
on line
3
Notice
: Undefined variable: email in
/home/tj/var/www/alt-f4.org/comments.php
on line
4
Notice
: Undefined variable: url in
/home/tj/var/www/alt-f4.org/comments.php
on line
5
Notice
: Undefined variable: com2 in
/home/tj/var/www/alt-f4.org/comments.php
on line
6