De ontbrekende schakel
26 juli 17:22, 2005
Het onderwerp van vandaag heeft meer affiniteit met revolutie dan met evolutie; anders dan de titel wellicht doet vermoeden gaat het hier niet over de ontbrekende schakel tussen mens en primaat.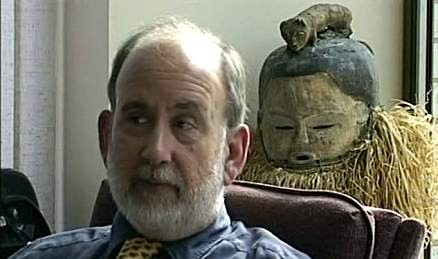 Michael Ledeen, neoconservatief historicus en filosoof, start zijn carrière in 1971 met de studie Universal Fascism, waarin hij fascisme omschrijft als een revolutionaire volksideologie. Hitler en Mussolini waren er volgens hem niet in geslaagd het volk volledig te laten participeren in het fascisme. In 1972 krijgt hij geen vaste aanstelling aan de Washington University van St. Louis wegens plagiaat.
Hij verhuist naar Italië, doceert aan de universiteit van Rome en schrijft voor The New Republic en Il Giornale, een krant van Berlusconi die in '74 werd opgericht door de kleurrijke Indro Montanelli. Hij is dan een zelfverklaard terrorisme-expert, die de Italiaanse regering en SISMI regelmatig voorziet van adviezen. Hij propageert dezelfde theorie als een vriendin, Claire Sterling, schrijfster van het invloedrijke boek The Terror Network. De terreur van de jaren zeventig (PLO, Rode Brigades, IRA, ETA etc.) komt volgens hen niet voort uit gefragmenteerde groeperingen, maar uit een netwerk dat door de Sovjet-Unie gestuurd en gesponsord wordt.
Bij terugkomst in de V.S. wordt Ledeen de eerste directeur van de Jewish Institute for National Security Affairs (JINSA) en is fel gekant tegen Jimmy Carter: "Carter left us frightened at the expansion of Soviet power and the humiliation of America, from Iran to Nicaragua".
In 1980 vraagt Ledeen "iedereen die [hij] kent in Italië" om informatie over een bezoek van Billy Carter (de broer van de president) aan Libië in '78. Hij benadert ook Generaal Santovito, de directeur van SISMI en lid van de beruchte vrijmetselaarsloge Propaganda Due (P2) van voormalig zwart-hemd Licio Gelli. SISMI-agent Francesco Pazienza schakelt een Siciliaanse advocaat uit de entourage van Khadaffi in, om Carter naar Libië te lokken en levert in september een tape met gesprekken. Ledeen onthult samen met Arnaud de Borchgrave (de latere hoofdredacteur van The Washington Times) vlak voor de verkiezingen van 1980 het 'Billygate'-schandaal in The New Republic.
Na de overwinning van Reagan verandert er het een en ander bij de CIA, zo schrijft voormalig CIA Sovjet-analist Melvin Goodman:
CIA's objectivity and integrity on a number of critical issues, particularly those concerning the Soviet Union, ended abruptly in 1981 when Bill Casey became director of central intelligence
[..]
The day after Reagan's inauguration, Secretary of State Alexander Haig, believing that Moscow had tried to assassinate him in Europe where he served as Supreme Allied Commander, linked the Soviet Union to all acts of international terrorism. There was no evidence to support such a charge but Casey had read the late Claire Sterling's The Terror Network and like Haig was convinced that a Soviet conspiracy was behind global terrorism. Specialists at CIA dismissed the book, knowing that much of it was based on CIA "black propaganda," anti-communist allegations planted in the European press. But Casey contemptuously told CIA analysts that he had learned more from Sterling than from all of them.
State Department officials requested a national intelligence estimate on the subject of international terrorism in order to convince Haig that Moscow was not the coordinator of international terrorism. Haig's special consultant at the department was Michael Ledeen [..] , who believed that international terrorism was a "sort of Wurlitzer being played by people in the basement of the Kremlin."
Onder Haig fungeert de tandem Ledeen-Pazienza als kanaal tussen Italië en de regering Reagan, buiten het zicht van de diplomatie. Pazienza leidt in die tijd het SISMI-onderzoek naar de bomaanslag in Bologna en probeert die toe te schrijven aan de Rode Brigades.
Op 13 mei '81 schiet Mehmet Ali Agca Johannes Paulus II neer in Rome. Agca, lid van de Turkse fascistische Grijze Wolven, had in '79 een redacteur van de linkse krant Milliyet doodgeschoten. Een maand na de moord ontsnapte hij uit de gevangenis, een brief achterlatend voor Milliyet waarin hij dreigde de paus te vermoorden. Na de aanslag ventileert Ledeen via Il Giornale het idee dat de aanslag door de Sovjets via Bulgarije is gearrangeerd. Die bewering wordt door die krant en door Claire Sterling verder uitgewerkt. Na verhoor door SISMI-agenten (volgens Agca door Pazienza) geeft Agca toe dat hij handelde in opdracht van de Bulgaarse geheime dienst, een bewering die hij later weer intrekt.
In '82 wordt Roberto Calvi dood aangetroffen in London, hangend onder de Blackfriars Bridge. Calvi was directeur van de Banco Ambrosiano ('de bank van het Vaticaan') die onderging in een miljarden-faillissement. De bank had na bemiddeling van Gelli in 1977 een kantoor in Nicaragua geopend. Calvi, lid van de P2-loge, sluisde via dat filiaal grote hoeveelheden geld door naar het bewind van Somoza. Naar aanleiding van het schandaal wordt in het huis van Gelli bij een huiszoeking de ledenlijst van P2 gevonden. In opdracht van Haig probeert Michael Ledeen de lijst, met daarop onder andere Silvio Berlusconi, te kopen om openbaring tegen te gaan.
De Britse politie doet de dood van Calvi af als zelfmoord. In 2003 wordt de zaak heropend en half mei van dit jaar worden 4 personen beschuldigd van de moord. Een van de verdachten werd destijds door Pazienza bij Calvi geïntroduceerd. Sinds vorige week wordt Licio Gelli officieel verdacht opdracht voor de moord te hebben gegeven.
Pazienza vlucht na het Ambrosiano-schandaal het land uit. In '85 wordt hij in New York gearresteerd en als "Italië's meest gezochte man" uitgeleverd. Hij wordt veroordeeld voor verduistering van Ambrosiano-geld. Uit rechtbankdocumenten blijkt dat Ledeen enige tijd op de loonlijst van SISMI heeft gestaan. Na een langdurig tweede proces, blijkt de bomaanslag in Bologna een van de weinige opgeloste fascistische aanslagen in Italië. Tien jaar na zijn arrestatie wordt Pazienza samen met Gelli in cassatie veroordeeld voor vervalsing van bewijsmateriaal.
Michael Ledeen heeft in 1985 wat anders aan zijn hoofd. Zes Amerikanen zijn gegijzeld in Beiroet door pro-Iraanse Shi'ieten, en Ledeen wordt door National Security Adviser Robert McFarlane uitgezonden naar Israël om om contacten met Iran te ontginnen. Hij onderhandelt met Manucher Ghorbanifar, een Iraanse wapenhandelaar, over de levering van 100 anti-tankraketten in ruil van vrijlating van de gegijzelde CIA-chef Buckley. Kort voordat de raketten worden geleverd, wordt Buckley doodgemarteld in Iran. Ledeen en Ghorbanifar staan daarmee aan de wieg van het Iran-Contra schandaal. Saillant detail is dat alleen Oliver North alles zijn notitie-boekjes opschrijft; Ledeen "had an understanding with Mr. McFarlane that neither of us would keep anything in writing regarding this initiative".
Terugkijkend op de jaren tachtig schrijft Ledeen in het anti-Clinton tractaat "Freedom Betrayed: How America Led a Global Democratic Revolution, Won the Cold War, and Walked Away":
Of all the myths that cloud our understanding, and therefore paralyze our will and action, the most pernacious is that only the Left has a legitimate claim to the "revolutionary" tradition. [..]
It retains astonishing strength even today, although its popularity makes it impossible to understand the revolution of our time, in which Ronald Reagan, Margaret Thatcher, Pope John Paul II, and others led a worldwide revolution directed in large part against the Communist Left.
Na de inauguratie van Bush werd Michael Ledeen Karl Rove's belangrijkste buitenland-adviseur. Zijn laatste boek, uit 2003, heet The War Against the Terror Masters en bepleit creatieve destructie van het Midden-Oosten:
Creative destruction is our middle name, both within our own society and abroad. We tear down the old order every day, from business to science, literature, art, architecture, and cinema to politics and the law. Our enemies have always hated this whirlwind of energy and creativity, which menaces their traditions (whatever they may be) and shames them for their inability to keep pace. Seeing America undo traditional societies, they fear us, for they do not wish to be undone. They cannot feel secure so long as we are there, for our very existence-our existence, not our politics-threatens their legitimacy. They must attack us in order to survive, just as we must destroy them to advance our historic mission.
In april dit jaar werd Vincent Cannistaro geïnterviewd over de vervalste Niger-documenten, afkomstig van SISMI, in de Plame-affaire. Cannistaro was hoofd van de CIA-afdeling terreurbestrijding in de jaren tachtig.
The Italian intelligence service, the military intelligence service, was acquiring information that was really being hand-fed to them by very dubious sources. The Niger documents, for example, which apparently were produced in the United States, yet were funneled through the Italians.

Do we know who produced those documents? Because there's some suspicion ...

I think I do, but I'd rather not speak about it right now, because I don't think it's a proven case ...

If I said 'Michael Ledeen'?

You'd be very close ...
Naast de Plame-affaire is er deze zomer nog een andere affaire die vervelend blijft opspelen. Ledeen, een van de oprichters van de Coalition for Democracy in Iran, hervat na 11 september zijn contacten met Manucher Ghorbanifar en ontvangt van hem duizenden pagina's met vertrouwelijke informatie over Iran, Irak en het Midden-Oosten. Ghorbanifar is sinds Iran-Contra door de CIA voorzien van een burn notice omdat hij desinformatie zou verpreiden; agenten mogen geen zaken met hem doen. Ledeen vindt zijn vriend steeds
my best source of information on Iran for 20 years. And the CIA made a mistake about him and they don't know how to get out of it. Once a burn notice has been issued on somebody, they are never going to change it. I think the CIA is a hopeless, stupid organization.
Hij organiseert in 2001 in Rome een bespreking met Ghorbanifar, het hoofd van SISMI en enkele analisten van de Office of Special Plans, om regime change in Iran te bespreken. In 2002 en 2003 volgen nog enkele besprekingen. Eén van de analisten is Larry Franklin, die informatie over het Amerikaanse Iran-beleid naar het American Israel Public Affairs Committee (AIPAC) lekt. Franklin zit inmiddels vast en wordt beschuldigd van spionage-activiteiten voor Israël.
Ondertussen popelt Ledeen als playboy op rechtsbuiten onverminderd. Gelukkig vindt hij een warm oor bij Dick Cheney:
The plan includes a large-scale air assault on Iran employing both conventional and tactical nuclear weapons.
Notice
: Undefined variable: name in
/home/tj/var/www/alt-f4.org/comments.php
on line
3
Notice
: Undefined variable: email in
/home/tj/var/www/alt-f4.org/comments.php
on line
4
Notice
: Undefined variable: url in
/home/tj/var/www/alt-f4.org/comments.php
on line
5
Notice
: Undefined variable: com2 in
/home/tj/var/www/alt-f4.org/comments.php
on line
6