Bronnen en mikpunten
28 oktober 21:00, 2005
Bob Novak en Karl Rove bij de Army Navy Club in juni 2003, een maand voor Novak's beruchte column. Rove's button: "I'm a source not a target."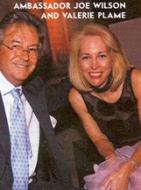 Hoe werd de identiteit van de undercover CIA-agente Valerie Plame onthuld?
Speciale aanklager Patrick Fitzgerald heeft gesproken: Scooter Libby, de chef-staf en alter-ego van Dick Cheney wordt aangeklaagd, onder andere voor meineed, en heeft zijn post reeds op krukken verlaten. Een verse grand jury gaat verder, wie is Official A? Karl Rove kan zijn button nog even blijven dragen: Bush' lobotomie laat dus nog op zich wachten.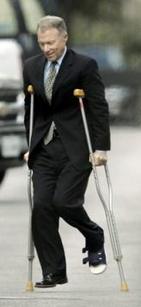 Voor de Nederlandstalige bezoekers die zich nu afvragen wie Scooter Libby of Judy Miller is of wat Fitzmas is, een inhoudsopgave van relevant Alt-F4 materiaal:
Het Witte Huis wenst u een Happy Halloween.
Notice
: Undefined variable: name in
/home/tj/var/www/alt-f4.org/comments.php
on line
3
Notice
: Undefined variable: email in
/home/tj/var/www/alt-f4.org/comments.php
on line
4
Notice
: Undefined variable: url in
/home/tj/var/www/alt-f4.org/comments.php
on line
5
Notice
: Undefined variable: com2 in
/home/tj/var/www/alt-f4.org/comments.php
on line
6