Zero-Eight-Foxtrot, hebbie een vuurtje?
8 augustus 07:25, 2005
Dear Don,
Here are some pretty good shots which I hope will bring back some pretty good memories. [..] He is quite a guy and I learned a lot from him on the way up to Miami from the Keys. Again Don this day was one of the greatest of my life. I love boats, always have. But ever since knowing you that private side of my life has become ever more exciting and fulfilling. Incidentally, I didn't get to tell you but my reliable 28 footer Cigarette that is, still doing just fine...no trouble at all and the new last year engines.

(My typing stinks.)
George H.W. Bush, 14 januari 1984

Aldus een vriendschappelijk briefje van de oude Bush aan Don Aronow, toen al 25 jaar de man achter Cigarette Racing. Aronow had in 1969 het powerboat racing wereldje flink opgeschud met zijn eerste power boat, genaamd 'Cigarette'. De successen maakten dat hij zijn racing team kon uitbouwen tot een goedlopende fabrikant van power boats, het merk werd legendarisch. (Tegenwoordig wordt het veelvuldig geassocieerd met de tv-serie Miami Vice, alhoewel aldaar boten van concurrerend merken werden gebruikt.)
Z'n eerste Cigarette kocht Bush van Aronow in 1974. Deze boot, 'Fidelity' genaamd, wordt inmiddels geëxposeerd in het George Bush Presidential Library and Museum. Inmiddels is hij aan z'n derde toe, waar laatst ook ene William Jefferson op welkom was.
In 1982 nam Reagan maatregelen tegen drugssmokkel in en rond Florida, en maakte GHW Bush hoofd van deze operatie. Dit zou later uitmonden in wat de 'War on Drugs' is gaan heten. Onderdeel van de maatregelen was de bestelling een nieuwe generatie patrouilleboten. Na bovenstaande bezoekje van Bush aan Aronow werd dit project, genaamd Blue Thunder, gegund aan Aronows werf. De eerste boten werden met veel fanfare onthuld op 4 februari 1985, als de eerste echte op maat gemaakte patrouilleboten. Later bleken er toch wat problemen:
The Customs soon found that the Blue Thunder catamarans were highly unseaworthy and highly unsuitable for the task of chasing down other speedboats, including above all Aronow's earlier model Cigarette boats, which were now produced by a company not controlled by Aronow. Blue Thunder was relatively slow class, capable of a top speed of only 56 miles per hour, despite the presence of twin 440-horsepower marine engines. The design of the catamaran hulls lacked any hydrodynamic advantages, and the boats were too heavy to attain sufficient lift. The stern drives were too weak for the powerful engines, leading to the problem of "grenading" : when the drive shafts severed, which was often, the engines began to rev far beyond their red line, leading to the explosion or disintegration of the engines and the sharpnel-like scattering of red-hot steel fragments through the boat. This meant that the boats had to be kept well below their maximum speed. Most Blue Thunders spent more time undergoing repairs than chasing drug runners in the coastal waters of Florida. Blue Thunder was in boating parlance "wet," a complete lemon, useful only for photo opportunities and publicity shots.
George Bush: The Unauthorized Biography, Webster Tarpley
Inmiddels was deze werf ook geen eigendom van Aronow meer, maar van Jack Kramer. Deze Jack Kramer was via een nicht van Meyer Lansky ingetrouwd in deze criminele familie, en daarmee was zijn zoon Ben Kramer een van de potentiële erfgenamen van dit imperium. Zodra de autoriteiten erachter kwamen, werd de order afgezegd. Kramer werd gedwongen om de werf - tegen verlies - terug te verkopen aan Aronow. Inmiddels liep er een onderzoek naar Kramer, wegens, onder andere, drugshandel.
Op 3 february 1987 werd Don Aronov vermoord, voor zover valt na te gaan enkele dagen voordat hij moet getuigen tegen Kramer. Aronow vreesde blijkbaar wat er komen ging, en had in de dagen ervoor herhaaldelijk Bush persoonlijk gebeld. Na zijn dood vond zijn vrouw een nagelaten lijst met instructies met daarin bovenaan: '#1 CALL GEORGE BUSH'. In 1990 werden zowel Jack als Ben schuldig bevonden aan illegaal geld witwassen, op 23 van de 28 punten van de aanklacht.
Zoals Bush het in 1988 al zei:
I will never bargain with drug dealers on US or foreign soil.
Noten:

In het vakblad voor de power boat racer wordt de historie nog eens fijn nostalgisch beschreven: The Tale of Two Cities.
In zijn boek uit 1990 laat Thomas Burdick ene Tommy Teale aan het woord, die beweert dat Jack Aronow tesamen met Jeb Bush een cocaïnetransportje hebben gedaan. Een vriend van Aronow, Robert Magoon, zegt dat verhaal ook gehoord te hebben.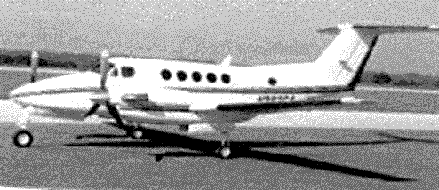 Bovenstaande Beechcraft King Air 200, de N6308F, staat geregisteerd als eigendom van de staat van Texas. Het was ook het favoriete vliegtuig van George W. Bush in zijn gouverneurstijd:
He used to fly on that airplane all the time. He stopped when he became a Presidential candidate because the State won't let you fly its aircraft for political purposes. Jerry Daniels, Executive Director of the Texas State Aircraft Pooling Board
Een terechte voorkeur van Bush, de Beechcraft King Air staat bekend als de 'Cadillac' onder de kleine propellervliegtuigen. Maar waar komt dit exemplaar, beter bekend als 'zero-eight-foxtrot', eigenlijk vandaan?
In 1982 besluit Reagan tot het steunen van de Contra's tegen het Sandinistische regime in Nicaragua. Na de periode Carter, waarin de budgetten van de CIA flink zijn gesnoeid, kunnen er onder de ogen van de Democraten in het Congres en de Senaat er niet zoveel fondsen vrij worden gemaakt. Financiering is dus niet eenvoudig. Toch is reeds een nieuwe geheime eenheid binnen het leger, opgericht door generaal Richard Stilwell. Deze Intelligence Support Activity (ISA) werd voor het eerst bekend binnen het congres en de senaat toen het project Yellow Fruit in 1983 werdt ondekt. Dit project had tot doel had om de Hondurese troepen te ondersteunen met hun invallen in Nicaragua. Deze activeiten worden betaald uit geheime fondsen buiten de officiele boekhouding, onder meer uit de wapentransporten die in het vorige artikel al werden aangestipt. Seymour Hersh rapporteert in de NYT in 1987 dat er aan deze operatie tussen 1981 en 1983 circa 325 miljoen dollar is besteed.
In het kader van deze activiteiten wordt Barry Seal ingeschakeld om transporten te verrichten, en krijgt hij via-via enkele gloedieuwe geleasde King Air 200's toegespeeld, waaronder de N6308F (zie verzekeringsbewijs). Barry verhuist z'n operaties naar Mena Airport in Arkansas, en krijgt carte blance om wapens heen en drugs terug te smokkelen. Alles zodanig dat zowel de CIA als het leger hier administratief verre van blijft. Het toespelen van de King Airs gebeurt via zoveel brievenbusmaatschappijen dat het spoor lastig te reconstrueren is. Behalve Barrys vloot wordt er ook binnen Amairco, een andere maatschappij een vlootje King Airs opgebouwd. De geheimzinnige aankoopprocedure van deze vliegtuigen doet mensen binnen Beechcraft denken dat het hier om een geheim militair project gaat. Later zal deze vliegtuighandel bekend komen te staan als project Elephant Herd.
Van 1982 tot 1985 zal Barry zich bezigen met het transporteren van 'zaken' naar Honduras, en via Colombia/Venzuela terug naar Mena Airport. De wapens worden in Honduras afgeleverd, de drugs worden boven Louisiana gedropt.
In 1984, na aanname van het Second Boland Amendment mochten zowel de CIA als iedere andere regeringsinstelling zich expliciet niet meer met zulke operaties bezig houden. De hele organisatie wordt in Washington als een hete aardappel clandestien op het bureau van Oliver North geschoven, en bestaande verbanden worden verbroken. Het eigendom van de N6308F, aan hem geleased, veranderde plots van postbusmaatschappij, een signaal voor Seal dat men van hem afwilde.
Bang voor zijn hachje begint hij te roepen dat hij videomateriaal had van een bepaalde sting operation op Tamiami Airport, in 1985:
They arrived on the Bush family King Air from Texas, presumably piloted by George W., to pick up two kilos of cocaine which was delivered for the Bush's by Seal, after flying from the Intermountain Regional airport located at Mena, Arkansas. [Terry] Reed was the unwitting co-pilot. At the time the sting was arranged, the "buyers" of the cocaine were unknown.
Dit materiaal blijkt overigens geen levensverzekering te zijn en op 9 februari 1986 wordt Seal bij thuiskomst beschoten en dodelijk getroffen. Terry Reed riep in juli 1999 dat de bewuste tape wel eens zou kunnen opduiken tijdens de toen nakende presidentscampagne. Zulks is tot nu toe niet gebeurd.
Noten:

De relaties tussen de dood van Barry Seal en de CIA worden het eerst gelegd door Hopsicker, zie ook hier. Dit kranteartikel vertelt het verhaal nog in de oude versie: Seal werd door concurrerende drugsbaronnen omgelegd.
Nevens bovenstaande wordt de stoelendans rondom het eigenaarschap van de N6308F hier nog eens precies uit de doeken gedaan, tot aan de aankoop door de staat van Texas.

Notice: Undefined variable: name in /home/tj/var/www/alt-f4.org/comments.php on line 3

Notice: Undefined variable: email in /home/tj/var/www/alt-f4.org/comments.php on line 4

Notice: Undefined variable: url in /home/tj/var/www/alt-f4.org/comments.php on line 5

Notice: Undefined variable: com2 in /home/tj/var/www/alt-f4.org/comments.php on line 6