Meten is weten
19 juli 07:34, 2005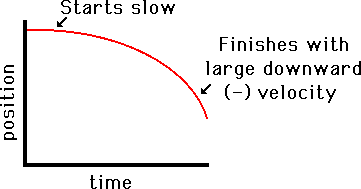 Drunkmen pleitte in de comments van mijn vorige natuurkundeles voor gravures. Hij had wellicht gehoopt op een plaatje als bovenstaand als definitief bewijs, maar had ik het gedaan, het resultaat zou vast lineaire karakteristieken hebben. Dat zou ook niet mijn originele punt hebben aangetoond, want ik had het alleen maar over de snelheid, de tijd van instorten van zowel WTC Noord als WTC Zuid. Zulke gravures zijn echter veel beter op hun plaats in de volgende zaak.
Wat in de herinnering wellicht een beetje ondergesneeuwd geraakt is, is dat er op 9/11 in New York nóg een toren is ingestort. Het frappante van deze toren is dat ie pas 7 uur na de andere twee is ingestort, rond 5 uur 's middags lokale tijd. WTC toren 7 was meer in naam dan in constructie verbonden aan het WTC. Deze toren (uit 1984) was een aanbouwsel, los van het originele WTC-complex uit 1970: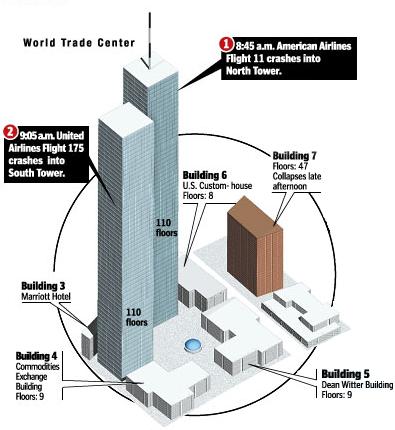 Uit dit gejatte plaatje blijkt dat er een straat liep (loopt) tussen WTC 7 en de rest. Dat is Vesey Street. Ook lijkt het alsof er in de nabijheid van WTC 7 geen andere hoge gebouwen stonden. Deze Google Maps link toont anders.
Om 10:29 lokale tijd stortte de laatste van de twee hoge torens in. Praktisch 7 uur later, om 17:20, stortte WTC 7 ook in. Zoals te zien is op het bovenstaande plaatje alsook de Google-maps link, staat er rondom het WTC-perceel veel meer hoogbouw. Deze hoogbouw is niet ingestort, en heeft aan de ineenstorting van toren 1 en toren 2 hoogstens lichte tot middelmatige gevelschade overgehouden. WTC 7 staat verder af van WTC 1 & 2 dan die andere gebouwen. Op de video van wtc-noord is WTC 7 in de voorgrond te zien. Een beetje kritische observatie levert de conclusie op dat WTC 7 vrij blijft van vallend puin.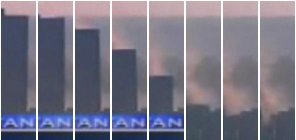 Hiernaast staat een montage van de beelden van CBS News van deze ineenstorting. De verticale segmenten representeren videobeelden in stappen van 1 seconde elk. Als we deze sequentie vergelijken met het brugklas-natuurkundeplaatje bovenaan dit artikel, dan zien we frappante overeenkomsten. (Overigens zie je hier maar het topstuk van het gebouw, schattingen zijn dat hier de bovenste 50 meter zichtbaar zijn. Het gebouw was 47 verdiepingen hoog.). We constateren:
De toenemende ineenstortingssnelheid geeft aan dat de weerstand van de onderliggende constructie plots geheel verdwenen is (hier is een onderscheid met met WTC 1 & 2, daar is nog wat vertraging)
De rechtstandige ineenstorting is a-typisch. Gebouwen die uit zichzelf bezwijken, vallen meestal niet rechtstandig in (of de kwaliteit van de constructie moet wel heel erg beroerd zijn).
Er zijn wel genoeg andere voorbeelden van rechtstandig ineenstortende gebouwen, maar dat is bijna altijd het resultaat van een controlled demolition (voor dit plaatje zijn veel alternatieven te vinden, google is uw vriend). Het principe van een geslaagde controlled demolition is dat de timing van explosies zodanig is dat de interne constructie eerst valt, zodat de gevels er later bovenop vallen. Dit om de schade voor omliggende gebouwen te minimaliseren. Om alle explosieven voor zulks aan te brengen, vergt in een typisch project enkele weken.
Bovenstaande vergelijking komt niet alleen uit mijn koker. In de PBS documentaire van september 2002, 'America Rebuilds' wordt Larry Silverstein aan het woord gelaten. Larry is eigenaar van de investeringsmaatschappij die een paar maanden voor 9/11 voor 30 jaar de lease op het gehele WTC-complex verkreeg.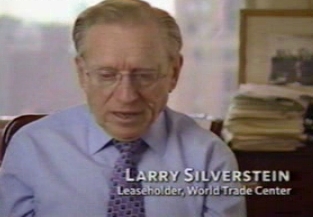 "I remember getting a call from the, er, fire department commander, telling me that they were not sure they were gonna be able to contain the fire, and I said, 'We've had such terrible loss of life, maybe the smartest thing to do is pull it.' And they made that decision to pull and we watched the building collapse."
Larry Silverstein in 'America Rebuilds'
Larry heeft deze opmerking later nooit verder willen toelichten.
Blijven de vragen:
Gezien de karakteristiek, en daarom uitgaande van een controlled demolition is de vraag: waren de springladingen in die 7 uur in het gebouw aangebracht, of al voor de dag van 11 september 2001? En zo ja, waarom?
Als Larry hierboven fiks heeft overdreven (of verkeerd begrepen is, we houden alles open), moet dan niet geheel Manhattan terstond worden ontruimd wegens acuut instortingsgevaar?
Naschrift:
Het officiële eindrapport betreffende de instorting van WTC 7 van het NIST laat nog minimaal 6 maanden op zich wachten (verwachting: dec 2005).
Notice
: Undefined variable: name in
/home/tj/var/www/alt-f4.org/comments.php
on line
3
Notice
: Undefined variable: email in
/home/tj/var/www/alt-f4.org/comments.php
on line
4
Notice
: Undefined variable: url in
/home/tj/var/www/alt-f4.org/comments.php
on line
5
Notice
: Undefined variable: com2 in
/home/tj/var/www/alt-f4.org/comments.php
on line
6