Tussen oorlog en vrede
23 september 07:29, 2005
On 11 September aircraft were diverted from their normal flight routines. With fanatics at their controls, they headed for the heart of a big city, intent on destroying the symbols of a hated political system. In the explosions that followed, buildings were shattered. Survivors fled the wreckage. The media were on the spot broadcasting live.
Le Monde diplomatique, oktober 2001
De carrière van CIA-apparatsjik Theodore Shackley — bijnaam Blond Ghost — kent vele hoogtepunten. Kort na de Tweede Wereldoorlog werd hij als militair gestationeerd in Duitsland, en rolde zo de Koude Oorlog en de CIA in. In de jaren vijfig runde hij vanuit Berlijn spionnen aan gene zijde van het ijzeren gordijn.
Begin jaren zestig, na de Varkensbaai, wordt Shackley chef van het CIA-station JM/Wave in Miami en krijgt de leiding over Operation Mongoose dat de omverwerping van het communistische regime in Cuba beoogt. Veel CIA-agenten die aan Mongoose deelnemen, maakten eerder deel uit van Operation 40, een groep van 40 agenten die Castro en andere regeringsleiders moesten vermoorden tijdens de Varkensbaai-invasie. Die groep van 40 was een bont gezelschap. Op onderstaand kiekje zien we bijvoorbeeld helemaal links de kersverse CIA-agent Porter Goss die vorig jaar door George W. Bush benoemd is tot directeur van de CIA. Direct achter hem is de latere drugsbaron Barry Seal lachend te zien, op Alt-F4 eerder behandeld in Zero-Eight-Foxtrot. Vóór Goss, het dichtst bij de camera, zien we met sigaret Felix Rodriguez, een vriend van Bush Sr., betrokken bij de moord op Che Guevara en een half jaar geleden in het nieuws toen hij zinspeelde op de nakende moord op Hugo Chavez, de president van Venezuela.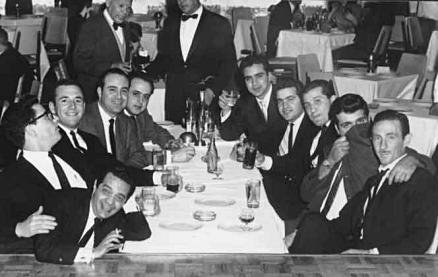 Ook actief was Luis Posada Carilles die agenten voor Mongoose trainde. Afgelopen mei werd de regering Bush ernstig in verlegenheid gebracht, in de globale strijd tegen het terrorisme, doordat Venezuela de uitlevering van Posada vroeg, omdat deze in '76 een Cubaans verkeersvliegtuig opblies.
Castro overleeft Operation Mongoose. Kennedy niet, volgens de Nederlander Wim Dankbaar niet toevallig. Het Miami-station verliest aan gewicht en veel 'vrijheidsstrijders' vinden emplooi in de drugssmokkel, zoals op deze site werd belicht in De melkrondjes.
Shackley wordt chef van het CIA-station in Laos, tot dat moment een slapende post. Hij doet wat studie naar het Hmong-volk, dat in Noord-Laos een guerilla voert tegen binnenvallende Vietnamezen. Shackley spant de Hmong voor zijn karretje, voorziet ze van wapens en laat ze het Ho Chi Minh-pad in de gaten houden. Indien nodig moeten ze de hulp van de V.S. luchtmacht inschakelen. Een effectief programma, Shackley noteert:
In statistical terms this is a 7:1 ration in favor of the guerilla forces. This is an effective combat-loss ratio [..] Unfortunately [..] the Hmong suffered a disproportionate share of the friendly losses.
De operatie in Laos, bekend als de Secret War, was de grootste covert operation tot Afganistan en met 3 miljoen ton de grootste Amerikaanse bommencampagne sinds de Tweede Wereldoorlog. Behalve geheim, is de oorlog ook nog steeds niet afgelopen. De laatste Hmongs in Laos worden tegenwoordig door het communistische regime succesvol uitgeroeid wegens hun collaboratie. Volledig van de buitenwereld afgesloten kunnen ze weinig anders dan gekookt zaagsel van boomwortels eten, zoals te zien is op gesmokkeld videomateriaal in de documentaire Guerre secrète au Laos van afgelopen juni. En als er te weinig eetbaars is geven ze zich over.
Na de bewezen diensten krijgt Shackley promotie en wordt chef, daar waar de echte actie is: Saigon. Hij leidt het Phoenix Program, een programma dat via moord, ontvoering en marteling de 'civiele infrastuctuur' van de Vietcong probeert te neutraliseren. De massamoord in My Lai is een van de uitvloeiselen van het programma. In totaal goed voor 40.000 doden.
In 1972 promoveert Shackley wederom en wordt hoofd van de CIA-divisie in het westelijk halfrond. In dat halfrond was de socialist Allende de grootste bedreiging, zo schreef Kissinger aan Nixon. Richard Helms, directeur van de CIA, noteerde na een ontmoeting met Nixon:
1 in 10 chance perhaps, but save Chile! . . . Not concerned risks involved . . . . $10,000,000 available, more if necessary. Full time job - best men we have
De CIA voerde een tweesporenbeleid. Track I was de politieke weg. Via track II probeerde men een coup te instigeren. Men leverde ook wat wapens, maar dat er doden zouden vallen, dat was nooit de bedoeling geweest. Dertig jaar na 11 september 1973 (waar het citaat boven dit verhaal aan refereert) werpen geheime documenten nieuw licht op de coup tegen Allende.
Shackley leek de juiste man op de juiste plaats. Of zoals zijn baas Helms zou hebben gezegd:
Ted is what we call in the spook business a quadruple threat — Drugs, Arms, Money and Murder or DAMM.
Eerder, in De mensenversnipperaar, werd hier melding gemaakt van Koreagate, het chantage- en omkopingschandaal waar dominee Moon bij betrokken was. De centrale figuur in dat schandaal was Tongsun Park, een Zuid-Koreaanse zakenman, ook bekend als de Onassis van de Oriënt of de Oriëntaalse Gatsby. Park richtte in 1966 de George Town Club op, samen met Robert Keith Gray, de lobbyist besproken in De nieuwe geloofwaardigheid. Park financierde de club en Gray introduceerde de 'founders' die uit conservatieve politieke kringen en inlichtingendiensten komen. Het werd "a center for entertaining prominent Washingtonians, diplomats and leaders in trade, government and academia." Met geld van de Koreaanse geheime dienst werden die prominente politici omgekocht. Park vluchtte naar Zuid-Korea toen het schandaal openbaar werd, maar keerde terug onder toezegging dat hij niet vervolgd zou worden. Hij getuigde voor een commissie:
Washington is a marvelous city for someone like me. Where else could a foreigner, an outsider like myself, do the things I was able to do?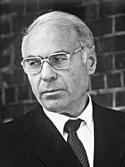 Edwin Wilson, een oud-collega en persoonlijke vriend van Shackley sinds de Cuba-kwestie, was ook bij de affaire betrokken. Hij had in 1971 de CIA verlaten en was een aantal bedrijven gestart, gespecialiseerd in wapenhandel. In één daarvan, Consultants International, zat Robert Keith Gray in de raad van bestuur. Wilson's rol in Koreagate was het chantabel maken van de politici. Met verborgen camera's in de George Town Club registreerde hij compromitterende situaties. Zijn CIA-compaan Frank Terpil legt uit:
Historically, one of Wilson's Agency jobs was to subvert members of both houses [of Congress] by any means necessary [..] Certain people could be easily coerced by living out their sexual fantasies in the flesh [..] A remembrance of these occasions [was] permanently recorded via selected cameras [..] The technicians in charge of filming [were] TSD [Technical Services Division of the CIA] The unwitting porno stars advanced in their political careers, some of [whom] may still be in office.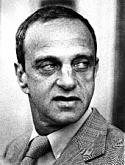 Volgens de John DeCamp, de advocaat van de misbruikte kinderen in De roze balletten, werden voor Wilson's activiteiten jonge jongens gebruikt die door Roy Cohn waren geworven. Cohn was een gevreesde ultraconservatieve advocaat, de rechthand van McCarthy tijdens de communistenjacht in de jaren vijftig, cryptohomo en een oude bekende van Robert Gray. In de jaren zeventig waren zijn bezoekjes aan homobars publiek geheim, terwijl hij fervent tegenstander was van homorechten.
In 1976 wordt George H.W. Bush directeur van de CIA. Shackley wordt aangesteld als hoofd geheime operaties, Posada blaast Cubana vlucht 455 op. In '77 verscheept Edwin Wilson 20 ton C-4 explosieven naar Libië. Als de handel in de openbaarheid komt, betekent dat het einde van de carrière van Shackley. Wilson wordt een van de meest gezochte personen in de V.S. en houdt zich schuil in Libië. Zijn makker Frank Terpil wordt twee jaar later voor vergelijkbare feiten gearresteerd maar weet te ontsnappen. Terpil is nog steeds voortvluchtig, u kunt bellen als u weet waar hij zich in Cuba bevindt.
Wilson wordt in '82 naar de Dominicaanse Republiek gelokt en gearresteerd. In het proces dat volgt, beweert hij dat hij namens de CIA in opdracht van Shackley de C-4 leverde. De officier van justitie, Lawrence Barcella, heeft dezelfde huishoudster als Michael Ledeen (zie De ontbrekende schakel). Ledeen bezoekt Barcella en oppert dat zijn vriend Shackley buiten schot moet blijven. Wilson krijgt 52 jaar gevangenisstraf, op basis van een verklaring van de CIA dat hij een rogue agent is.
Hoe ging het verder?
Theodore Shackley schrijft het collector's item The Third Option: An American View of Counterinsurgency Operations, waarin hij een alternatief bepleit tussen de totale oorlog en vreedzame diplomatie: tegenterreur. In '85 tipt hij Ledeen voor een succesvolle aftrap van Iran-Contra. Hij sterft in 2002.
Roy Cohn wordt in de jaren '80 wegens onethisch gedrag geschorst als advocaat. Hij sterft in '86 aan AIDS, hoewel hij zelf blijft beweren dat hij leverkanker heeft.
Lawrence Barcella wordt in 1988 door BCCI ingehuurd als advocaat en lobbyist in het schandaal rond de bank. In '92 leidt hij de onderzoekscommissie van het congres inzake de October Surprise. Zie voor beide kwesties Het spiegelpaleis.
Edwin Wilson doet eindeloze beroepen op de wet openbaarheid van bestuur (FOIA), en komt in 2004 na 22 jaar isoleercel vrij als blijkt dat de CIA-verklaring vals is. Smeuïge details zijn beschikbaar in dit artikel.
Tongsun Park duikt in april van dit jaar op in verband met het voedsel-voor-olie schandaal. Hij ontving van Saddam Hoessein 2 miljoen dollar om VN-diplomaten om te kopen en is inmiddels aangeklaagd.
Notice
: Undefined variable: name in
/home/tj/var/www/alt-f4.org/comments.php
on line
3
Notice
: Undefined variable: email in
/home/tj/var/www/alt-f4.org/comments.php
on line
4
Notice
: Undefined variable: url in
/home/tj/var/www/alt-f4.org/comments.php
on line
5
Notice
: Undefined variable: com2 in
/home/tj/var/www/alt-f4.org/comments.php
on line
6