A riddle wrapped in a mystery inside an enigma
21 januari 19:35, 2006
'I cannot forecast to you the action of Russia. It is a riddle wrapped in a mystery inside an enigma.'
Winston Churchill, 1939 (radiotoespraak)

'Oh man, why don't you stop. This is too fuckin' big for you! Who did Kennedy? It's a mystery wrapped in a riddle inside an enigma.'
David Ferrie, JFK (1991)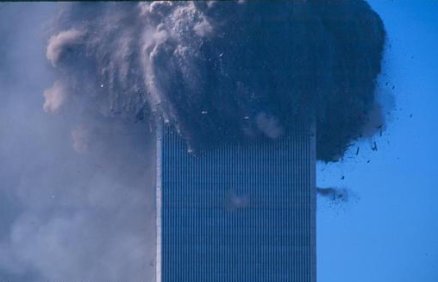 Het Alt-f4 raadspelletje: wat veroorzaakt de stofpluimen uit de gevel daar ver onder de instortingszone?
(oplossing)

We zijn nu een half jaartje verder met Alt-F4 de Wereld. De opening liet weinig te raden over: alt-f4 houdt ervan om hoog te mikken (en ermee weg te komen!). We openden met 9/11, tijd om 9/11 als onderwerp gepast af te sluiten. De schaal van 9/11 blijft de be all and end all van alle samenzweringen.
Een prachtige studieobject. Het studiemateriaal is onvolledig, en zachtgezegd zeer onbetrouwbaar, maar daar staat tegenover: spectaculair en wereldbeeldschokkend. Explosief materiaal dient met zorg behandeld, en wegens tijdgebrek was het ook schipperen met de onderwerpkeuze. Daarnaast is er een zekere schroom aan te wijzen in de 9/11 stukjes van mijn hand. Een onderwerp, waarvan de onweerstaanbare aantrekkingskracht komt uit het feit dat het regelrecht indruist tegen het je wereldbeeld moet omzichtig benaderd worden. Niet allen voor je geloofwaardigheid tegenover anderen, maar ook tegenover jezelf.
Met de afwikkeling van orkaan Katrina werd veel duidelijk. Toen werd aan de wereld getoond hoezeer de Amerikaanse politiek wordt gevormd door corrupte kortzichtigheid, incompetentie en klassebewustzijn. Een samenzwering is er daar niet (althans niet op grote schaal), maar de totale afwezigheid van iets als een 'algemeen belang' binnen de Amerikaanse maatschappij, maakt zulk een (in europese ogen) genante vertoning begrijpbaar. Dat deed mij mijn Europese bril verliezen: Amerika is GEEN Europa. Amerika moet op zijn eigen merites beoordeeld worden; en dus ook al deze samnzweringsverhalen.
Wellicht dat wat ik nu teruglees als schroom beter te omschrijven is als 'opbouw van een betoog'. Een betoog wat met dit stukje resoluut wordt afgesloten. Want er valt niks meer te schrijven, wat op andere plaatsen niet veel kernachtiger te lezen is.
Heeft Alt-F4 u niet overtuigd? Lees gerust alles nog eens na:

Cut to the Chase or Risk Irrelevance: The Plain and Simple Truth of 9/11 (voor Volkskrantlezers)

Why Indeed Did the WTC Buildings Collapse? (voor NRC-lezers)

Center for Cooperative Research (alle bouwstenen voor uw eigen theorie)
Enkele losse eindjes:
LIHOP of MIHOP? Binnen de complotwetenschap worden globaal twee theorievormen onderscheiden: LIHOP (=Let is happen on purpose) en MIHOP (=Make it happen on purpose). De eerste theorie gaat ervan uit dat men binnen de Amerikaanse regering ervanaf heeft geweten maar niks gedaan, de tweede dat zij actief heeft gehandeld om 9/11 tot stand te brengen. Dat lijkt een belangrijk punt, voor de schuldvraag. Bij nader inzien valt dat mee, en vervalt het meer tot een juridisch onderscheid voor het bv. bepalen van een strafmaat, en heeft het helemaal niks met de schuldvraag te maken. Het uitschakelen van NORAD op 9/11 staat ongeveer op hetzelfde niveau als het uitschakelen van de alarminstallatie van een bank alvorens deze te overvallen. Een inside job dus.
Feiten of theorieën? Hier blijft: bij gebrek aan feiten of verklaringen moet men theorieën vormen. Het officiele 9/11 rapport bevat zoveel ongerijmdheden dat ikzelf iedere redelijke samenzweringstheorie prefereer. Men moet toch wat.
Een zionistisch complot? Door Alt-f4 grotendeels onbehandeld terrein. De innige banden tussen de neocons en de rechtervleugel van de Likoed zijn alom bekend (de reden waarom Sharon twee maanden terug de Likoed gedumpt had voor zijn nieuwe politieke partij Kadima is eigenlijk een interessante vraag). Enkele rare feiten in Israelische richting passeerden al de revu in 'De Zieners'. Ook de The Five Dancing Israelis is lezenswaard. Ook wil ik u deze recente analyse van Xymphora niet onthouden. Tot zover. Fox News (jaja) had in december 2001 een vierdelige serie documentaires gewijd aan dit inzicht. Deze serie is echter heel erg van de FoxNews site verdwenen.
De plank ooit misgeslagen? Natuurlijk. Het stuk 'Kwam de kogel wel van links?' had bij nader inzien last van de (te prachtige) voorbeelden over de raketten vanaf the woolworth en de nepvliegtuigen. Te veel fantasie die niets aantoont, en nodeloos afbreuk doet aan de rest van een prima stuk.
Sagen en legenden. Lees genoeg van deze materie, en je vervalt in gemijnmer over La Condition Humaine. Peter Dale Scott(1929), Canadees scolar en diplomaat, draagt een lange interesse op het gebied van wereldpolitieke zaken met zich mee. Hij heeft ook een rijk verleden in het documenteren van de vreemde wegen van de Amerikaanse wereldpolitiek. Zijn laatste analyse is van een dermate wereldomspannenende omvang, dat hij alles in een bijzantijnse ballade van zich af heeft geschreven.
Kompromat. Het volstrekt normale Russische woord voor compromitterend materiaal waarmee je je zakelijke/politieke tegenstanders mee kan chanteren. Waarom kennen Amerikanen daar geen goede term voor? Misplaatste preutsheid.
Waarom komt dit verhaal dan niet in de openbaarheid? Men weet niet goed wat me er mee aanmoet, lijkt het wel. De implicaties zijn nog immer dusdanig dat niemand durft. Een recent voorbeeld is de toespraak die Al Gore gaf op 16 januari j.l. (Martin Luther King Day):
But in each of these cases throughout American history, when the conflict and turmoil subsided, our nation recovered its equilibrium and absorbed the lessons learned in a recurring cycle of excess and regret.
But, there are reasons for concern this time around, that conditions may be changing and that the cycle may not repeat itself.
Men heeft de handen vol aan Bush. Die immers zijn eigen realiteit creëert, en iedereen keer op keer voor verassingen stelt.
Q: Stopt Alt-F4 de Wereld?
A: In ieder geval wel met 9/11.

Notice: Undefined variable: name in /home/tj/var/www/alt-f4.org/comments.php on line 3

Notice: Undefined variable: email in /home/tj/var/www/alt-f4.org/comments.php on line 4

Notice: Undefined variable: url in /home/tj/var/www/alt-f4.org/comments.php on line 5

Notice: Undefined variable: com2 in /home/tj/var/www/alt-f4.org/comments.php on line 6