Limos naar Watergate
11 mei 08:25, 2006
Afgelopen vrijdag trad Porter Goss (die op de mooie groepsfoto in het artikel 'Tussen oorlog en vrede' zo handig wegkeek) onverwachts af als directeur van de CIA, nog geen twee jaar na zijn aantreden. Bush heeft al meteen een opvolger aangewezen, generaal Michael Hayden, het hoofd van de National Security Agency (NSA). Een omstreden keuze, niet alleen omdat de CIA doorgaans niet door militairen geleid wordt, maar vooral vanwege het geheime NSA programma om burgers af te luisteren.
Dit stuk gaat niet over die opvolging. Waarom trad Goss eigenlijk af? Een veel gehoord argument is dat John Negroponte ontevreden was over Goss.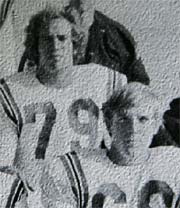 De reden van Goss' vertrek werd maandag een stuk duidelijker toen de nummer drie van de CIA, Kyle "Dusty" Foggo (hier rechts met nummer 79), ook aftrad. Foggo was vrij verrassend in de herfst van 2004 benoemd tot executive director, direct nadat Goss directeur was geworden. Goss had Foggo, een voormalig politieman, begin jaren tachtig bij de CIA binnengehaald, waar hij naar Honduras werd gestuurd om de Contras van middelen te voorzien in de strijd tegen de Sandinisten in Nicaragua.
De man voor Foggo, op het fotootje uit het jaarboek hierboven, is zijn goede vriend Brent Wilkes. Hij is een ondernemer uit Poway, Califonië. In de jaren tachtig vertelde Wilkes smeuïge verhalen over zijn banden met de CIA en zijn tripjes tijdens Iran-Contra naar Foggo in Honduras. Zijn website wilkescorp.com meldt over zijn huidige bezigheden:
Wilkes Corporation provides leadership, knowledge and personnel for technology and defense-related corporations.
Voorbeelden van defensie-bedrijfjes uit Wilkes' stal zijn bijvoorbeeld adcs.com (digitalisering documenten / informatiemanagement), perfectwavetech.com (signaalverwerking / communicatie) en archerlogistics.com. Maar hij is van meer markten thuis, zoals blijkt uit wilkesclan.com, wilkesfoundation.org, groupwmedia.net groupwoutfitters.com, w-catering.com, groupwevents.com edge-catering.com, bbqranch.com en nog een hele reeks dot-coms. Bovendien is hij financier van de campagnes van Schwarzenegger en Bush.
Maar wat te denken van powaymafia.com?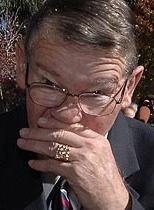 Randy "Duke" Cunningham is een van 60 Republikeinse afgevaardigden die Jack Abramoff (zie Service Pack) in zijn zak had. Hij ontving enige tienduizenden dollars aan smeergeld van Abramoff's Indianenstammen. Maar Cunningham staat tegenwoordig vooral bekend om de miljoenen dollars en andere attenties die hij ontving van Brent Wilkes. Afgelopen november vertrok Cunningham uit het Huis van Afgevaardigden en in maart werd hij veroordeeeld tot 8 jaar gevangenisstraf en een boete van 2 miljoen dollar.
Cunningham was lid van het House Appropriations Defense Subcommittee en derhalve betrokken bij het vaststellen van het defensiebudget. De giften aan hem liepen via Wilkes' bedrijf MZM, dat geleid werd door Mitchell Wade, een oud-werknemer van het Pentagon. Dankzij Cunningham kreeg MZM (tegenwoordig Athena Innovative Solutions) grote contracten voor het digitaliseren van documenten bij defensie. Niet het enige bedrijfje met mooie contracten, zo levert Wilkes ook alle flesjes water voor de CIA-agenten in Irak.
Wilkes had een beproefde methode om de de boel smeren:
He ran a hospitality suite, with several bedrooms, in Washington — first in the Watergate Hotel and then in the Westin Grand near Capitol Hill.
Dat werpt wat meer licht op de attenties die Cunningham ontving. Wat gebeurde er in die hotelkamers? Er werd gekaart:
Foggo's name surfaced in the Cunningham case again last week after reports that FBI agents had questioned a Washington limousine company's president about allegations that Wilkes provided prostitutes to Cunningham and perhaps other lawmakers. The CIA issued a statement last week in which Foggo acknowledged attending poker parties with Wilkes but denied any improprieties.
De directeur van het Shirlington Limousine & Transportation Service, ene Christopher Baker laat via zijn advocaat weten nooit geen hoeren in actie te hebben gezien:
A limousine would pick up Cunningham and a prostitute and take them to the ADCS hospitality suite, Wade reportedly told investigators. [..]
Stafford's letter stated that Baker was "never in attendance in any party where any women were being used for prostitution purposes."
Of beter gezegd: geen vrouwelijke hoeren in actie. Zoals men bij Newsweek fijntjes opmerkt:
An eyewitness (who asked not to be identified commenting on sensitive matters) told NEWSWEEK that in 1999, Foggo, Cunningham and a former Goss aide and ex-CIA official known as Nine Fingers (identified to NEWSWEEK as Brant Bassett) attended an all-male Wilkes poker party at the Westin Grand Hotel in Washington.
Chris Crain, in Nederland beter bekend als de homo-activist die in Amsterdam werd mishandeld, schreef vorig jaar in een column:
Cunningham, who is married with grown children, has admitted to romantic, loving relationships with men, both during his Vietnam military service and as a civilian. [..]
it had to be Cunningham, whose career was pockmarked with bizarre gay pronouncements, including a reference to the rectal treatment he received for prostate cancer, something he told an audience "was just not natural, unless maybe you're Barney Frank." [..]
This is, after all, a man without principles, who could "love men" in private, all the while condemning gays in speeches and in congressional votes.
Of waren er toch vrouwen?
The family man, he liked to invite women to his yacht. There, two women told Copley News Service, he would change into pajama bottoms and a turtleneck sweater to entertain them with chilled champagne by the light of a lava lamp.
En:
I've been told by several sources that one of the people in attendance at the parties - not a current or former member of Congress - has a long international track record of Bill Clinton style sexual indiscretions. A person with direct knowledge of the matter told me that this man - let me put this delicately - once, some years ago, while in Europe, kept company with an acquaintance whose work attire resembled Halle Berry's in the film Catwoman.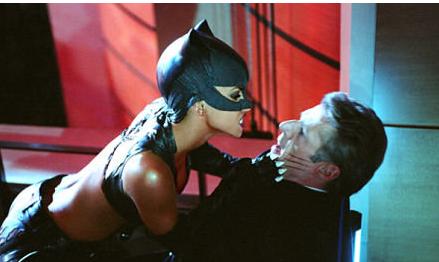 Saillant zijn verder nog de dwarsverbanden met Tom Delay en het feit dat Baker, de directeur van het limousinebedrijf en een goede bekende van Wilkes, een contract van 21 miljoen dollar afsloot bij het Department of Homeland Security, ondanks een strafblad van 62 pagina's.
Afijn, een Washingtoniaanse (homo-)prostitutiering, niks nieuws voor degene die hier 'De roze balletten' las.
Of is er meer aan de hand?
Bijna een jaar geleden schreef de WaPo over de contacten van het National Ground Intelligence Center met het bedrijf MZM van Wilkes/Wades:
Two months after MZM Inc. was given its first order in October 2002 to perform services for the Army's National Ground Intelligence Center (NGIC), the company hired the son of the center's senior civilian official, Executive Director William S. Rich Jr., according to present and former intelligence center employees.
MZM's initial task was to perform a seven-week, $194,000 analysis of "FIRES," a computer program concept to collect blueprints of facilities worldwide to create an intelligence database, according to material provided by the Pentagon. [..]
The NGIC, which is facing an inquiry by the director of national intelligence for its prewar mistakes in analyzing Iraq's weapons programs, has been drawn into the federal investigations of MZM, according to Army and Justice Department spokesmen.
The NGIC was criticized in March by the Silberman-Robb presidential commission for "gross failure" in its analysis of Iraqi arms. The commission said the center was "completely wrong" when it found in September 2002 that the aluminum tubes Iraq was purchasing were "highly unlikely" to be used for rocket motor cases. [..]
Two NGIC analysts who produced the inaccurate finding have received annual performance awards each year since 2002. Officials said the bonuses were for their overall activities.
(Zie voor de foutieve inlichtingen over de buizen ook 'Il Postino')
De analyse over de buizen van de CIA en de NGIC kwam tot stand met behulp van een contractor zo blijkt uit het rapport van het Congres over de zaak:
Contributing to the CIA's analysis for the extensive September intelligence assessment was an analysis performed by an individual from DELETED who were working under contract with the CIA at the time to provide broad-based technical advice DELETED.
The contractors told Committee staff that the CIA provided them with a stack of intelligence data and analysis on the Iraqi aluminum tube procurements on September 16, 2002. [..] They were provided with NGIC's analysis of the tubes. [..] The contractor produced a paper on September 17, 2002, one day after receiving the information [..] The report referenced NGIC's analysis that the material and quantity of the tubes were inconsistent with rocket motor applications.
Zou dat mysterieuze DELETED wellicht MZM wezen?