Service Pack 2006
8 maart 09:08, 2006
Zutman schreef in de vorige aflevering dat de 9/11 thematiek door Alt-F4 afdoende is uitgediept. Maar er gebeurt nog meer in de wereld.
Om de draad weer op te pakken, eerst wat aanvullingen op eerder gepubliceerde artikelen.
Nicola Calipari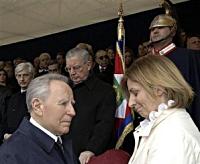 Afgelopen vrijdag was het één jaar geleden dat SISMI-agent Calipari in Baghdad werd doodgeschoten. Tijdens de herdenking noemde de Italiaanse minister van defensie Martino (van de inmiddels beroemde ontmoeting in Rome met o.a. Michael Ledeen) die dood een Griekse noodlotstragedie. Woorden die hem niet in dank werden afgenomen.
Hoe zat het ook weer?
In Rooksignalen werd gemeld dat de auto die op de Route Irish buiten Baghdad onder vuur werd genomen, door Italiaanse ballistische experts werd onderzocht in een strafzaak tegen de Amerikanen. Vroegtijdige informatie over het onderzoek, die naar buiten lekte, liet zien dat er een probleem was met de officiële Amerikaanse lezing: er waren twee, of zelfs drie verschillende soorten kogels aangetroffen. Het onderzoeksteam vroeg drie maanden respijt.
Inmiddels is het onderzoek afgerond. Het 80 pagina's tellende rapport werd zeer minimaal in de Italiaanse pers besproken: er was toch sprake van één wapen. De experts die de advocaat van Sgrena had ingeschakeld, zijn het oneens met die conclusie en dringen aan op verder onderzoek. Justitie probeert inmiddels Mario Lozano, de Amerikaanse lone gunman, te vervolgen. De weduwe van Calipari heeft besloten zich vlak voor de verkiezingen te kandideren als parlementslid voor de Italië's grootste oppositiepartij, Democratici di Sinistra.
Na de herdenking van afgelopen vrijdag mocht Wayne Madsen, oud-agent van de National Security Agency en altijd goed voor een smeuiïg verhaal, op het journaal van de RAI vertellen dat de NSA de exacte positie van Calipari op de noodlottige avond wist, dankzij Echelon en Calipari's mobiele telefoon.
Johannes Paulus II
Meer nieuws van afgelopen vrijdag uit Italië, nu.nl kopte: 'Sovjet-Unie zat achter moordaanslag op paus'. Alt-F4 lezers kennen de achtergronden uit Operation Pabst. Het betreft hier de Italiaanse Mitrokhin-onderzoekscommissie waarover de editor at large van de Washington Times, Arnaud de Borchgrave, bijna een jaar geleden in die krant berichtte. In een rapport van de commissie dat afgelopen donderdag naar buiten lekte, staat: De commissie gelooft stellig dat de leiding van de Sovjet-Unie het initiatief nam om paus Johannes Paulus II te elimineren.
Uiteraard mocht de voorzitter van de commissie, Forza Italia-senator Paolo Guzzanti één en ander toelichten in Il Giornale, de krant van Silvio's broer Paolo Berlusconi waar Alt-F4 het al vaker over had; Guzzanti is namelijk zelf redacteur bij die krant.
De commissie gelooft dus stellig iets. Héél de commissie? Nee, de fractieleider van Democratici di Sinistra in de commissie, Walter Bielli, noemt de conclusies van Guzzanti 'fantasies, hypotheses which are not backed by any documented evidence'.
De onderzoeken van de commissie lopen blijkbaar volgens een vast patroon, want eerder onderzocht men de bomaanslag in Bologna (zie Easy London en De ontbrekende schakel) en ook toen wilde Guzzanti de fascisten vrijpleiten en ook toen trok Bielli aan de bel.
Het paus-onderzoek leunt zwaar op de verklaringen van Louis Bruguière, een Franse rechter die door Guzzanti wordt omschreven als een Europese topexpert op het gebied van terrorisme. Een kwalificatie die Arnaud de Borchgrave drie jaar eerder, in een andere context, op de Fransman plakte:
Bruguiere described transnational terrorism in a recent French magazine article as "the Hundred Years War of modern times." A globalized nihilistic force, he wrote, "is everywhere and nowhere" and totally dedicated to the destruction of Western societies.
Uiteraard wijzen de Russen naar hun voorhoofd bij de beschuldigingen van senator Guzzanti. Boze tongen vermoeden een verband tussen het rapport en de nakende Italiaanse parlementsverkiezingen.
Coalition Provisional Authority
In Het transparante budget werden een aantal vragen over de besteding van Iraaks geld voor de wederopbouw van het land behandeld. De vraag waaraan dat geld werd besteed, kwam daarin niet aan bod. Dankzij een strafzaak tegen een contractor van het Amerikaanse ministerie van defensie is nu een tipje van die sluier gelicht. Robert J. Stein kocht voor eigen gebruik onder andere een Lexus, een Porche, een Cessna, wat stukken vastgoed in North Carolina, een notebook, 18 gouden horloges, wat juwelen, een paar raketwerpers en wat machinegeweren. Stein was echter niet gierig, een deel van het geld besteedde hij aan omkoping.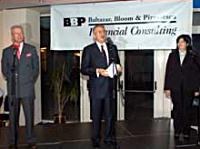 Een ander deel verdween naar zijn zakenpartner Philip H. Bloom, een Amerikaan die in Roemenië woont en in Baghdad een bordeel dreef ten behoeve van de omkooppraktijken. Bloom waste een deel van het geld wit, onder andere via Nederlandse banken. Een genante kwestie voor Roemenië omdat Bloom samen met de voormalige directeur van de staatsbank het consultancybureau Baltazar, Bloom & Parvulescu had en hij ooit een tripje naar de V.S. organiseerde voor Traian Basescu, de huidige president van Roemenië.
Stein heeft inmiddels schuld bekend voor het verduisteren van meer dan twee miljoen dollar, het eerste succes voor justitie. Nu nog uitzoeken waar de resterende 19,6 miljard is gebleven.
Jack Abramoff
In Een behendigheidsspel deed Zutman op deze site de relatie uit de doeken tussen Jack Abramoff, 'Gus' Boulis (vermoord door de Mafia) en Mohammed Atta. Abramoff is sindsdien steeds meer in de belangstelling komen te staan als The Man Who Bought Washington. De affaire wordt steevast omschreven als potentieel de meest bedreigende voor de Bush-regering.
De grote hoeveelheid geld die de invloedrijke lobbyist zijn klanten aftroggelde verdween deels in zijn eigen zak en deels richting Republikeinse partij. Vooral door Indianen (Abramoff: troglodytes, monkeys, morons) geëxploiteerde casino's, leverden in ruil voor 'lobbywerk' nogal wat geld in bij Abramoff. Begin januari besloot hij mee te werken in een rechtzaak tegen hem en bekende hij schuld. Abramoff had al aangegeven dat hij 60 leden van het congres met zijn omkooppraktijken in de zak had, dus onstond er grote paniek op Capitol Hill. Wie wil Abramoff allemaal erbij lappen in ruil voor strafvermindering? Tom DeLay bijvoorbeeld?
De Washington Post ondervond de gevoeligheid van de kwestie toen de ombudsman beweerde dat niet alleen Republikeinen van Abramoffs zaken hadden geprofiteerd: ook de Democraten ontvingen geld. Een malle bewering, omdat de Democraten weliswaar traditioneel financiële steun van de Indianen ontvingen, maar Abramoff die geldstroom juist successvol had afgebogen richting Republikeinen. Prompt kon de WaPo haar reactiepanelen sluiten.
De paniek bleef niet tot het congres beperkt. In 2004 had Abramoff meer dan honderdduizend dollar bijgedragen aan de herverkiezingscampagne van Bush. Daags na zijn deal met justitie zegt Witte-Huiswoordvoerder Scott McClellan:
The President does not know him, nor does the President recall ever meeting him.
Medio januari onstaat het gerucht dat er foto's van Abramoff en Bush rondslingeren waar het Witte Huis naarstig naar op zoek is. Bush op 26 januari:
You're asking about pictures -- I had my picture taken with him, evidently. I've had my picture taken with a lot of people. Having my picture taken with someone doesn't mean that I'm a friend with them or know them very well. I've had my picture taken with you -- (laughter) -- at holiday parties. [..]
It's hard for me to say I didn't have pictures with the guy when I did. But I have also had pictures with thousands and thousands of people. I mean, people -- it's part of the job of the President to shake hands and -- with people and smile. (Laughter.) And I do. And the man contributed to my campaigns, but he contributed, either directly or through his clients, to a lot of people in Washington.
Diezelfde dag blijkt dat wat fotos van het duo verwijderd zijn uit een online fotodatabase. Sterker nog: 12/22/2003 - The Oval Office blijkt als event in ene niet meer te bestaan. Abramoff was niet de enige campagnedonor: de directrice van het fotobedrijfje doneerde ook.
Alleen onderstaande thumbnails konden nog tijdig worden gered.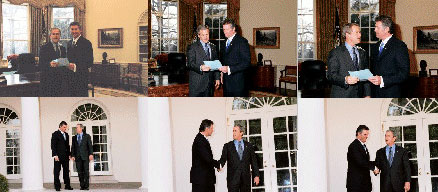 Abramoff etaleerde op zijn kantoor trots verschillende foto's van zichtzelf met de president. Over Bush schreef hij:
He has one of the best memories of any politician I have ever met. It was one if this trademarks, though of course he can't recall that he has a great memory! The guy saw me in almost a dozen settings, and joked with me about a bunch of things, including details of my kids. Perhaps he has forgotten everything, who knows.
Louis Sévèke
In Kwam de kogel wel van links? werd verbazing uitgesproken over de stilte rond de moord op Sévèke.
Eind vorig jaar behandelde Gerrit Komrij op de achterpagina van de NRC de woorden gesproken door een anonieme 'vriend van Louis': "Hij bevond zich op de verkeerde plaats op het verkeerde moment." Komrij verbaasde zich naar aanleiding van deze Gouden Woorden ook over die stilte:
De politie stelde het vangen van de boef een week uit en ze stelde het vangen van de boef een maand uit en nog altijd buigen de activisten mak het hoofd. [..]
Geen suggestie van enige samenzwering, snood bekokstoofd door de handlangers van het grootkapitaal, de dienstknechten van de makelaars, de vijanden van de dageraad die, zoals men weet, in Nijmegen zal gloren. [..]
Ze schijnen zich zelfs niet te realiseren dat hun makheid op de buitenwereld een atypische indruk maakt.
Wat is er aan de hand in Nijmegen?
Ik geloof niet in samenzweringen, anders ging ik haast denken dat het clubje boter op zijn hoofd heeft.
Eveline Lubbers, collega van Sévèke, reageerde gebeten op de column. Het format van de rubriek was haar ontgaan, want ze dacht ze van doen had met een laffe anonieme auteur: "Een echte vriend kan het niet geweest zijn, want echt op de hoogte is deze anonimus niet." (Verwarring die in Nijmegen blijkbaar vaker voorkomt.)
Behalve wat rituele BOF-folklore is er niets meer vernomen over de moord.
Daarmee zijn we terug bij de vraag van Komrij: "Wat is er aan de hand in Nijmegen?" Speculeren kunt u zelf ook, hier alleen een reeks gebeurtenissen vòòr de moord, ter ondersteuning van het geheugen:
vrijdag 28 oktober

Netwerk en NRC Handelsblad berichten over een zekere B., Rotterdammer van Marokkaanse afkomst, die lid zou zijn van de Hofstadgroep en de handgranaat zou hebben geleverd die in het Laakkwartier naar de politie werd gegooid, een week na de moord op Van Gogh. B. zou door justitie genegeerd zijn omdat hij informant van de AIVD zou zijn.
Dezelfde avond wordt B. alsnog gearresteerd.

zaterdag 29 oktober

De NRC publiceert een uitgebreid artikel over B. In het strafdossier van leden van de Hofstadgroep komt de naam van B. niet voor. De AIVD maakte in het door de dienst voor Jason W. geregelde huis in het Laakkwartier geluidsopnames. In de opnames die door de dienst worden doorgespeeld aan justitie, ontbreken de bezoeken van B. aan het pand en wordt zijn naam consequent weggepiept.

woensdag 2 november

Katja Schuurman presenteert precies een jaar na de moord op Van Gogh de documentaire 'Prettig weekend ondanks alles' over die moord. Volgens haar is de weggepiepte naam van een andere B.: Mohammed B. zou AIVD-infiltrant wezen.

donderdag 3 November

In het grootste opinieartikel in de NRC van die dag, plaatst Louis Sévèke infiltratie door de overheid bij terrorismebestrijding in een breder, historisch kader.
Minister Remkes zegt die avond tijdens een debat in de Tweede Kamer over de hele kwestie:

Men moet zich er goed van bewust zijn dat sommige aantijgingen serieuze gevolgen kunnen hebben. Soms loopt men het risico met mensenlevens te spelen. Ook is er het risico dat het publieke vertrouwen in politie, justitie en de AIVD geschaad wordt en dat een goede samenwerking tussen de verschillende diensten wordt belemmerd.

donderdag 10 November

In het kraakpand 'De Grote Broek' moet een bewoner een anti-Verdonkposter verwijderen, anders zal de politie dat doen. Op diverse plaatsen in Nijmegen worden posters door de politie verwijderd. Het proces-verbaal maakt melding van tekst die is 'afgedrukt op een achtergrondfoto die de indruk van een concentratiekamp wekte'. Het ging om deze foto van de Schipholbrand.

vrijdag 11 November

De bewoner van 'De Grote Broek' spant met drie personen van buiten Nijmegen een kort geding aan tegen de staat om verwijdering tegen te gaan.

maandag 14 November

De Nijmeegse GroenLinks-wethouder Van Eck hangt in de fractiekamer de anti-Verdonkposter op.
De EORG brengt een persbericht naar buiten, dat door Planet Internet gepubliceerd wordt: Isolement Mohammed B. onwettig. Later suggereert de EORG bij Twee Vandaag en in een persbericht, een relatie met Sévèke.

dinsdag 15 November

Burgemeester Ter Horst besluit de poster van Van Eck te laten hangen. Op het bericht op de site van de Telegraaf over de kwestie, wordt om 19:26 als volgt gereageerd:

Laten we hopen dat Halsema, Boslim of Maorijnissen nou eens omgelegd worden ipv. de goede vaderlanders. Waar blijven de rechtse anti-fascisten?

Anderhalf uur later wordt Sévèke doodgeschoten als hij van een vergadering in 'De Grote Broek' terugloopt naar huis.
Notice
: Undefined variable: name in
/home/tj/var/www/alt-f4.org/comments.php
on line
3
Notice
: Undefined variable: email in
/home/tj/var/www/alt-f4.org/comments.php
on line
4
Notice
: Undefined variable: url in
/home/tj/var/www/alt-f4.org/comments.php
on line
5
Notice
: Undefined variable: com2 in
/home/tj/var/www/alt-f4.org/comments.php
on line
6