Netwerken analyseren - 2
28 november 07:14, 2005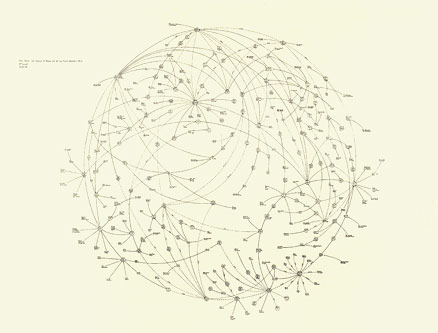 Bovenstaand plaatje is geen visualisatie van een ontluikend sociaal netwerk van insecten en ook niet van een transportsysteem. De titel van het werk luidt: Oliver North, Lake Resources of Panama, and the Iran-Contra Operation, ca. 1984-86 (4th Version), 1999. Het visualiseert een onderwerp dat op deze site al vaker besproken is. De eerste aanzet voor zo'n diagram was door North zelf gegeven, met deze belastende financiële flowchart uit zijn kluis, waarin hij de structuur van zijn Project Democacy had geschetst.
De maker van bovenstaand plaatje, Mark Lombardi, tekende voor het eerst een dergelijk diagram in 1993:
I was talking on the phone one day with Leonard Gumport, an attorney in Los Angeles, about the outcome of the bankruptcy of Adnan Khashoggi, the Saudi commercial agent and playboy arms dealer who had figured prominently in the Iran-Contra affair and had made large investments in the U.S., including Houston. As Gumport spoke, I began talking notes, then started sketchin out a simple tree chart, showing the breakdown of Khashoggi's American holdings. Within days, I began makin more of these charts, depicting other corporate networks I had researched.
Khashoggi kennen oplettende lezers nog uit The Dark Side, als de joker.
Voordat hij begon te tekenen, vanaf begin jaren negentig, was Lombardi hevig geïnteresseerd geraakt in het Savings & Loan schandaal, waarin zo'n 500 miljard dollar zoekraakte en dat de Amerikaanse belastingbetaler uiteindelijk zo'n 125 miljard kostte. Eén van de betrokkenen was Neil Bush (broer van), die als directeur van de Silverado bank 1 miljard voor zijn rekening nam. (Neil was in '81 al eens in het nieuws geweest, toen hij een diner had gepland met de broer van John W. Hinckley, de dag nadat deze president Reagan had neergeschoten.)
Lombardi documenteerde vanaf het begin zijn interesse met behulp van archiefkaartjes. Tien jaar later had hij er ongeveer vijftienduizend. Vanaf 1994 ging hij ze omzetten in narrative structures.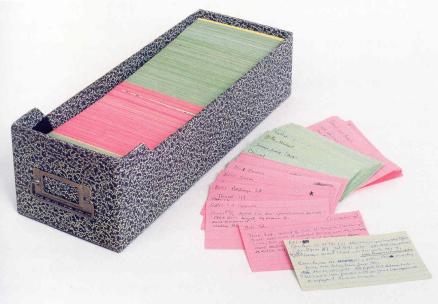 Op 17 oktober 2001 werd het Whitney Museum of American Art gebeld door een FBI-agente. Rond dezelfde tijd ontving de galerie van Lombardi een telefoontje van een "lead investigator into the September 11 attacks". Beiden waren op zoek een reproductie van Lombardi's opus magnum: BCCI-ICIC & FAB, 1972-91 (4th Version), 1996-2000. Bin Laden's zwager, Khalid bin Mahfouz, een Saoedische bankier, was namelijk betrokken in het BCCI-schandaal, hèt bankschandaal van de twintigste eeuw en de grootste witwasserij van drugsgelden ooit. Omdat er geen reproductie beschikbaar was, gaf men de openingstijden van het Whitney door. De FBI-agente kwam onderstaand diagram, dat ruim drie meter vijftig breed is, in het museum bestuderen.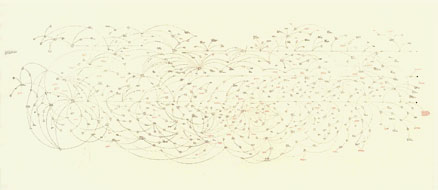 Het moge duidelijk zijn dat de thematiek in de werken van Lombardi nogal wat overlap vertoond met die van Alt-F4. Andere voorbeelden zijn Inner Sanctum: The Pope and His Bankers Michele Sindona and Roberto Calvi ca. 1959-82 (5th version), 1998 en World Finance Corporation and Associates, Miami, Ajman, Bogota, Caracas, ca. 1970-84 (7th version), 1999.
Twee prenten springen er echter uit.
1. George W. Bush, Harken Energy, and Jackson Stephens, ca. 1979-90 (5th Version), 1999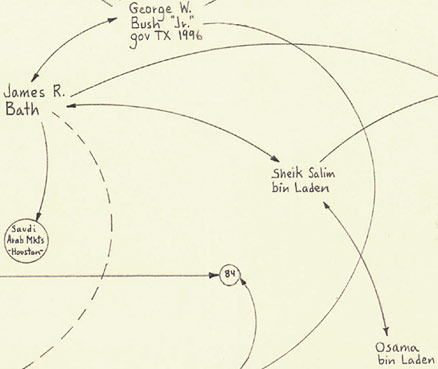 Bovenstaand fragment is het meest geziene stuk Lombardi sinds 11 september 2001. Het complete diagram concentreert zich op de geschiedenis van George W. Bush' eerste onderneming, een oliebedrijf genaamd Arbusto (Spaans voor struik, shrub). Eén van de investeerders in dat bedrijf was James R. Bath, waar Shrub alle spannende avonturen bij de Texas National Air Guard mee beleefde. Bath investeerde voor Salim bin Laden, de oudste broer van Osama, $50.000 in Arbusto. Toen Salim in '88 overleed, ging het aandeel over naar zijn zoon, de bovengenoemde Khalid bin Mahfouz.
De drie hoofdlijnen van het diagram laten zien hoe het verliesgevende Arbusto in '84 overgenomen wordt door Spectrum 7, een bedrijf van een Yale-klasgenoot van Bush. Twee jaar later wordt dat bedrijf weer overgenomen door Harken Energy Corporation, waar Bush bijna 3 miljoen aandelen van ontvangt plus een riant salaris. Kort na de overname wordt door Jackson Stephens, een van de grootste investeringsbankiers in de V.S., een Arabische sheik aan boord van de raad van bestuur gehesen. De zakenpartners van die sheik waren grootaandeelhouders van BCCI.
Harken is dan nog maar een klein bedrijf dat alleen boort in Texas, Louisiana en Oklahoma. In '89, als Bush Sr. president is geworden, ontvangt het plots de exclusieve rechten om offshore naar olie te boren in Bahrein, waarna de koers omhoog schiet. In de zomer van 1990, als er twee droge bronnen zijn aangeboord, dumpt Bush een groot deel van zijn aandelen en maakt 200% winst. Lombardi noteert onder die transactie: "Two weeks later Saddam Hussein invades Kuwait". Het aandeel daalt prompt 60%.
De opmerking over Saddam Hoessein lijkt te verwijzen naar een ander werk dat een zekere actualiteitswaarde heeft.
2. Banca Nazionale del Lavoro, Reagan, Bush, Thatcher, and the Arming of Iraq, 1979-90 (4th Version) 1998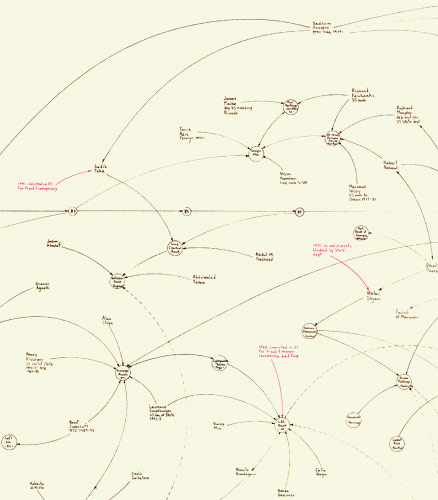 De affaire die in BNL wordt gevisualiseerd is relatief onbekend, maar veel elementen zullen de lezer wèl bekend voorkomen: een president die Bush heet, een Britse premier, Saddam Hoessein, wat Italianen, massavernietigingswapens, geld voor humanitaire doelen, Europese bedrijven, sterreporters van de grootste kranten van de V.S. en het lekken van geheime informatie.
Voor die onbekendheid zijn de grootste kranten medeverantwoordelijk, zoals dit artikel uit '93 duidelijk maakt:
Most say that the so-called Iraqgate scandal is far more significant then either Watergate or Iran-contra, both in its scope and its consequences. [...]
Certainly, if you watched Nightline or read the London Financial Times or the Los Angeles Times, you saw this monster grow. But if you studied the news columns of The Washington Post or, especially, The New York Times, you practically missed the whole thing.
Het veteraan-congreslid dat flink in de affaire dook werd er door de verslaggeefster van de Times van beschuldigd de staatsveiligheid in gevaar te brengen met al dat gegraaf. De CIA probeerde hem zelfs te pakken op het lekken van geheime informatie.
Waar draait het om? Ten tijde de oorlog tussen Iran en Irak gingen er natuurlijk niet alleen wapens naar Iran, via North's Project Democacy. Ook Irak werd rijkelijk bevoorraad. Zoals Theodore Shackley uitlegde in zijn handboek: een machtsevenwicht is het beste te bereiken als twee vijanden elkaar uitmoorden. Aan de langwerpige vorm van Lombardi's diagram kunnen we afleiden dat we in het Iraakse geval, anders dan bij het ronde Iran-Contra, te maken hebben met een langlopende affaire; de Amerikaanse banden met Irak waren wat hartelijker dan die met Iran.
Eén van de meer in het oog springende Iraakse wapens was het superkanon van Dr. Gerry Bull, die later in België werd vermoord (volgens sommigen staat die moord in verband met die op André Cools en de Augusta-affaire). De financiering van de wapens verliep via de vestiging van de Banca Nazionale del Lavoro in Atlanta, zo bleek toen de FBI en de douane in 1989 daar een inval deed en een dubbele boekhouding vond. In totaal was 4 miljard dollar geleend door de Amerikaanse regering, in de vorm van 'landbouwhulp'. De bank zorgde direct voor de export van de wapens, zoals de 225 miljoen dollar aan landmijnen en de onderdelen voor het kanon van een Fiat-dochter. Uiteraard met medeweten van de Italiaanse regering.
Saillant is de rol van de Bush-regering en met name de toenmalige nationale veiligheidsadviseur, Brent Scowcroft. Hij was de assistent van Kissinger onder Nixon en is één van de mede-oprichters van diens consultancy-bureau Kissinger Associates. In zijn portefeuille had hij onder andere de account van BNL. Eind '89 zorgt hij ervoor dat er nog één miljard in het fiscale jaar 1990 richting Saddam Hoessein verdwijnt, hoewel het schandaal dan al in de openbaarheid komt. Als Saddam even later Koeweit binnenvalt is Scowcroft de eerste die op vergelding aandringt. Uit een recent interview met hem:
"Right at the beginning, I believed that it" - the Iraqi invasion of Kuwait - "was intolerable to the interests of the U.S.," he told me recently.
At the time, Scowcroft, a retired Air Force general, was notably hawkish on the Iraq question, more so than the Secretary of State, James A. Baker III, and perhaps even more so than Dick Cheney, who was Bush's Secretary of Defense.
Scowcroft wordt dan ook verantwoordelijk gehouden voor het beroemde citaat uit The Big Lebowski: This will not stand. This will not stand, this aggression. Wie het interview leest merkt dat hij inmiddels anders denkt over de Bush-familie en dan vooral over zoonlief (president nummer 43):
There have been occasions when Forty-one has engineered meetings in which Forty-three and Scowcroft are in the same place at the same time, but they were social settings that weren't conducive to talking about substantive issues.
Over Dick Cheney zegt hij:
"The real anomaly in the Administration is Cheney," Scowcroft said. "I consider Cheney a good friend — I've known him for thirty years. But Dick Cheney I don't know anymore."
Over het beleid zegt hij, als Rice hem beschuldigd in het Land van Ooit te leven:
"She says we're going to democratize Iraq, and I said, 'Condi, you're not going to democratize Iraq,' and she said, 'You know, you're just stuck in the old days,' and she comes back to this thing that we've tolerated an autocratic Middle East for fifty years and so on and so forth," he said. Then a barely perceptible note of satisfaction entered his voice, and he said, 'But we've had fifty years of peace."
Kort na de voltooiing van BCCI-ICIC & FAB, in het voorjaar van 2000, breekt Lombardi definitief door met een tentoonstelling in P.S.1. Nog geen maand later verhangt hij zich in zijn atelier. Moord? De rechercheur van dienst meent van niet:
He didn't think so. There were no signs of forced entry and the apartment was pretty securely locked. Also he said that Mark was a classic case, i.e. above-average intelligence, on the verge of success, and he had never spoken about or threatened suicide.
Notice
: Undefined variable: name in
/home/tj/var/www/alt-f4.org/comments.php
on line
3
Notice
: Undefined variable: email in
/home/tj/var/www/alt-f4.org/comments.php
on line
4
Notice
: Undefined variable: url in
/home/tj/var/www/alt-f4.org/comments.php
on line
5
Notice
: Undefined variable: com2 in
/home/tj/var/www/alt-f4.org/comments.php
on line
6