Vliegen, een levenslange ambitie
7 oktober 07:26, 2005
George Walker Bush is one member of the younger generation who doesn't get his kicks from pot of hashish or speed. Oh, he gets high, all right, but not from narcotics.
Persbericht Texas Air National Guard, 1970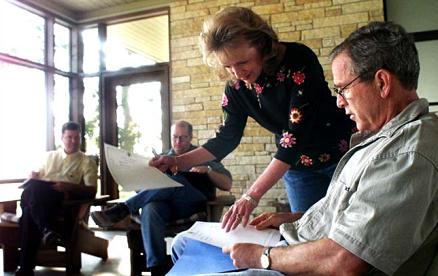 Hierboven is Harriet Miers te zien, de genomineerde voor het Amerikaanse Hooggerechtshof. De foto is genomen op 6 augustus 2001, op de ranch van Bush in Crawford, tijdens de dagelijkse briefing van de president. De twee vellen papier zouden gezien de datum en de locatie dit beroemde memo kunnen vormen: Bin Laden Determined To Strike in US. Vandaag echter een andere kwestie.
De nominatie van Miers kan niet iedereen bekoren. Neocon William Kristol, voorzitter van de PNAC (zie The art of pre-emptive nuclear war), schrijft bijvoorbeeld dat hij tereurgesteld, gedeprimeerd en gedemoraliseerd is door de keuze. Zijn wanhoop is vooral een ideologische, maar ook hij ziet dat de vriendjespolitiek hier wel bijzonder platte vormen aanneemt.
Harriet Miers is namelijk nooit rechter geweest, maar wel Bush' advocaat. Ze was de eerste vrouwelijke voorzitter van de Texaanse orde van advocaten en voordat Bush gouverneur van Texas werd, mocht ze zijn verleden uitkammen op belastend materiaal. Toen Bush in '94 gouverneur werd, bracht ze hem in contact met Alberto Gonzales (de huidige minister van justitie) die plaatsnam in de raad van Bush. Gonzales wist tijdens het gouverneurschap dankzij informatie van Miers te voorkomen dat Bush zijn jury-plicht moest doen, waardoor bekend zou zijn geworden dat hij in '76 gearresteerd was voor rijden onder invloed. Dat feit kwam pas in de campagne voor de presidentsverkiezingen in 2000 naar buiten.
In de aanloop naar de herverkiezing van Bush in '98 kreeg Miers in ieder geval $19.000 om verder te spitten in het verleden van George:
a secretive research operation designed to scour all records relating to his Vietnam-era service as a pilot in the 111th Fighter-Interceptor Squadron of the Texas Air National Guard. The goal was to identify potential vulnerabilities early on and deflect any charges that Bush got favorable treatment.[..]
She and other aides quickly identified a problem--rumors that Bush had help from his father in getting into the National Guard back in 1968. Ben Barnes, a prominent Texas Democrat and a former speaker of the House in the state legislature, told friends he used his influence to get George W a guard slot after receiving a request from Houston oilman Sid Adger.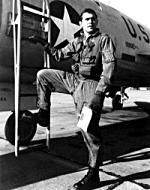 Ben Barnes had spijt gekregen van zijn hulp aan de familie Bush. George W. hoefde niet naar Canada te vluchten om uit Vietnam weg te blijven en mocht thuis rondvliegen bij de Texas Air National Guard (TANG), een beproefde methode ook wel bekend als Air Canada. Een levensdoel, schreef George.
Miers was in 1995 benoemd door Bush tot voorzitter van de loterij-commissie van Texas, die al jaren geteisterd werd door schandalen, om orde op zaken te stellen. De directeur van de loterij wilde het contract met de exploitant, Gtech, ontbinden en er een openbare aanbesteding van maken. Eén van de eerste acties van Miers was de directeur ontslaan. Gtech behield het contract. De hierboven genoemde Ben Barnes was lobbyist voor Gtech, een lucratieve functie:
Barnes and his partner had been getting 4 percent of Gtech's gross revenue in Texas each year, on condition that the lottery contract not be put up for rebid. The world's biggest lottery operator, with revenue of almost $1 billion a year, Gtech agreed to buy them out for $23.1 million in the wake of damaging publicity stemming from the criminal prosecution in New Jersey of a top Gtech executive.
De ontslagen directeur vond de zaak stinken en beweerde dat de deal met Gtech in stand bleef om Barnes' praatjes over Bush' toelating tot de National Guard af te kopen. Een rechtzaak over die verdachtmaking werd uiteindelijk geschikt met $300.000 voor de oud-directeur.
Wat had Bush te verbergen over zijn diensttijd bij de TANG?
Voor de presidentsverkiezingen van 2000 gonsde het van de geruchten waarin drugs een hoofdrol speelden. De onhandige taal van Bush over zijn verleden was daar de voornaamste oorzaak van.
Om met Tonie te spreken: eerder schreef ik hier over James Hatfield, de Bush-biograaf die zelfmoord pleegde nadat hij beweerde dat Bush in '72 gearresteerd was voor cocaïne-bezit en daarom verdween bij de National Guard. Hatfield had dat gehoord van een Yale-studiegenoot van Bush. Saillant in het boek van Hatfield is het gelijktijdige vertrek uit de National Guard van James Bath, een vriend van Bush tijdens zijn Yale-periode, die later zijn eerste bedrijf Arbusto financierde en contacten onderhield met de familie Bin Laden. Een official uit de Bush-campagne bevestigde de arrestatie en vermeldde welke bevriende rechter voor een lichte taakstraf had gezocht. De genoemde rechter bleek niet te bestaan en Hatfield's beroerde reputatie werd daarna het mikpunt van de publiciteit. De bron uit de Bush-campagne was terugkerend Alt-F4-onderwerp Karl Turd Blossom Rove, aldus Hatfield.
Vier jaar later, bij de herverkiezingscampagne, was het militaire verleden nog steeds onduidelijk en in toenemende mate onderwerp van gesprek. Opnieuw bood de Bush-campagne daartoe aanleiding door John Kerry's militaire carrière ter discussie te stellen, waardoor het contrast met die van de president nogal pijnlijk werd. Dat een dergelijke tactiek succesvol kan zijn, had Republikein Saxby Chambliss (niet in Vietnam wegens een slechte knie) eerder bewezen met de overwinning op Senator Max Cleland (geen benen en één arm minder wegens Vietnam) door deze in TV-spotjes te vergelijken met Saddam Hoessein en Bin Laden.
Diverse beroepen op de wet openbaarheid van bestuur (FOIA) hadden sinds 2000 al diverse documenten van de TANG opgeleverd en begin 2004 gaf het Witte Huis er nog een groot aantal vrij. Desondanks bleef het onduidelijk wat er nu precies was gebeurd tussen '72 en '73.
Op 8 september 2004 onthulde CBS in 60 Minutes verse TANG-documenten. Het Zachte Ei mocht een jaar geleden aan de Universiteit van Leiden een gastcollege geven over de botsing tussen het mondige, effectieve en machtige internet (denk Zacht Ei-voorbeeld Charles Johnson) en het archaïsche CBS. De memo's bleken vervalst en dat kostte presentator Dan Rather de kop.
Wat er in de memo's stond (volgens het gastcollege 'niet zo interessant') kwam nogal overeen met reeds openbare TANG-documenten. Een opgeleukte samenvatting van bekende feiten, zeg maar. In de belangrijkste vervalste memo, Suspension of Flight status, schijft Lt. Col. Killian het volgende (met links naar authentieke documenten die in 2000 werden vrijgegeven):
1. On this date I ordered that 1st Lt. Bush be suspended from flight status due to failure to perform to USAF/TexANG standards and failure to meet annual physical examination (flight) as ordered.

2. I conveyed my verbal orders to commander; 147th Ftr Intrcp Gp with request for orders for suspension and convening of a flight review board IAW AFM 35-13.

3. I recommended transfer of this officer to the 9921st Air Reserve Squadron in May and forwarded his AF Form 1288 to 147th Ftr Intrcp Gp headquarters. The transfer was not allowed. Officer has made no attempt to meet his training certification or flight physical. Officer expresses desire to transfer out of state including assignment to non-flying billets.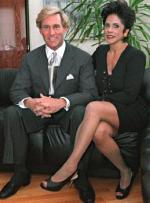 Welk doel dient een vervalsing met oninteressante, want grotendeels reeds bekende, informatie? De explosiviteit van de memo's was er niet minder om, alleen had de explosie meer het karakter van een backfire. Bill Burkett, de man die documenten naar CBS faxte, verklaarde uiteindelijk dat een vrouw die zich uitgaf als Lucy Ramirez hem de documenten had gegeven. Boze tongen beweren dat Ramirez wel eens de Mexicaanse vrouw van Roger Stone zou kunnen zijn (beiden hiernaast zichtbaar op een foto voor een swingers-advertentie). En dat Karl Rove de aanstichter zou zijn.
Opmerkelijk is dat daags na de CBS uitzending, Fox boegbeeld Sean Hannity meldt dat hij van de terrific Washington bureau chief and White House correspondent for Talon News Jeff Gannon (zie De roze balletten) heeft vernomen dat producente Mary Mapes achter de vervalsingen zit. Mapes produceerde de prijswinnende documentaire met onthullingen over Abu Ghraib.
Minstens zo opmerkelijk is dat CBS aanvankelijk op 8 september een documentaire had gepland over de Plame-affaire, die over heel andere vervalste documenten gaat. Die documentaire werd op het laatste moment teruggetrokken. Wegens de gevoeligheid van de Plame-affaire in de aanloop naar de verkiezingen, besloot CBS na het Killian-debacle de documentaire maar helemaal niet meer uit te zenden.
Mary Mapes werd begin dit jaar ontslagen door CBS wegens de vervalste memo's. Zacht Ei is inmiddels in dienst van de Universiteit Leiden.
Notice
: Undefined variable: name in
/home/tj/var/www/alt-f4.org/comments.php
on line
3
Notice
: Undefined variable: email in
/home/tj/var/www/alt-f4.org/comments.php
on line
4
Notice
: Undefined variable: url in
/home/tj/var/www/alt-f4.org/comments.php
on line
5
Notice
: Undefined variable: com2 in
/home/tj/var/www/alt-f4.org/comments.php
on line
6