Het spiegelpaleis
6 augustus 04:44, 2005
Vandaag is de inauguratie van Mahmoud Ahmadinejad als nieuwe president van Iran. Na de verkiezingen schreef de Washington Post dat deze nieuwe president niet veel aandacht verdient. Verdiend of niet, twee dagen later rolden reet's ogen uit zijn kassen vanwege een artikel in het clubblaadje van de Moonies: de nieuwe president zou betrokken zijn geweest bij de gijzeling van Amerikanen in '79. Een man met een baard, 25 jaar geleden, leek wel op een andere man met een baard, nu. Consternatie alom.
Eerder werden overeenkomsten met een heel andere persoon opgemerkt.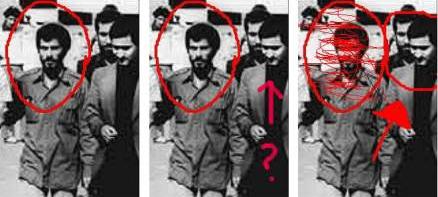 Eerst de feiten omtrent de gijzeling.
Begin 1979 vlucht de Sjah uit Iran en komt Ayatollah Khomeini aan de macht.
De Sjah krijgt kanker en wil naar de V.S. President Carter is huiverig ('And if [the Iranians] take our employees in our embassy hostage, then what would be your advice?') maar in oktober mag de Sjah komen.
Op 4 november bestormen militante studenten de Amerikaanse ambassade in Teheran en gijzelen 66 Amerikanen. Carter kondigt sancties af en start onderhandelingen. Tevergeefs.
In april 1980 probeert men de gijzeling militair te beëindigen: Desert One is een tragische mislukking.
Eind september, na de start van de oorlog met Irak, willen de Iraniërs de crisis oplossen om het embargo op te heffen, maar worden in oktober weer terughoudend.
Op 4 november, als de gijzeling een jaar duurt, wint Reagan de verkiezingen met een overweldigende meerderheid.
Op 21 januari 1981, 444 dagen later, komen de Amerikanen vrij, vijf minuten na de inauguratie van Reagan.
Kort daarna volgen er leveringen van wapens en reserve-onderdelen voor Amerikaanse gevechtsvliegtuigen van Israël aan Iran, zo blijkt wanneer op 18 juli een Sovjet luchtmachtpiloot boven Armenië een gecharterd Argentijns transportvliegtuig ramt.
Achterdochtige lezers zouden bovenstaande punten kunnen verbinden en een vuil electoraal spelletje vermoeden. Een spelletje dat vice-presidentskandidaat George H.W. Bush de October Surprise noemde:
Mr. Reagan also contended, as his aides had predicted earlier, that the President was planning an "October surprise" in domestic or foreign affairs to capture the public's attention in the final two weeks of the campaign. "Presidents can make things happen, you know," Mr. Reagan said.
Asked about this, Mr. Carter said: "It will be a surprise to me too. I don't know of anything planned."
In response to Mr. Reagan's suggestion that the "October surprise" might in some way involve the American hostages in Teheran, Mr. Carter said it would be "a serious mistake for any candidate, Governor Reagan or myself or anyone else, to inject the question of the American hostages into the polical campaign."
New York Times, 11 oktober 1980
Begin jaren tachtig zijn er nogal wat mensen achterdochtig, maar het blijft bij vermoedens, die worden afgedaan als partizaanse laster. Totdat jaren later, na het Iran-Contra schandaal, Bani-Sadr, Iran's eerste president na de revolutie die in juni 1981 het land ontvluchtte, met onthullingen komt:
Rafsanjani [Ahmadinejad's opponent - red.], Mohammed Behesti and Khomeini's son did not want Carter to win the election. There was a meeting in Paris between a representative of Beheshti and a representative of the Reagan campaign.
Gary Sick, lid van de National Secutity Council onder Carter en belast met het Iran-beleid, krijgt eind jaren tachtig het aanbod om een boek te schrijven over Iran-Contra. Bij het onderzoek voor zijn boek stuit hij op 'curieuze patronen' rond de verkiezingen van 1980. Hij ontdekt dat William Casey (destijds campagneleider van Reagan, later CIA-directeur) electoraal gewin voor Carter wilde voorkomen, en aan het onderhandelen sloeg met Iraniërs. In ruil voor wapens en teruggave van bevroren tegoeden, mochten de Republikeinen de vrijlating timen. Half oktober werd de deal in Parijs bezegeld in aanwezigheid van George H.W. Bush.
Er steekt een enorme publciteitsstorm op en er komt een task force van het Congres die de boel moet onderzoeken. Zonder smoking gun volgen er karaktermoorden op diverse getuigen en uiteindelijk komt men tot de conclusie dat er niks aan de hand was.
Sommigen houden echter vol, zoals de voormalige Newsweek-journalist Robert Parry die eerder PBS-documentaires over de surprise had gemaakt. Hij presenteert zijn bevindingen in de X-Files.
De vraag blijft dus: was er een toekomstig president betrokken bij de gijzeling? En zoja: van welk land?
Bonus 1
In de wildere varianten van het verhaal speelt één van de ontmoetingen tussen Casey de Iraniërs in Bohemian Grove, "met zijn naakt rondrennende en Moloch-aanbiddende 'Business & Opinion Leaders'" (aldus zutman in de vorige editie). Richard Nixon zei er dit over:
The Bohemian Grove, that I attend, from time to time [..] it is the most faggy goddamned thing you could ever imagine, with that San Francisco crowd. It's just terrible! I can't shake hands with anybody from San Francisco.
Bonus 2
Op 10 augustus 1991 wordt Danny Casolaro dood aangetroffen in een hotelkamer, liggend in een badkuip met 12 sneden in zijn polsen. Het lijk wordt gebalsemd voordat er autopsie wordt gepleegd, de kamer wordt schoongemaakt door een schoonmaakbedrijf voordat er onderzoek wordt gedaan. Het koffertje met aantekeningen dat hij bij zich had, is verdwenen. Weken voor zijn dood zei Casolaro tegen zijn broer dat als er iets met hem zou gebeuren, zelfmoord uitgesloten was. De officiële doodsoorzaak is zelfmoord.
Casolaro was free-lance onderzoeksjournalist en werkte aan een boek over
The Octopus
, een netwerk van schandalen als de
October Surprise
, de
BCCI-affaire
(het grootste bankschandaal ooit) en het
Inslaw
-schandaal.
Inslaw
leverde
een lang artikel
op in het allereerste nummer van Wired. Net als
een ander artikel
in het allereerste nummer van een andere
tech glossy
, is het
Inslaw
-artikel een spannend en ietwat onvolgbaar misdaadverhaal dat speelt in de anders zo saaie IT-wereld.
Notice
: Undefined variable: name in
/home/tj/var/www/alt-f4.org/comments.php
on line
3
Notice
: Undefined variable: email in
/home/tj/var/www/alt-f4.org/comments.php
on line
4
Notice
: Undefined variable: url in
/home/tj/var/www/alt-f4.org/comments.php
on line
5
Notice
: Undefined variable: com2 in
/home/tj/var/www/alt-f4.org/comments.php
on line
6