Telefoon!
15 juli 07:41, 2005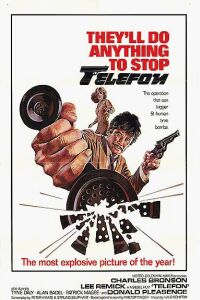 In 1977 bracht regisseur Don Siegel, ook bekend van het tegenwoordig hernieuwd actuele voorlichtingwerkje 'Hitler Lives', een van de laatste films uit zijn lange carriëre uit, 'Telefon'. In deze film moet KGB-agent Charles Bronson z'n gekgeworden collega Donald Pleasence opsporen. Donald is immers bezig om het eerder geplante KGB-netwerk van gehypnotiseerde moordenaars in de VS één voor één af te bellen. Elke agent verandert op het telefonisch aanhoren van een dichtregel terstond in een houten klaas en gaat zijn taak uitvoeren. Charles slaagt er uiteraard in dat niet de gehéle telefoonlijst afgewerkt wordt. De film is, op een paar aardige vonsten na nogal saai, en slecht geacteerd.
In het huidige tijdsgewricht komen we dezelfde monotone saaiheid ook tegen in een andere zaak. In die zaak vallen ook steeds maar doden, maar Charles Bronson is in geen velden of wegen te bekennen. In reality, nobody does anything to stop Telefon. Blijkbaar.
Een week na de ineenstorting van het WTC werden de eerste miltvuurbrieven verstuurd. De eerste zending van 18 september 2001 werd verstuurd naar de New York Post en NBC News, de tweede zending naar de democratische senatoren Tom Daschle en Patrick Leahy. Deze zending bleek een zeer pure variant van miltvuursporen te bevatten, ook wel omschreven als 'weapons grade quality'. Uiteindelijk raakten 22 mensen besmet, waarvan er 5 overleden. In het onderzoek erna verklaarde de FBI dat ze "interesse" hadden in ene Steven Hatfill, maar tot een aanklacht is het nooit gekomen, en een schuldige is nooit gevonden. Sommigen hebben zo hun mening waarom.
Alsof het iets met het bovenstaande te maken heeft, vielen er in de 5 maanden nadien 17 slachtoffers in de beroepsgroep van microbiologen, in Rusland, Australië, Israël, de VS en Groot-Brittanië. Allen stierven een onnatuurlijke dood.
6 november 2001: Jeffrey Paris Wall valt dood van de parkeergarage bij zijn werk, Los Angeles.
16 november 2001: Don Wiley, 57 verdwijnt in Memphis. Zijn auto wordt teruggevonden, met sleutels in het contact. Zijn lichaam later ook; drijvend in de Mississipi.
21 november 21, 2001: Vladimir Pasechnik overlijdt aan een beroerte, Groot-Brittanië.
24 november 2001: een Swissair vlucht van Berlijn naar Zürich stort neer. Onder de 22 doden: Yaakov Matzner, Amiramp Eldor, en Avishai Berkman uit Israel.
10 december 2001: Robert Schwartz, vermoord met een zwaard, Leesberg, Virginia, VS.
14 december 2001: Nguyen Van Set, stikt in een luchtsluis gevuld met stikstof, Greelong, Australië.
januari 2002: Ivan Glebov wordt aangevallen en overlijdt. Alexej Broeslinski wordt vermoord. Beiden in Moskou.
9 februari 2002: Victor Korsjoenov, schedel ingeslagen bij de voordeur van zijn huis, Moskou.
11 februari 2002: Ian Langford, dood gevonden in zijn huis in Norwich, Groot-Brittanië. Veel bloed.
28 februari 2002:Tanya Holzmayer wordt doodgeschoten door Guyang Huang die daarna blijkbaar zelfmoord heeft gepleegd. VS.
24 maart 2002: David Wynn-Williams wordt overreden door een auto tijdens zijn dagelijkse looprondje in Cambridge, Groot-Brittanië.
25 maart 2002: Steven Mostow stort neer in zijn vliegtuigje, Denver.
Wat deze microbiologen gemeen hebben, is dat het bijna allemaal wetenschappers zijn met een flinke reputatie op het gebied van besmettelijke ziektes, en komen uit landen met een actief programmma op het gebied van biologische oorlogsvoering. Hoewel de doodsoorzaken geheel verschillend zijn (en er wel meer wetenschappers onnatuurlijk aan hun einde komen), is de statistische kans minimaal dat dit een normaal toeval is. De beroepsgroep is wereldwijd niet zo groot.
Uitgaande van een actief programma, is het gissen naar het motief hierachter. Wat wisten deze mensen, hadden ze kennis van bestaande wapenprogramma's, of hadden ze kennis om deze programma's te voorkomen? Wisten ze iets van de miltvuur-aanval?
Charles Bronson in Telefon: 'Being paranoid doesn't mean we're not being followed.'
Naschriften:
Hoewel drunkmen hem terecht karakteriseert als een ufoloog met platte praatjes, heeft Jeff Rense hier een up to date lijst met 88 onnatuurlijk dode wetenschappers, met als extra bonus een gerucht over 310 dode Iraakse wetenschappers, uiteraard door de Mossad.
Hoe zit het eigenlijk met 's Nederlands beroemdste pratende hoofd in deze materie, Ab Osterhaus? Moet hij onderhand ook niet voor zijn leven vrezen? Iemand een idee?

Notice: Undefined variable: name in /home/tj/var/www/alt-f4.org/comments.php on line 3

Notice: Undefined variable: email in /home/tj/var/www/alt-f4.org/comments.php on line 4

Notice: Undefined variable: url in /home/tj/var/www/alt-f4.org/comments.php on line 5

Notice: Undefined variable: com2 in /home/tj/var/www/alt-f4.org/comments.php on line 6