Universele democratie
29 augustus 07:41, 2005
And it's absolutely essential that [the political process in Iraq] be allowed to happen and that we preserve the integrity of that process that we set in motion. We said we want freedom for the Iraqis, we want a democracy, we want them to pick their own government, write their own constitution. And that's exactly what's happening.

And we need to, I think, step back and admire them for how far they've come, the courage they've displayed. I think we have a great deal of confidence in where they're headed.

I don't think, at this stage, that there's anything like justification for hand-wringing or concern on the part of Americans that somehow they're going to produce a result we won't like.

Dick Cheney, FOX News Sunday, 7 februari 2005, rond de Iraakse parlementsverkiezingen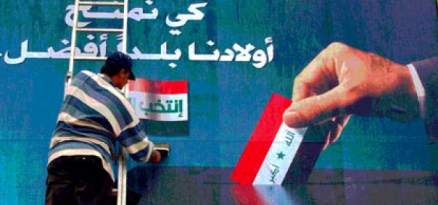 De nieuwe Iraakse grondwet is voorlopig vooral een bron van verdere polarisatie, ongeacht of deze nu 'aardig' en 'beter dan die van de EU' is, of meer doet denken aan 'Ein Volk, ein Reich, ein Führer'. Gisteren werd het definitieve document voorgelegd aan het Iraakse parlement dat zich van stemming onthield. Over anderhalve maand spreekt de bevolking zich uit, in een referendum dat overschaduwd wordt door de toenemende dreiging van een burgeroorlog. De soennitische minderheid kan het voorstel torpederen door in drie provincies met een meerderheid tegen te stemmen, een regel die ironisch genoeg op verzoek van de Koerden is toegevoegd aan de huidige interim-grondwet. Deze werd door de Coalition Provisional Authority (CPA) opgesteld en bepaalt het traject voor de democratisering van Irak. Eén van de adviseurs van de CPA bij het opstellen van die grondwet, was Larry Diamond, een politicoloog die door Condoleezza Rice werd uitgenodigd. Diamond heeft inmiddels een aardig boekje opengedaan over de toestand in Irak.
Eind juni 2004 werd de macht door de CPA overgedragen aan een interim-regering onder leiding van Iyad Allawi. Deze oud-Ba'ath-functionaris, richtte in '90 de oppositiegroep Iraaks Nationaal Akkoord (INA) op, dat met steun van de CIA en MI6 in de jaren negentig bommen en granaten ging gooien in Irak. Allawi leverde de Britten later de inlichtingen waaruit bleek dat Saddam Hoessein in staat was om binnen 45 minuten een chemische of biologische aanval uit te voeren, en stond daarmee aan de wieg van het schandaal met David Kelly en Andrew Gilligan.
Parlementsverkiezingen moesten ergens in december 2004 of januari 2005 plaatsvinden. Aanvankelijk had de CPA de verkiezingen veel eerder gepland. Door de onveiligheid in het land moest men de verkiezingen uitstellen. De CPA stond aanvankelijk getrapte verkiezingen voor ogen, om zo het aantal shi'ieten in het parlement te beperken. Om Al-Sistani, de religieuze leider van de shi'ieten, tegemoet te komen bij de vertraging, stemde Bush toe in directe verkiezingen.
Over het verloop van die verkiezingen deed Seymour Hersh vorige maand in de New Yorker een aantal onthullingen.
Larry Diamond voorzag nogal wat problemen en stelde in het voorjaar van 2004 voor om een "transparant fonds" op te zetten waarmee de verschillende partijen hun verkiezingscampagne konden financieren. Over de Koude-Oorlogtraditie van de V.S. om geheime fondsen door te sluisen naar gematigde en pro-Westerse partijen merkte hij op: "That is no longer possible or sensible." Na rapportage hoorde hij niets meer van Paul Bremer of Condoleezza Rice.
Ondertussen bereidde het Amerikaanse ministerie van Buitenlandse Zaken juist zo'n geheim fonds voor. Men wilde 40 miljoen dollar onderhands aan Allawi geven voor de verkiezingscampagne, via een aantal non-gouvernementele organisaties die de verkiezingen in de gaten moesten houden. De NGO's protesteerden en het plan werd in de herfst van 2004 afgeschoten door de onderminister van Buitenlandse Zaken op verzoek van Bush. Rond die tijd werd de CIA echter door het Witte Huis geautoriseerd om een geheime geldstroom op te zetten, maar dat besluit werd tegengehouden door Nancy Pelosi, de leider van de Democraten in het Huis van Afgevaardigden.
Na de gewonnen presidentsverkiezingen van 2004 legde Bush de bezwaren van het Congres naast zich neer en besluit tot een geheime interventie, met oud-CIA agenten en fondsen buiten het zicht van het Congres. Het doel van de operatie was om de impopulaire Allawi te behouden als premier, een vrij hopeloze zaak omdat in deze in de peilingen slechts 3 à 4 procent scoorde.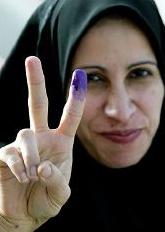 Op 30 januari verliepen de verkiezingen in Irak vrij chaotisch. De EU weigerde waarnemers te sturen vanwege de onveiligheid. Er waren slechts twee niet-Amerikaanse waarnemers in het land, waarvan één in de Green Zone. Op 13 februari werd de uitslag bekend, die vrij verrassend was gezien de bevolkingssamenstelling:
| | | |
| --- | --- | --- |
| | stemmen | bevolking |
| shi'ieten | 48% | 60% |
| Koerden | 26% | 15% |
| INA | 14% | |
| soennieten | 2% | 20% |
De soennieten hadden de verkiezingen geboycot, terwijl de Koerden door een zeer hoge opkomst juist veel invloed kregen. Opvallend was de 14% voor het INA, veel te weinig voor het behoud van Allawi als premier, maar ruim voldoende om te voorkomen dat de shi'ieten 66% van het parlement kregen, een percentage waarmee ze in staat zouden zijn geweeest om eenzijdig besluiten door te drukken.
Waar kwam het geld dat de CIA gebruikte om de verkiezingen te manipuleren vandaan? Hersh zegt daarover in dit radio-programma:
I just don't know that but, you know, when you talk about cash in Iraq, you don't just talk about cash. You talk about pallet loads of cash.
Hij heeft het natuurlijk over het transparante budget.
Volgende week zal de Amerikaanse senaat stemmen over de ADVANCE Democracy Act. Deze wet werd bedacht door Mark Palmer, een ambassadeur die de Axis of Evil wat eng gedefinieerd vond en een boek schreef met de veelzeggende titel Breaking the Real Axis of Evil: How to Oust the World's Last Dictators by 2025. De wet is al goedgekeurd door het Huis van Afgevaardigden en wordt vermoedelijk probleemloos door de Senaat geloodst. Rice heeft haar beleid al aangepast.
Universal Democracy zal daarmee officieel beleid worden. Heeft oude bekende Michael Ledeen visionaire kwaliteiten? Ruim dertig jaar geleden behandelde hij al een universele staatsinrichting.
Notice
: Undefined variable: name in
/home/tj/var/www/alt-f4.org/comments.php
on line
3
Notice
: Undefined variable: email in
/home/tj/var/www/alt-f4.org/comments.php
on line
4
Notice
: Undefined variable: url in
/home/tj/var/www/alt-f4.org/comments.php
on line
5
Notice
: Undefined variable: com2 in
/home/tj/var/www/alt-f4.org/comments.php
on line
6