Operation Pabst
10 augustus 07:55, 2005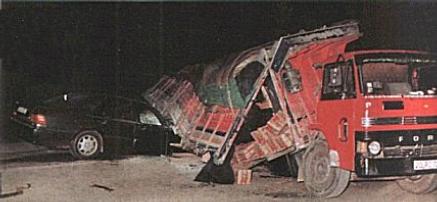 In 1996 botst in het Turkse plaats Susurluk een gepanserde Mercedes 600 tegen een vrachtwagen. Drie van de vier inzittenden zijn op slag dood. In de kofferbak worden machinegeweren, pistolen met geluidsdempers, afluisterapperatuur, valse nummerplaten en munitie aangetroffen. De enige overlevende is een Koerdische parlementariŽr. De drie doden zijn het hoofd van een politie-academie (eerder de politiechef van Istanbul), een voormalige schoonheidskoningin die voor de Turkse geheime dienst MIT werkt, en Mehmet ÷zbay. Deze ÷zbay, ambtenaar van het ministerie van financiën, heeft behalve een diplomatiek paspoort en een wapenvergunning ook een zak cocaïne bij zich. De cocaïne blijkt het kleinste probleem: ÷zbay heet helemaal geen ÷zbay, maar Abdullah «atli en is baas van de Turkse mafia en de tweede man van de verboden Grijze Wolven die al 18 jaar wordt gezocht in Turkije.
De Minister van Binnenlandse Zaken, Mehmet Agar, spreekt van een tragisch ongeluk waarin zijn vriend, de parlementariër met een privé-leger dat de PKK bestrijdt, als crimefighter betrokken was; de auto was onderweg naar het gevang van Istanbul om «atli definitief op te bergen. Die stelling wordt onhoudbaar als de Mercedes van hetzelfde luxueuze hotel blijkt te komen als waar Agar zelf logeerde en bovendien zijn handtekening prijkt onder het paspoort en de wapenvergunning van ÷zbay «atli. De minister treedt af. Het verkeersongeluk is de start van een grootscheeps parlementair onderzoek waaruit blijkt dat staat, politie en mafia/Grijze Wolven een ondeelbare drieëenheid vormen.
Susurluk is in Turkije het symbool geworden van een corrupte overheid, die in drugs handelde (naar schatting 75% van de Europese heroïnemarkt) en met het geld meer dan 25 jaar anti-PKK terreur bedreef, met duizenden doden tot gevolg. Het centrale orgaan voor die strijd was de ÖHD (÷zel Harp Dairesi, het departement van speciale oorlogsvoering), een soort van Turkse Gladio-variant, opgericht in 1954 toen Turkije lid werd van de Navo. Tot 1974 werd de ÖHD door de V.S. gefinancieerd.
In '73 kondigde een Turkse krant, na een reeks mysterieuze geweldadigheden, de publicatie aan van een field manual van het Pentagon die betrekking zou hebben op stay-behind-operaties (zoals Gladio en ÖHD). De journalist die het document had bemachtigd, verdween na die aankondiging spoorloos. Drie jaar later dook het document op in Spanje, volgens de Amerikanen een vervalsing. Een fragment:
There may be times when HC [host country - red.] governments show passivity or indecision in face of Communist or Communist-inspired subversion, and react with inadequate vigor to intelligence estimates transmitted by U.S. agencies. Such situations are particularly likely to arise when the insurgency seeks to achieve tactical advantage by temporarily refraining from violence, thus lulling HC authorities into a state of false security. In such cases, U.S. Army intelligence must have the means of launching special operations which will convince HC governments and public opinion of the reality of the insurgent danger and of the necessity of counteraction.
Field Manual FM 30-31B
Terug naar «atli. In '79 gaf hij opdracht voor de moord op een redacteur van de linkse krant Milliyet. Mehmet Ali Agca pleegde die moord en kreeg levenslang. «atli zorgde ervoor dat Agca de extra-beveiligde gevangenis uit kon lopen in een uniform, voorzag Agca van valse papieren, stuurde hem via Bulgarije naar Italië en gaf hem een Browning 9mm pistool.
Op de foto hierboven, van 13 mei 1981, is aan de linker zijde dat pistool te zien, in de hand van Agca. In het artikel over Ledeen werd al aangestipt hoe de verdenking voor de pausaanslag op de Bulgaarse geheime dienst werd geladen. Zes dagen na de aanslag refereert de Berlusconi-krant Il Giornale aan een SISMI-rapport waarin wordt gemeld dat de moord door de Sovjet-generaal Ustinov werd uitbesteed aan de STASI, die Agca zou hebben geholpen uit de Turkse gevangenis te ontsnappen. Het plan zou besproken zijn tijdens een bijeenkomst van de Ministers van Buitenlandse Zaken van het Warshaupact in november '80. Het rapport blijkt later door Ledeen's vriendje Francesco Pazienza te zijn gefabriceerd. Een jaar later bekent Agca, na verhoor door SISMI-agenten, dat hij door Bulgaren is ingehuurd.
Deze pista bulgara werd door Claire Sterling behandeld in haar boek The Time of the Assasins (lovend besproken in National Review, Ledeen's hangplek). Eerder had Claire een boek vol zwarte propaganda afkomstig van de CIA geschreven, dat zoveel indruk op Bill Casey maakte, dat hij, eenmaal directeur van de CIA, de dienst zijn eigen staart liet najagen, zoals fraai te zien is in het video-essay The Power of Nightmares. Ledeen zei in een abusievelijke kritiek op die serie: "Almost everything Claire said was borne out by the Stasi files".
Tot zover oude koek.
In april van dit jaar berijdt Arnaud de Borchgrave (zie ook De mensenversnipperaar) een vertrouwd stokpaard: de mainstream media hebben hem, Ledeen en Sterling onheus bejegend door de Bulgaarse connectie stelselmatig te negeren. Het clubblaadje van de Moonies behoort gelukkig niet tot die ellendige MSM en bericht er wel over.
Waar heeft Arnaud het over? De Italiaanse krant Corriere della Sera kopt op 31 maart niet mis te verstaan: Dossier Stasi conferma pista bulgara. Een Italiaanse parlementaire commissie zit al jaren te spitten in het KGB-archief van Vasili Mitrokhin, en krijgt plots extragratis STASI-documenten over Operation Pabst in mik, waaruit zou blijken dat de aanslag inderdaad via de Bulgaren verliep. Een curieuze zaak, gezien de hierboven beschreven Toestand in Turkije. Zeker omdat «atli voor de rechtbank zou hebben verklaard dat hij van de Westduitse inlichtingendienst BND geld kreeg om de aanslag bij de Russen en de Bulgaren in de schoenen te schuiven.
Wat staat er in die documenten? De Italiaanse krant La Repubblicca kopt op 11 april niet mis te verstaan: Pista Bulgara costruita in Italia (niet op de site van de krant verkrijgbaar, maar wel via het Italiaanse parlement dat een geheel eigen visie op copyright heeft). De krant levert er nog wat fragmenten uit het dossier bij, waaruit blijkt waarom de Bulgaren contact opnemen de Oostduitsers: ene Claire Sterling probeert ons te naaien! Operation Pabst lijkt dus vooral een verslag van de eigenaardige patronen die men bij gene zijde waarneemt.
Omdat de commissie voorlopig nog doorgraaft, laten definitieve conlusies wel even op zich wachten. Zeker nu er een tweede kogel opduikt, die gelukkig de heiligverklaring van JP II versnelt.
Maar wat doet onderstaande Grijze Wipwolf voor de deur van Zutman? Rechtsdraaiende zonnewielen op het vertier worden doorgaans fluks door de Roteb verwijderd, maar Bozkurt / MHP moet blijkbaar onder de kinderhandjes van de wipkip slijten.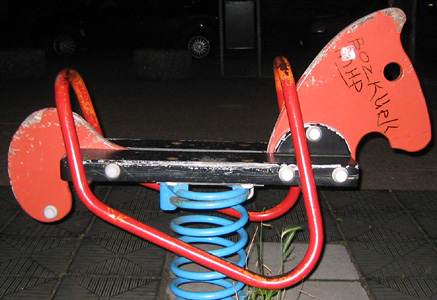 1. In mei 1985 kwam de paus naar Nederland. De kogel had andermaal VAN LINKS KUNNEN KOMEN!, zo waarschuwde het Katholiek Nieuwsblad post-Pim in retrospect. Tot zover de faith based community, terug naar de feiten.
Vlak voor de aankomst van de Paus in Nederland wordt in Venlo Aslan Samet met een Browning 9mm gearresteerd. Hij wordt in Turkije gezocht voor een aantal moorden, en in Italië voor medeplichtigheid aan de aanslag in '81. Hij wordt uitgeleverd aan Turkije. Het serienummer van de Browning wijst erop dat deze uit dezelfde partij als die van Agca komt, maar de Italiaanse justitie kan dat niet verder onderzoeken: het pistool is in Nederland zoek geraakt. In 1988 wordt Samet dood aangetroffen in een Turkse politiecel. Zelfmoord.
2. In 1995 werd op verzoek van de Turkse autoriteiten HŁseyin Baybasin aangehouden in Nederland wegens smokkel van 3000 kilo heroïne. Het schip met de drugs werd in 1992 door de bemanning na ontdekking ten zuiden van Cyprus tot zinken gebracht. De Hoge Raad adviseerde in '96 Baybasin niet uit te leveren, omdat hij in Turkije gevaar loopt te worden gedood: Baybasin zei te zijn opgeleid bij de ÖHD, waar hij Agca, «atli en minister Agar van kent.
Inmiddels is Baybasin veroordeeld tot 20 jaar cel, omdat hij "to make him cold" zou hebben gezegd door de telefoon. Of was het toch "to make him call"? In ieder geval zit hij voor zijn eigen veiligheid in de isoleerafdeling van de EBI te Vught.
Notice
: Undefined variable: name in
/home/tj/var/www/alt-f4.org/comments.php
on line
3
Notice
: Undefined variable: email in
/home/tj/var/www/alt-f4.org/comments.php
on line
4
Notice
: Undefined variable: url in
/home/tj/var/www/alt-f4.org/comments.php
on line
5
Notice
: Undefined variable: com2 in
/home/tj/var/www/alt-f4.org/comments.php
on line
6