De melkrondjes
21 juli 07:43, 2005
They knew each other well--really well--they were friends. They were going to a nightclub in Sarasota, talking and very sociable with each other. [Dekkers] and Atta were friends, you could tell.
Taxichauffeur Bob Simpson, Venice, FL.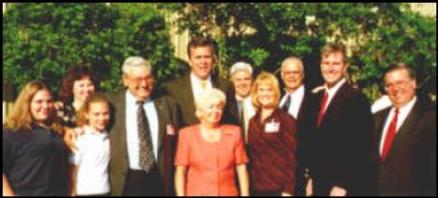 Stanley Huffman heeft niet slecht geboerd. Op 15 juni 1999 kondigde de Sarasota Herald de verkoop van Huffman Aviation, de FBO (First Base Operator) van Venice Municipal Airport aan. De prijs blijft onbekend, maar de deal was, ongewoon, binnen een paar dagen gesloten. De nieuwe eigenaar was Wally Hilliard, met Edenaar Rudi Dekkers voor de dagelijkse leiding.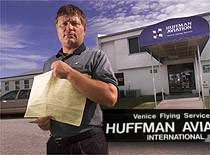 De nieuwe eigenaars breken de buitenlandse markt open, en in de twee jaar daarna komen er vele nationaliteiten voor vlieglessen. Opvallend is het contingent Arabieren, dat lessen neemt bij Huffman. Veel opvallender (zo blijkt later uit een artikel in Le Monde) is dat Yeslam Bin laden, halfbroer van Osama, vanuit Zwitserland actief veel studenten naar Huffman stuurt. Yeslam claimt onschuld, met de melding dat hij 'die school niet heeft uitgekozen'. (Er zijn meer dan 200 vliegscholen in Florida om uit te kiezen.)
Zo arriveren daar ook Mohammed Atta en Marwan Al-shehhi, later genoemd als de hoofdkapers van 9/11. Beiden zullen in de periode van juli tot december 2000 lessen nemen bij Huffman. Hun herkomst is onduidelijk, maar Dekkers blijft voor de TV-camera's van de dagen na 9/11 beweren dat ze hun verblijfsvergunning hadden geregeld via een andere vliegschool. Deze onbekende vliegschool blijft onbekend; de FBI zal er geen onderzoek naar instellen.
In december 2000 vertrekken ze voor hun vlieglessen naar een 60 km verderop gelegen vliegveld: Charlotte County Airport, even buiten Punta Gorda. De vliegschool aldaar, Professional Aviation, specialiseert in vlieglessen voor de Tunesische markt. Deze zal in maart 2001 failliet gaan, vele studenten gedupeerd achterlatend. Dit gebeurt op hetzelfde moment dat Huffman Aviation wegens betalignsachterstanden slecht in het nieuws komt. Er zijn ook indirecte relaties met het (wederom) verderop gelegen Florida Flight Training Center, gevestigd op het Naples Municipal Airport. Deze vliegschool wordt sinds ongeveer dezelfde tijd uitgebaat door een oude bekende van onze Ruud, Arne Kruithof.
De westkust van Florida heeft een rijk CIA verleden. De Varkensbaai-landing op Cuba werd geoefend en voorbereid op het voor de kust gelegen Useppa Eiland. Punta Gorda is pas echt tot ontwikkeling gebracht door twee 'voormalige' CIA agenten. De genoemde vliegvelden worden regelmatig gebruikt voor transporten waar de lokale sherriff miks mee te maken mag hebben. In de tijd van Iran-Contra was het hier ook erg druk op de vliegvelden.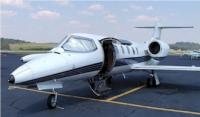 Wally Hilliard was rond die tijd ook mede-eigenaar van een Learjet 35A, nummer N351WB. Op 25 juli 2000 wordt deze jet, na aankomst uit Venzuela, door de DEA op Orlando Executive Airport omsingeld en doorzcht. De vondst van circa 20 kilo heroine is voor Floridaanse begrippen ook exceptioneel. Wally verschuilt zich achter het argument dat hij de jet 'verhuurd heeft'. Hij wordt niet vervolgd, maar raakt de jet toch kwijt. Later gaan er geruchten dat de DEA niet goed geïnformeerd was, en dit een van de vele vluchten was die niet aangeraakt 'mocht' worden. Later blijkt dat dit vliegtuig circa dertig melkrondjes naar Venezuela had gemaakt in het jaar daarvoor. Mede-eigenaar en piloot van dit vliegtuig, Diego Levine-Texar wordt ook niet vervolgd, wegens "gebrek aan bewijs".

Huffman Aviation is niet het enige avontuur van Rudi & Wally. In maart 2001, midden in de publiciteit rondom de betalingsproblemen van Huffman Aviation, beginnen zijn een nieuwe vliegmaatschappij voor Florida en omgeving, geheten FLAIR (Florida Air) of ook Discover Air. Een beslissing waar het Floridaanse vliegwereldje van opkijkt, gezien het algemene oordeel dat er in die branche geen droog brood te verdienen valt. Ongeacht de reputatie van Wally & Rudi dient zulk ondernemersschap gevierd te worden en steunen gouverneur Jeb Bush en Katherine Harris zulke initiatieven van harte. Jeb komt meer dan eens gezellig op bezoek (zie ook foto bovenaan), en Katherine roept zichzelf uit tot trouwe klant. Dit ondanks het feit dat de luchtvaartmaatschappij de benodigde vergunningen voor passagiersvervoer niet eens op orde heeft.
Tezamen met het verhuurmaatschappijtje van Wally wordt er flink geïnvesteerd in vliegtuigen. Passagiers zijn er, zoals te verwachten is, weinig, maar de vloot wordt wél flink gebruikt. Al is het maar voor verhuur aan partijen die zeer geheimzinnig doen over het doel van hun reizen. Dit tot frustratie van werknemers, die zich afvragen in wat voor een bedrijf ze terecht zijn gekomen. Er wordt in die tijd veel geld verspild, geld wat Wally probleemloos er in blijft pompen. Alsof het zijn eigen geld niet is.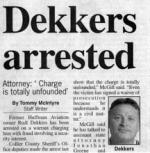 Op 24 januari 2003 stapt Rudi in z'n heli voor een afspraak met Wally, betreffende de overdracht van Huffman Aviation. De samenwerking is inmiddels op een publieke ruzie uitgelopen. Op weg naar deze afspraak stort hij plotseling neer met zijn helicopter, maar komt met de schrik vrij. Dit gebeurt toevalligerwijs drie maanden nadat Arne Kruithof een crash met zijn vliegtuig ook maar ternauwernood had overleefd. Beide ongevallen worden niet onderzocht.
Sommige dingen veranderen echter nooit: Dekkers wordt op 3 september 2003 gearresteerd op een aanklacht van fraude met betrekking tot het onderpand voor een lening.


Liefhebbers lezen verder in 'Welcome to Terrorland' van Daniel Hopsicker, uitgegeven door Mad Cow Press. Wel even door de hijgerige schrijfstijl heenlezen.
Notice: Undefined variable: name in /home/tj/var/www/alt-f4.org/comments.php on line 3

Notice: Undefined variable: email in /home/tj/var/www/alt-f4.org/comments.php on line 4

Notice: Undefined variable: url in /home/tj/var/www/alt-f4.org/comments.php on line 5

Notice: Undefined variable: com2 in /home/tj/var/www/alt-f4.org/comments.php on line 6