Faster, please
10 oktober 07:13, 2005
Oorspronkelijk stond voor nu het artikel 'Zionisme, wat is dat nou?' op het program. De geruchtenmachine in het Amerikaanse draait op dit moment zodanig op volle toeren dat de planning van Alt-F4 om een aanpassing vraagt. Het zou immers toch zonde zijn als onze thematiek u eerder via de gevestigde media zou bereiken, niet?
Out West, where you vacation, the aspens will already be turning. They turn in clusters, because their roots connect them.
Scooter Libby
Zoals
vorige week
reeds aangestipt, was de
brief
van Scooter Libby aan Judy Miller van een stuitende klefheid. Bovenstaand citaat is één van de afsluitende opmerkingen, en valt bij nader inzien toch wel op.
Waar hééft die Scooter het over?
Scooter mijmert wellicht over de 'koude tijden' die komen gaan: zoals de dagen nu korten, zal de openbaar aanklager Fitzgerald op korte termijn zijn eerste tenlasteleggingen moeten gaan ronddelen. Een groepje bomen rondom het Witte Huis kan dan inderdaad van kleur gaan verschieten, alsof hun wortels met elkaar verbonden zijn.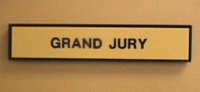 Een korte recapitulatie van de technische details van het onderzoek rondom de Plame-zaak. In eerste instantie is deze zaak in onderzoek genomen door 'career counterespionage prosecutor' John Dion. Toen gaandeweg bleek dat er toch wel wat lijnen naar het Witte Huis liepen (en het onderzoek daarmee politiek gevoelig werd) werd door toenmalig minister van Justitie Ashcroft een openbaar aanklager ingesteld, te weten Patrick Fitzgerald. Fitzgerald had in zijn carriere al gewerkt voor eerdere corruptie-onderzoeken, in Illinois. Het onderzoek draaide om de overtreding van een federale wet, en dan is het verplicht om een federal grand jury. in te stellen. Zo'n jury in deze zaak is sinds oktober 2003 aktief. De taak van zo'n jury is enerzijds het horen en onderzoeken van de zaak, maar ook stelt zij formeel verdachten in staat van beschuldiging. De openbaar aanklager moet zijn zaak bij de juryzittingen presenteren, alsof het een rechtzaak achter gesloten deuren betreft. De opgeroepen getuigen getuigen zonder advocaat, en omdat de zitting van een jury een officiele rechtszitting is, kan zo een getuige naderhand aangeklaagd worden wegens meineed als hij niet de waarheid heeft gesproken. Federale grand juries kunnen 18 tot 24 maanden lopen; komende 28 oktober loopt de termijn voor deze jury ten einde. Voor die tijd moet de openbaar aanklager zijn tenlasteleggingen bij de jury presenteren.
De openbaar aanklager trekt het onderzoek; hij moet aannemelijk maken voor de jury dat persoon X een strafbaar feit heeft gepleegd, opdat de jury zijn aanklacht overneemt. De meest eenvoudige beschuldiging is natuurlijk meineed: getuige X heeft in een eerder stadium iets verklaard wat aantoonbaar niet klopt. Hiermee kan de getuige natuurlijk onder druk gezet worden om belastende verklaringen over anderen anderen af te leggen.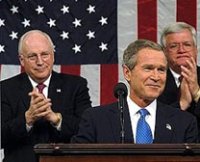 De originele reden van het onderzoek draait rond het overtreden van een wet die nog door Ronald 'I bring you greetings from a former Director of this Agency, Vice President George Bush' Reagan is ondertekend. Deze wet is nog nooit eerder toegepast, en de onhulling van de positie van Plame is op zichzelf geen reden om een schandaal van Watergate-proproties te gaan vermoeden. De achterliggende motivatie van lekken van Plame is het terugpakken van haar man Wilson vanwege zijn conclusies over de vervalste Niger-documenten. Deze documenten zijn zeer actief gebruikt bij de campagne voor het begin van de Irak-oorlog, in het bijzonder in de beroemde 16 woorden in Bush zijn State-of-the-Union toespraak van 2003. Het zou daarmee in de lijn der verwachting liggen dat dezelfde mensen die met deze Plame-lekkage te maken hebben ook een rol hebben gespeeld in het opblazen van deze documenten, en daarmee het land politiek rijp krijgen voor een oorlog waar niemand wat aan heeft. Potentieel een schandaal van enorme proporties.
Ondertussen heeft Turd Blossom zich afgelopen week nog even snel aangeboden om een eerdere getuigenis te nuanceren, zeker nadat er een belastende mail van hem van juli 2003 was opgedoken.
Fitzgerald hóeft niet te komen met een aanklacht op de hierboven beschreven wet. Er bestaat ook nog de mogelijkheid dat het onderzoek resulteert in een andere aanklacht:
Under this legal tactic, Fitzgerald would attempt to establish that at least two or more officials agreed to take affirmative steps to discredit and retaliate against Wilson and leak sensitive government information about his wife. To prove a criminal conspiracy, the actions need not have been criminal, but conspirators must have had a criminal purpose.
Genoeg om over te roddelen, dus. 28 Oktober is maatgevend; daarna houdt de federal grand jury op te bestaan. Fitzgerald heeft haast.
De politieke wending die zulk een onderzoek kan nemen is onvoorspelbaar; een vergelijking met een eerder schandaal laat zien dat de val van een president niet zozeer te maken heeft met het bewijzen van strafbare feiten, maar meer nog te maken heeft met de publieke opinie:
"I think we're not nearly at the stage of writing the obituary for this administration," he said.
Het kan echter ineens heel erg stil worden in het Witte Huis.
Toch nog een tipje van het Groot-Zionistisch complot. Eervorige week heeft Larry Franklin, analist op het Pentagon een bekentenis afgelegd in de AIPAC-zaak. Dit is een spionagezaak waarin Franklin beschuldigd wordt dat hij midden 2003 geheime informatie (onder meer inzake het Pentagon-beleid voor Iran) doorgespeeld heeft aan de twee toplui van de American-Israeli Public-Affairs Committee, oftewel de Israëlische lobby in de VS. Steve Rosen en Keith Weissman zijn inmiddels al stilletjes uit de AIPAC gezet, maar het onderzoek gaat door. De teneur is dat de FBI hiermee een potentieel veel grotere zaak te pakken heeft.
De vraag is hoe groot. Zoals Karen Kwiatkowski in dit sfeerbeeld al duidelijk laat zien, was het in 2002 helemaal geen probleem voor de Israëliers om informatie uit het Pentagon te krijgen (of andersom); waarom gaat de AIPAC dan een jaar later zijn eigen bronnen aanboren? Kijken we hier tegen Israëlische binnenlands-politieke territoriumdrift uitgevochten binnen de muren van het Pentagon?
Deze zaak is uiteraard nog niet af. Of we dwarsverbanden gaan zien met het plame-schandaal: anything goes, nowadays.
Bovenstaande affaires hebben zo zijn impact: er lijkt haast geboden met een bepaald avontuur in Iran. Internationaal bestaat er weinig zin in een tweede Irak-avontuur, er worden oude rekeningen vereffend.
Wanhopige pogingen die leiden tot pijnlijk-komische taferelen sterken de buitenstaander in de overtuiging dat terrorisme niet bestaat. Dat is natuurlijk te gemakkelijk. Terrorisme bestaat wel, al houdt men dat in Oklahoma graag verborgen. Koppelt men op opzichtige wijze al die bommen in Irak aan Iran, dan wordt zo'n claim vanuit Irak zelf met klem ontkend. Onafhankelijk daarvan zijn er meer en meer vermoedens die een hele andere kant uit wijzen.
Ledeens vaste uitspraak krijgt zo een heel andere gevoelswaarde. Dat heeft ie vast nooit zo bedoeld.
Notice: Undefined variable: name in /home/tj/var/www/alt-f4.org/comments.php on line 3

Notice: Undefined variable: email in /home/tj/var/www/alt-f4.org/comments.php on line 4

Notice: Undefined variable: url in /home/tj/var/www/alt-f4.org/comments.php on line 5

Notice: Undefined variable: com2 in /home/tj/var/www/alt-f4.org/comments.php on line 6