Holocaustontkenning, wat is dat nou?
29 september 11:46, 2006
So habe ich, einstweilen nur im Osten, meine Totenkopfverbände bereitgestellt mit dem Befehl, unbarmherzig und mitleidslos Mann, Weib und Kind polnischer Abstammung und Sprache in den Tod zu schicken. Nur so gewinnen wir den Lebensraum, den wir brauchen. Wer redet heute noch von der Vernichtung der Armenier?
Adolf Hitler, 22 augustus 1939, Obersalzberg
Het vorige Alt-F4 artikel was opgehangen aan een TV-column van Francisco van Jole. Met een flinke dosis pathos noemde hij het griezelig, dat de complotdenkers de geschiedenis willen wissen. "Met andere woorden: 11 september is eigenlijk niet gebeurd." Hij zei het niet, maar de suggestie was overduidelijk en misschien dacht hij het zelfs echt: de 9/11-complotdenkers zijn eigenlijk holocaustontkenners.
Het vergelijken van 11 september met de holocaust is vaker vertoond. Zo stelde William J. Bennett in 2003 een 9/11 museum voor, naar model van het Holocaust Museum in Washington:
The first images of the museum should be of the airplanes flying into the Twin Towers. Then, with slight alterations to preserve anonymity, there should follow footage of the estimated 200 people who jumped from the towers. We should watch their seemingly eternal, yet final, last ten seconds of life. [..]
We should then see image after image of the Towers crashing. We should see images of the Pentagon on fire.
Kortom: de beeldenporno die door filmpjes als Loose Change zo populair is / zo geëxploiteerd wordt. Bennett gaat in sneltreinvaart verder met zijn beeldenselectie:
We should see the plastic shredding devices that Labour MP Ann Clwyd brought to the world's attention, with the following testimony from Iraqi witnesses: "There was a machine designed for shredding plastic. Men were dropped into it and we were again made to watch. Sometimes they went in head first and died quickly. Sometimes they went in feet first and died screaming..
Een prima keuze om de essentie van 11 september te vatten, zo vindt ook Alt-F4.
De vergelijking tussen holocaustontkenning en de 9/11-complotten is ook weinig origineel. Michael Shermer schreef vorig jaar een artikel in de Scientific American over de complottheoriën waarin de woorden Holocaust denial vielen. En er is een heuse Israpundit die beide ontkenningen gelijkwaardig weerzinwekkend vindt.
In Van Jole's reactie op de reacties op zijn column verwees hij naar een stuk van voormalig New-Yorkcorrespondent Jeroen van Bergeijk, getiteld Weg met Loose Change. Van Bergeijk geeft aan het einde van zijn verhaal advies:
Bezoek Screw Loose Change. Lees het artikel 9/11: Debunking the Myths uit Popular Mechanics. Lees het rapport van de National Institute of Standards and Technology. Doe je huiswerk en trek dan je conclusies.
Holocaustontkenning en 11 september is een thema waar het door Van Bergeijk aanbevolen weblog Screw Loose Change van overloopt. Niet zozeer als analogie, maar als letterlijk verband: 11 september is niet alleen poplulair bij teflonvrezers, wichelroedelopers en ufologen, maar ook bij neo-nazi's. Guilty by association kortom. (Hetzelfde soort associatie dat John Mearsheimer en Stephen Walt verbindt met voormalig KKK-voorman David Duke, zie Zionisme, wat is dat nou?)
Meer over Van Bergeijk's huiswerk in het naschrift met mijn geloofsbelijdenis onderaan van dit verhaal. Nu eerst meer over holocaustontkenning.
Wat is dat nu eigenlijk?
Denial of genocide strives to reshape history in order to demonize the victims and rehabilitate the perpetrators. Denial of genocide is the final stage of genocide. It is what Elie Wiesel has called a "double killing." Denial murders the dignity of the survivors and seeks to destroy remembrance of the crime. In a century plagued by genocide, we affirm the moral necessity of remembering.
Gezamenlijke verklaring van meer dan 150 wetenschappers bij de vijftigste verjaardag van de VN-conventie waarin genocide juridisch werd gedefinieerd.
Sinds begin dit jaar is holocaustontkenning weer een populair onderwerp, dankzij Ahmadinejad. De cartoontentoonstelling en de nakende holocaustconferentie zijn overal breed uitgemeten. Het idee van een wetenschappelijke holocaustconferentie klinkt op het eerste gehoor nogal potsierlijk. Toch zal de conferentie komende maand in Teheran niet de eerste zijn. Die werd namelijk in 1982 gehouden in Tel Aviv.
Aanvankelijk zouden er 150 lezingen worden gehouden tijdens The First International Conference on the Shoah and Genocide in Yad Vashem in Jerusalem, en zouden zo'n 600 onderzoekers meedoen. Maar door grote druk van het Israëlische ministerie van buitenlandse zaken om de boel af te gelasten, werd de conferentie verplaatst naar het Hilton van Tel Aviv met de helft van de oorspronkelijke deelnemers. Sommigen spraken van een conspiracy of silence.

Eén van de afvallers die zwichtte voor de druk, was de bovengeciteerde Elie Wiesel (die wat later de Nobelprijs voor de Vrede zou winnen). Buitenlandse zaken wilde de conferentie afgelasten vanwege protesten van de Turkse regering tegen de conferentie, omdat zes lezingen gehouden zouden worden over de Armeense genocide van 1915.
Het fragment hierboven van de 150 wetenschappers uit 1998 over holocaustontkenning refereert aan die meest effectief ontkende genocide. Die effectiviteit is ook Hitler niet ontgaan, zoals het citaat toont waar dit artikel mee begon. Wie sprak er destijds nog over de volkerenmoord op de Armeniërs? Deel 2 van de Winkler Prins uit 1933 is bij het lemma Armenië vrij summier:
tijdens den oorlog zijn door de Turksche legerautoriteiten groote deportaties van Armeensche bevolkingen van de Russische grens naar het binnenland uitgevoerd, waarbij een zeer groot deel der gedeporteerden is omgekomen
De Armeense genocide begon 'officieel' op 24 april 1915. Op die dag werden Armeense intellectuelen en notabelen in Istanbul publiekelijk verhangen.
De dag na het begin van de eerste holocaust van de twintigste eeuw vond de eerste D-day plaats: de Engelsen en Fransen vielen het Turkse schiereiland Gallipoli binnen, nadat Turkije was toegetreden tot de centralen. Churchill was een van de pleitbezorgers van die invasie. In zijn memoires over de Eerste Wereldoorlog schrijft hij over de Armeense kwestie:
There is no reasonable doubt that this crime was planned and executed for political reasons. The opportunity presented itself for clearing Turkish soil of a Christian race opposed to all Turkish ambitions, cherishing national ambitions that could only be satisfied at the expense of Turkey, and planted geographically between Turkish and Caucasian Moslems. It may well be that the British attack on the Gallipoli Peninsula stimulated the merciless fury of the Turkish Government.
[..]
It seemed inconceivable that the five great Allies would not be able to make their will effective. The reader of these pages will however be under no illusions.
[..]
In the Treaty of Lausanne, which registered the final peace between Turkey and the Great Powers, history will search in vain for the word 'Armenia'.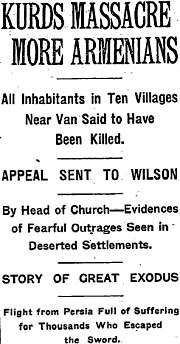 Ondanks Gallipoli als bliksemafleider en ondanks de desinteresse achteraf, voltrok déze holocaust zich niet buiten het zicht van de wereldgemeenschap. Hiernaast staat een kop uit de New York Times van 26 april 1915. Het bijbehorende artikel was al op 24 april geschreven en bereikte de V.S. twee dagen later via Petrograd en London. Op dat moment waren vanaf 15 april al meer dan 50.000 Armeniërs vermoord in de provincie Van en was de stad Van met 30.000 burgers belegerd. Het is niet het enige krantenbericht: wereldwijd wordt er veel over de massamoorden gepubliceerd, vooral in de V.S. die nog twee jaar neutraal zouden blijven, totdat Wilson in april 1917 het Duitse keizerrijk de oorlog verklaart.
De New York Times publiceert in 1915 een ware stroom van artikelen, een selectie van enkele koppen:
APPEAL TO TURKEY TO STOP MASSACRES (28 april)
SAYS TURKS AIDED RECENT MASSACRES (29 april)
KURDS RENEW MASSACRES (1 mei)
ALLIES TO PUNISH TURKS WHO MURDER (24 mei)
MORE ARMENIAN MASSACRES (6 juni)
WHOLESALE MASSACRES OF ARMENIANS BY TURKS (29 juli)
REPORT TURKS SHOT WOMEN AND CHILDREN (4 augustus)
ARMENIAN HORRORS GROW (6 augustus)
60,000 ARMENIANS FLEE FROM TURKS (11 augustus)
ARMENIANS ARE SENT TO PERISH IN DESERT (18 augustus)
BURN 1,000 ARMENIANS (20 augustus)
TURKS DEPOPULATE TOWNS OF ARMENIA (27 augustus)
TURKS MASSACRE ARMENIANS OF ISMID (3 september)
THE DEATH OF ARMENIA (17 september)
500,000 ARMENIANS SAID TO HAVE PERISHED (24 september)
SAYS EXTINCTION MENACES ARMENIA (25 september)
TALES OF ARMENIAN HORRORS CONFIRMED (27 september)
ARMENIAN WOMEN PUT UP AT AUCTION (29 september)
800,000 ARMENIANS COUNTED DESTROYED (7 oktober)
DEFENDS REPRESSION OF THE ARMENIANS (10 oktober)
TURKISH OFFICIAL DENIES ATROCITIES (15 oktober)
THE KIND OF ARMENIANS A TURK KNOWS (18 oktober)
ONLY 200,000 ARMENIANS NOW LEFT IN TURKEY (20 oktober)
GERMANY SAYS SHE CANNOT STOP TURKS (23 oktober)
SLAY ALL ARMENIANS IN CITY OF KERASUNT (26 oktober)
AID FOR ARMENIANS BLOCKED BY TURKEY (1 november)
MILLION ARMENIANS KILLED OR IN EXILE (15 december)

De oplettende lezer ziet de rol van de Koerden in de massamoord. De etnische vijandigheden tussen de twee bevolkingsgroepen werden in 1895 al door de Sultan uitgebuit om 100.000 Armeniërs te vermoorden. Twintig jaar later werden de Koerden aangemoedigd en geleid door speciale eenheden, de Teshkilat-i Makhsusiye, een voorloper van de Duitse Einsatzgruppen (die op vergelijkbare wijze gebruik maakten van Esten, Letten, Litouwers en Oekraïners).
Niet lang na de genocide kwam er een stroom van revisionistische geschiedschrijving op gang. Wie een kaart van de gebeurtenissen bestudeert (zie vooral deze gemoderniseerde grotere versie) begrijpt dat er heel wat te ontkennen valt: deportatiecentra, spoorlijnen en concentratiekampen.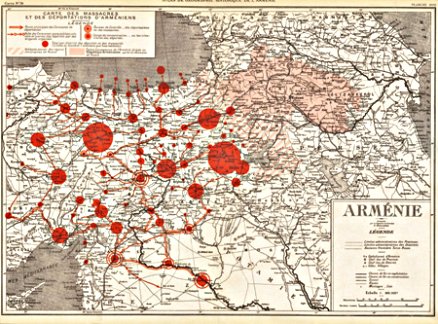 Dat revisionisme wordt nogal fanatiek bedreven, ook in Nederland en vooral ook op internet. Zo wordt bijvoorbeeld het citaat van Hitler betwist, hoewel dit voor de gebeurtenissen op zich weinig relevant is. Turkse historici beweren dat het citaat verzonnen is door Armeense bronnen, omdat het is nooit in de Nurembergse processen is gebruikt. De reden dat dit niet is gebeurd is echter meer een juridische: het gaat om een verslag achteraf van de speech die niet van tevoren uitgeschreven was.
Nu zijn er van Hitler meer citaten bekend waarin hij refereert aan de Armeniërs. Frappanter is dat de Duitse vice-consul in de Turkse provincie Erzerum, Max von Scheubner-Richter, die de genocide van dichtbij meemaakte en sprak over die ganzliche Ausrottung van de Armeniërs (de joden van de oriënt), een goede bekende was van Hitler. Hij was een van de inspirators van Hitler's mislukte Bierkellerputsch in 1923 waar hij door een kogel werd gedood. Het eerste deel van Mein Kampf werd opgedragen aan Von Scheubner-Richter.
Het Ottomaanse rijk werd in de Eerste Wereldoorlog geleid door de Jonge Turken, en met name door de drie Pasja's: Enver (minister van oorlog), Talaat (binnenlandse zaken) en Djemal (marine). Direct na de oorlog vluchtte het driemanschap in een onderzeeër naar Duitsland. Een half jaar later, op 13 juli 1919, werden de drie door een Turkse militaire rechtbank bij verstek ter dood veroordeeld. De onderzoeken hielden in Turkije daarna snel op. Eind 1922 waren alle drie de Pasja's dood, vermoord door Armeneense overlevenden. Bij het proces tegen de moordenaar van Talaat Pasja in Duitsland komen wat belastende telegrammen boven water, waarin de minister opdracht geeft voor de massamoorden. (Uiteraard worden ook deze telegrammen betwist.) De moordenaar werd tegen de verwachting in, vrijgesproken.
Hoewel de genocide plaatsvond tijdens het Ottomaanse rijk, kan de overgevoeligheid in Turkije voor de Armeense kwestie wellicht verklaard worden doordat de grondlegger van de moderne Turkse staat, Atatürk, ook tot de Jonge Turken behoorde.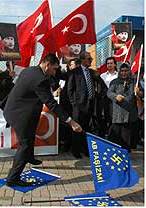 De laatste dagen heeft de Armeense zaak niet te klagen over belangstelling, dankzij Ayhan Tonca en de twee andere Turkse ex-aspirantkamerleden. Tonca mocht eergisteren bij Pauw & Witteman nog een aardig woordspelletje spelen met de kamerbrede motie uit 2004 waarin de genocide erkend wordt. Er moest een onderzoek komen, om de onderste steen boven te krijgen. Of, zoals Camiel Eurlings bij de Europese Unie bepleitte: er moet een internationale conferentie komen van experts en historici.
Is er in Israël nog wat veranderd sinds de eerste holocaustconferentie van '82? In april 2001 berichtte het Engelstalige Turkse dagblad Turkish Daily News over het bezoek van een andere winnaar van de Nobelprijs voor de Vrede:
Israeli Foreign Minister Shimon Peres who started his one-day official visit to Turkey today, has stressed that the Armenian allegations of genocide was meaningless. Supporting Turkey's thesis that history should be dealt with by historians over the Armenian issue, Peres said:"We reject attempts to create a similarity between the Holocaust and the Armenian allegations. Nothing similar to the Holocaust occurred. It is a tragedy what the Armenians went through but not a genocide."
Naschrift: huiswerk
Alt-F4 hoeft niet zonodig een standpunt te verkondigen. Voordat je het weet verzandt zoiets in meningen-petomanie, waarbij de toestand in de wereld nog enkel smeuiige achtergrond vormt. Veel van het geloei rondom de afgelopen 11 september toonde dat andermaal aan. Nou is de 9/11-thematiek op deze site vooral Zutman's ding, waarover ik vanaf het begin vrij sceptisch ben geweest. Nu, eenmalig bij wijze van uitzondering, alsnog een mening over deze jongste moeder aller complotten (met het risico op redundantie met Zutman's vorige bijdrage):
Iedere verwijzing naar holocaustontkenning is natuurlijk volkomen misplaatst vanwege de aard van de gebeurtenissen van die dag en het vervolg erop. Maar ook als het gaat om gebrek aan respect voor de slachtoffers en overlevenden klopt de metafoor niet. Het lijkt me in ieder geval een noviteit dat overlevenden zelf de boel 'ontkennen'. De verontwaardiging over het gebrek aan goede smaak bij de teflonvrezers, wichelroedelopers, ufologen en neo-nazi's ligt zo voor de hand, dat het alleen het gebruikelijke geklaag oplevert over de toonhoogte van een internetfenomeen, en niet over de zaak zelf. Vinden de criticasters het verse officiële EU-standpunt Re-open 1915 ook zo respectloos? Gelukkig zijn die overlevenden vrijwel allemaal dood.
Het complot van 11 september in enge zin (wie liet nu wat precies gebeuren of wie zorgde ervoor dat zoiets gebeurde) heeft me nooit erg geboeid. De officiële lezing — van de 9/11 Commission — luidt niet LIHOP of MIHOP maar Let It Happen By Incompetence. Wie de situatie in de V.S. de laatste jaren enigszins gevolgd heeft, weet dat die incompetentie zo welig tiert dat er op zijn minst sprake moet zijn van een politieke keuze, zoals op deze site regelmatig toegelicht is. Dan wordt automatisch de vraag wat nu precies het verschil is tussen LIHBI en LIHOP, of zelfs tussen LIHBI en MIHOP. Daarmee bedoel ik niet dat ik nu geloof in een controlled-demolitioncomplot, integendeel: incompetentie en controle staan op gespannen voet met elkaar.
Doe je huiswerk, lees de Kijk zo luidde het advies van Jeroen van Bergeijk. Om controlled demolition te debunken meldde de Kijk het volgende:
FACT: Once each tower began to collapse, the weight of all the floors above the collapsed zone bore down with pulverizing force on the highest intact floor. Unable to absorb the massive energy, that floor would fail, transmitting the forces to the floor below, allowing the collapse to progress downward through the building in a chain reaction. Engineers call the process "pancaking," and it does not require an explosion to begin, according to David Biggs, a structural engineer at Ryan-Biggs Associates and a member of the American Society of Civil Engineers (ASCE) team that worked on the FEMA report.
Bovenstaand pannenkoek-citaat lijkt nogal een open deur: als de toren eenmaal aan het instorten is bezwijkt de ene vloer onder het gewicht van hetgeen erop valt. Weinigen zullen daar aan twijfelen.
Er staat het echter wat anders in het FEMA rapport dat werd samengesteld door vrijwilligers van de ASCE. Daar wordt het pancaking genoemd in de paragraaf over de stucturele effecten van de brand, dus als oorzaak, vòòr de progression of collapse:
As the temperature of floor slabs and support framing increases, these elements can lose rigidity and sag into catenary action. As catenary action progresses, horizontal framing elements and floor slabs become tensile elements, which can cause failure of end connections (Figure 2-21) and allow supported floors to collapse onto the floors below. The presence of large amounts of debris on some floors of WTC 1 would have made them even more susceptible to this behavior.
In addition to overloading the floors below, and potentially resulting in a pancake-type collapse of successive floors, local floor collapse would also immediately increase the laterally unsupported length of columns, permitting buckling to begin.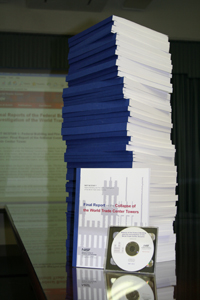 Het klinkt allemaal niet idioot, wat de civiele technici daar beweren. Een aardige theorie, zeg maar.

Lees het rapport van de National Institute of Standards and Technology, vervolgt Van Bergeijk. Hiernaast is dat rapport te zien. Toen het uitgebracht werd, vorig jaar, heb ik er hier en daar vluchtig doorheen gescrolld. Mijn voorzichtige conclusie was toen: je kunt zaken met een overdosis informatie ook effectief begraven.
Gelukkig heeft NIST een handzame FAQ, door Zutman vorige keer al aangehaald. Over de pannenkoeken is men erg duidelijk:
NIST's findings do not support the "pancake theory" of collapse, which is premised on a progressive failure of the floor systems in the WTC towers (the composite floor system-that connected the core columns and the perimeter columns-consisted of a grid of steel "trusses" integrated with a concrete slab; see diagram below). , the NIST investigation showed conclusively that the failure of the inwardly bowed perimeter columns initiated collapse and that the occurrence of this inward bowing required the sagging floors to remain connected to the columns and pull the columns inwards. Thus, the floors did not fail progressively to cause a pancaking phenomenon.
Nu heb ik m'n huiswerk (redelijkerwijs) gedaan, en ik ben er niet geruster op geworden. 5 jaar na dato is men nog niet zo heel veel wijzer, voornamelijk dankij het gebrek aan gegevens wegens de overijverige opruiming van Ground Zero. De operette die het NIST rond WTC 7 opvoert ('het rapport wordt eind 2004, juli 2005, oktober 2005, december 2005, ergens in 2006, erm, wegens geen personeel in 2007 uitgebracht') vergroot de skepsis tegen controlled demolition ook niet echt.
Rest de vraag: zou Jeroen van Bergeijk zijn huiswerk wel gedaan hebben?
Notice
: Undefined variable: name in
/home/tj/var/www/alt-f4.org/comments.php
on line
3
Notice
: Undefined variable: email in
/home/tj/var/www/alt-f4.org/comments.php
on line
4
Notice
: Undefined variable: url in
/home/tj/var/www/alt-f4.org/comments.php
on line
5
Notice
: Undefined variable: com2 in
/home/tj/var/www/alt-f4.org/comments.php
on line
6