The Dark Side
9 november 07:21, 2005
1. Lord Black
I like Conrad Black because he is the only person I have ever met who makes me feel positively 'wet'.
Margaret Thatcher
Patrick Fitzgerald, de workaholic waar men in het Witte Huis zenuwachtig van wordt, deelt niet alleen aanklachten uit in de Plame-affaire. Ruim een maand geleden bekende David Adler, uitgever van de Chicago Sun-Times, schuld in een fraudezaak van 32 miljoen dollar. Die zaak is onderdeel van een onderzoek dat Fitzgerald leidt naar malversaties bij Hollinger International, het media-imperium van de Canadese Lord Black. Black en companen staken bijna een half miljard dollar aan bonussen in eigen zak buiten het zicht van de aandeelhouders.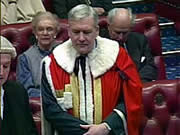 Conrad Black is via Hollinger onder andere eigenaar van de Chicago Sun-Times en voorheen de Daily Telegraph en de Jerusalem Post. In de stal van Black loopt nogal wat neo-conservatief volk rond. De columnist Mark Steyn bijvoorbeeld, die gisteren zelfs door de Volkskrant gekopt werd, naar aanleiding van zijn vaste Eurabië-thematiek. Of Barbara Amiel, Black's vrouw, die ook columns voor de Hollinger-kranten schrijft. In één zo'n column onthulde zij dat de Franse ambassadeur in London tijdens een dineetje bij de Blacks zich het zinnetje that shitty little country had laten ontvallen. Ophef alom, de ambassadeur is inmiddels gedemoveerd naar Algerije.
In het Black-imperium komen we Richard Perle tegen: hij zit in de raad van bestuur van Hollinger en de Jerusalem Post. Perle kreeg in het voorjaar van de beurswaakhond SEC te horen kreeg dat hij mogelijk vervolgd wordt wegens de fraude.
Zoals hier eerder werd gemeld, was Perle in 1975 al de pionier wat betreft lekken naar Bob Novak.
2. The Prince of Darkness
If we just let our vision of the world go forth, and we embrace it entirely and we don't try to piece together clever diplomacy, but just wage a total war... our children will sing great songs about us years from now.
Richard Perle
Richard Perle heeft vele bijnamen, maar zijn beroemdste is Prince of Darkness. Perle zit er niet mee, het laagste scheldwoord vindt hij neo-conservative.
Zijn reputatie stamt uit het Reagan-tijdperk, toen hij onderminister van defensie was. Als George W. Bush president wordt, krijgt hij geen regeringspositie, hoewel hij tijdens de campagne actief adviseerde over buitenlands beleid. In juli 2001 wordt Perle benoemd tot voorzitter van de Defense Policy Board, een commissie die het ministerie van defensie adviseert over strategisch beleid.
Wat later, na 11 september, is Perle één van de oprichters van een investeringsmaatschappij die zich richt op defensie en homeland security, genaamd Trireme. Hij is niet de enige manager van het bedrijf die ook lid is van de Defense Policy Board: Henry Kissinger heeft bijvoorbeeld dezelfde dubbelfunctie.
In 2003 luncht Perle in Zuid-Frankrijk met twee Saoediërs, ondanks zijn aversie tegen Arabieren. Het gespreksonderwerp van de lunch is een contract voor Trireme om de Jemenitische grens te beveiligen. Eén van die Saoediërs heet Adnan Khashoggi. Khashoggi was onder andere betrokken bij de Iran-Contra-affaire (als de man die Manucher Ghorbanifar in contact bracht met de Israeli's) en het BCCI-bankschandaal, is de oom van Dodi Fayed (de vriend van Princess Diana), het voormalige vriendje van de vrouw van Paul McCartney en zoon van de huisarts van de Bin Ladens. De joker bij het complotkwartetten kortom. Khashoggi is zo populair dat Daniel Hopsicker speculeert of hij wellicht de Arabier was, die Mohammed Atta ontmoette in Florida met een koffer vol goud (die taxichauffeur Bob Simpson moest helpen tillen, voor trouwe lezers natuurlijk bekend uit De melkrondjes).
Na de zakenlunch publiceert Seymour Hersh in de New Yorker het artikel Lunch with the chairman. Perle zegt op CNN:
Sy Hersh is the closest thing American journalism has to a terrorist, frankly.
Het is niet het enige handeltje dat opzien baart. Hij moet aftreden als voorzitter en vertrekt uiteindelijk helemaal bij de board.
Perle is dan allang de grootste supporter van een inval in Irak, een oorlog die volgens hem een cakewalk is. Aan 40 duizend manschappen zou men meer dan genoeg hebben. Zelfs Robert Novak leek dat wat optimistisch.
Het laatste dat we van Perle horen (voordat de Holliger-zaak gaat opspelen), is een keynote op een benefiet-avond voor de slachtoffers van de aardbeving in Bam: it was a beautiful evening. Wie de speech leest merkt dat die weinig met de aardbeving van doen heeft. Niet zo verwonderlijk, want de opbrengst van de avond was ten behoeve van een fundamentalistische islamitische groep met een marxistische grondslag, de Mujahedin-e Khalq (MEK) die door het Amerikaanse ministerie van buitenlandse zaken bestempeld wordt als een terreurorganisatie. In Groot-Britannië was de MEK, die vanuit Irak opereert, als goed doel al langer bekend. Na de val van Baghdad, werden leden van de MEK geïnterneerd in hun eigen kampen langs de grens met Iran. Ze werden echter niet ontwapend en mochten ook vrijelijk de grens over van het Pentagon, tot grote verbazing van buitenlandse zaken. Zou de antipathie van de MEK tegen het Iraanse regime soms een rol spelen? De Iraniërs denken van wel, zeker na de bommen rond de verkiezingen van afgelopen juni.
3. Black sites
We also have to work, though, sort of the dark side, if you will. We've got to spend time in the shadows in the intelligence world. A lot of what needs to be done here will have to be done quietly, without any discussion, using sources and methods that are available to our intelligence agencies, if we're going to be successful.
Dick Cheney
De leden van de MEK worden behandeld volgens de conventie van Genève. Zoals bekend is dat privilege niet gegeven aan de gevangenen in Guantanamo Bay. De status van degenen die in de acht geheime CIA-gevangenissen (b.v. deze in Kabul, zichtbaar op Google Maps) zitten of zaten is nog onzekerder. Uit de onthulling van de Washington Post van vorige week, blijkt dat dit de verdachten zijn die te zwaar zijn voor extraordinary rendition; die vertrouw je niet toe aan een vreemde natie.
Dit weekeinde bleek dat de DIA al zeer vroeg wist dat een lid van Al Qaeda onzin verkocht toen hij beweerde dat Irak Al Qaeda opleidde voor het gebruik van biologische en chemische wapens. Die verdachte zit tegenwoording in Guantanamo, maar kwam uit het geheime CIA-programma, gemarteld ten behoeve van betrouwbare informatie. Meer over de CIA-methoden en de regering Bush in de laatste New Yorker.
4. Lichtpuntjes in de duisternis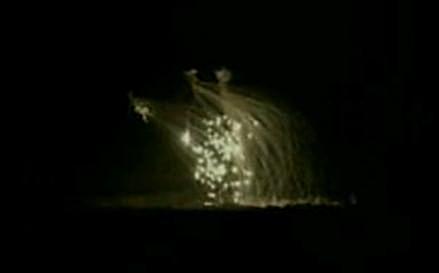 Over het gebruik van chemische wapens in Irak is intussen meer duidelijkheid ontstaan: bij de inname van Falluja werd witte fosfor (een legaal wapen) gebruikt. Maar er zou ook Mark 77 zijn gebruikt, een verbeterde versie van napalm en sinds 1980 verboden om in te zetten tegen civiele doelen. Bij de inname van Baghdad werd het al gebruikt.
Naschrift
Zoals hierboven werd gemeld, citeerde de Volkskrant het stuk in de Chicago Sun-Times dat generlei nieuwswaarde had. Mark Steyn recycleert sinds jaar en dag hetzelfde verhaal. Het Volkskrant-artikel was voor Francisco van Jole aanleiding om wakker te worden. Opmerkelijk in zijn stuk is de rol die hij Pat Buchanan toedicht: een 'ultranationalistische paranoide brulaap die regelmatig wordt beschuldigd van antisemitisme' die model staat voor de machthebbers in de V.S. en Europa. Los van Pat's vermeende bruine gedachten — antisemitisme is niet iets waarvan bijvoorbeeld Steyn, Bat Ye'or of de figuren in bovenstaand verhaal kunnen worden beschuldigd — is de rest van de agenda van Buchanan de laatste jaren ook niet echt representatief voor de Amerikaanse machthebbers.
Notice
: Undefined variable: name in
/home/tj/var/www/alt-f4.org/comments.php
on line
3
Notice
: Undefined variable: email in
/home/tj/var/www/alt-f4.org/comments.php
on line
4
Notice
: Undefined variable: url in
/home/tj/var/www/alt-f4.org/comments.php
on line
5
Notice
: Undefined variable: com2 in
/home/tj/var/www/alt-f4.org/comments.php
on line
6