T-t-t-t-thermiet!
27 april 00:08, 2006
Omdat Volkomen Kut momenteel op onnavolgbaar Volkomenkutse wijze de 9/11-frage behandelt(*), voelt Alt-F4 niet meer zo de neiging om het over deze zaak nog te hebben. Op een vers opgedoken puntje na...
De hier eerder aangehaalde Prof Jones, met zijn paper over WTC 1,2 en 7 als inside job, poneert de stelling dat de boel neergehaald is door het ontsteken van thermietladingen op strategische plaatsen in de staalconstructies. Thermiet is een mengsel van ijzeroxide en aluminiumpoeder dat eenmaal aangstoken zeer heet verbrandt (filmpje!). Het wordt o.a. gebruikt voor het lassen van spoorstaven.
Jones onderbouwt zijn these voornamelijk met een beroep op Occams Razor, zijnde dat thermiet de enige optie is waarbij aan alle bekende waarnemingen voldoet. (Mensen die het fijne willen weten, lezen zijn paper.)
Bestudeer de stalen kolom recht achter de brandweerman op deze vers opgedoken foto.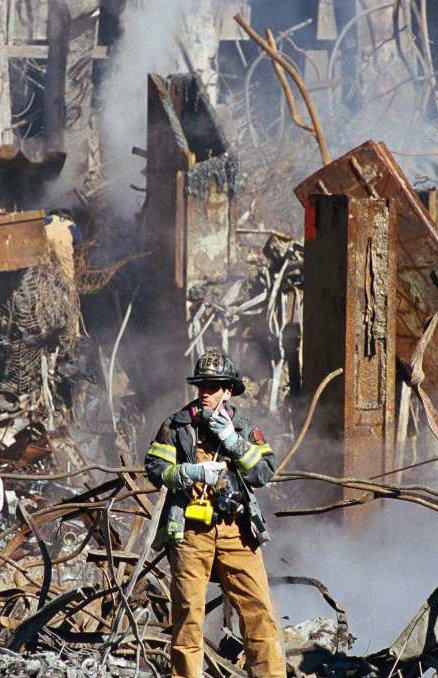 Let op het perspectief, de kolom staat rechtop (begande grond) en is schuin doorgesneden. Wat opvalt is de hoeveelheid aan gesmolten metaal dat ervanaf gedropen en weer gestold is. Hebben ze een reuzensnijbrander gebruikt? Toch niet:
that's not a torch cut. a torch uses acetalyne and oxygen mix to heat steel to a melting point and then you hit the oxygen to punch the molten steel through. you push molten metal along with the oxygen and cut a line through the metal. and the oxygen sprays the slag.
Oftewel: men een snijbrander zou er geen (of weinig) gesmolten metaal op of naast het snijvlak achtergebleven zijn. Dus is het geen gevolg van de opruimwerkzaamheden. Maar wat is het dan wel?
Puntje voor Jones, kunnen we dus wel zeggen. Om met Michael Ledeen te spreken: 'It's not nuclear physics, you know'
Bovenstaand citaat komt uit deze draad op libertyforum. Waar men er met graagte op duikt.
(*) Alle lof hoor, maar enig gevoel voor stijl en onderwerpkeuze heeft ook wat.
Notice: Undefined variable: name in /home/tj/var/www/alt-f4.org/comments.php on line 3

Notice: Undefined variable: email in /home/tj/var/www/alt-f4.org/comments.php on line 4

Notice: Undefined variable: url in /home/tj/var/www/alt-f4.org/comments.php on line 5

Notice: Undefined variable: com2 in /home/tj/var/www/alt-f4.org/comments.php on line 6