De nieuwe geloofwaardigheid
20 juli 08:29, 2005
The U.S. has a new credibility. What we say goes.
George H.W. Bush, 2 februari 1991
Ruim anderhalve week geleden werd hier gemeld dat Büch en Zappa voor hun eigen welzijn naar CNN keken. Wat was daar zoal te zien, begin jaren 90?
Kort na de Iraakse inval in Koeweit klopt 'Citizens for a Free Kuwait' aan bij Hill & Knowlton, het lobby- en PR-bureau geleid door Robert Keith Gray, de roemruchte pionier van de video news release. H&K ontvangt bijna 11 miljoen dollar om publieke steun te kweken voor een oorlog tegen Irak.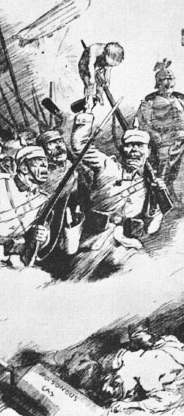 De account wordt beheerd door Lauri J. Fitz-Pegado, vice-president van de H&K vestiging in Washington. Tientallen video news releases worden via de nieuwszenders over het publiek uitgestort, terwijl men de opinie peilt. De gevoeligste snaar blijkt die van Saddam Hoessein als wrede idioot.
Lauri kent haar klassieken en laat op 10 oktober 1990 een 15-jarig meisje opdraven voor een ad-hoc mensenrechtencommissie van het Congres, waarvan de voorzitters kantoorruimte 'huren' in de vestiging van H&K in Washington. Nayirah vertelt in tranen hoe Iraakse soldaten baby's uit couveuses haalden en ze op de vloer achterlieten om te sterven. Tijdens een hoorzitting van de V.N. Veiligheidsraad bevestigen een anonieme gevluchte vrouw en een chirurg de Iraakse wreedheden uit eerste hand.
De couveuses worden een hype. Bush Sr. spreekt in diverse speeches over 312 gevallen, meer couveuses dan in heel Koeweit aanwezig zijn. Het Amerikaanse congres stemt nipt voor de oorlog.
Na de Golfoorlog blijkt een aantal zaken:
'Citizens for a Free Kuwait' ontving 12 miljoen van de Koeweitse regering.
Er werden geen couveuses gestolen.
Nayirah is geen vrijwilliger in een ziekenhuis maar de dochter van de Koeweitse ambassadeur in de V.S.
De anonieme vluchteling is de vrouw van de Minister van Planning en een bekende televisiepersoonlijkheid.
De chirurg blijkt een tandarts te zijn die geen kinderen in couveuses heeft gezien.
Lauri Fitz-Pegado legt uit:
We did it because we believed that it was a responsible thing to do to be retained by and to represent a group of Kuwaiti exiles whose country had been invaded before an American public that was very, very ignorant, unfortunately, about who and what Kuwait was. Most Americans could not put it on the map.
IJverige wetenschappers vinden die nobele intenties wat onnozel:
we found that overall, the more TV people watched, the less they knew. [...] Overall, there is an extremely strong positive relationship between general amount of television viewing and support for the war.
Eind maart 2003 raakt de vaart uit de Irakoorlog. Een 5 minuten durende militainment-clip is wereldnieuws als private Jessica Lynch in het ziekenhuis van Nassiriya wordt bevrijd door elite-troepen, nadat de Iraakse advocaat Mohammed Odeh Al Rehaief de Amerikanen tipt. Hij meldt dat ze mishandeld en verkracht wordt. Kort daarna wordt het verhaal doorgeprikt.
Al Rehaief krijgt asiel in de V.S. en een baan bij The Livingston Group, het lobby- en PR-bureau van Bob Livingston, ooit de beoogde voorzitter van het Huis van Afgevaardigen totdat Larry Flynt, tijdens de impeachmentprocedure van Clinton, zijn buitenechtelijke affaires onthult. Dankzij Al Rehaief ontvangt The Livingston Group flink wat opdrachten uit Irak. In oktober 2003 verschijnt Al Rehaief's boek 'Because Each Life Is Precious: Why an Iraqi Man Came to Risk Everything for Pvt. Jessica Lynch'. De publiciteit wordt verzorgd door zijn collega Lauri J. Fitz-Pegado.
Het boek van Jessica Lynch zelf, waarin de heldhaftige versie van het Pentagon en Al Rehaief wordt ontkracht, verschijnt twee weken later, daags nadat Larry Flynt naaktfoto's van Lynch koopt om ze uit de publiciteit te houden.
Notice
: Undefined variable: name in
/home/tj/var/www/alt-f4.org/comments.php
on line
3
Notice
: Undefined variable: email in
/home/tj/var/www/alt-f4.org/comments.php
on line
4
Notice
: Undefined variable: url in
/home/tj/var/www/alt-f4.org/comments.php
on line
5
Notice
: Undefined variable: com2 in
/home/tj/var/www/alt-f4.org/comments.php
on line
6