Follow the money
9 juni 09:09, 2006
I can't go out and arrest Osama bin Laden. But I can try to cut off his money.
Robert Morgenthau, Manhattan District Attorney
New York Post, 4 april 2006
Follow the planes, dat was hetgeen Zutman in zijn vorige stuk deed. Enkele zaken passeerden daarbij de revue: 11 september, het vertrek van Porter Goss en de vangst van 5,5 ton Zuid-Amerikaanse cocaïne. De wijze waarop deze ogenschijnlijke losse punten precies met elkaar verbonden worden, hangt deels af van de lezer. In dit stuk komen nog enkele losstaande kwesties aan bod. De verbindingen mag u naar eigen smaak maken, al naar gelang u een mooie tekening wilt of een doorgekrast ezeltje.

Nu geen aandacht voor Goss, wel voor 11 september en drugshandel. De monumentale DA van Manhattan, de 86-jarige Robert Morgenthau, die vorig jaar voor een negende termijn werd gekozen, maakt sinds 11 september jacht op de terroristen via hun portemonnaie:
"We're spending a lot of time on money-laundering terrorists," he said. "Something we can't, you know, talk about too much, but I'm very concerned about these terrorist organizations. So we're going after the money-movement stuff." He called the process "a slow business," and added cryptically, "I've had people down in Paraguay, because, you know, there's a big radical group down there. Hezbollah's big in Paraguay. So people talk about turf wars. I mean, what we're trying to do is fill in the gaps for people who aren't doing anything."
Dit jaar had Morgenthau beet: de NY Post berichtte begin april dat in twee jaar tijd drie miljard dollar aan drugsgeld vanuit de tri-border region (tussen Brazilië, Argentinië en Paraguay) was doorgesluisd naar terroristische groeperingen in het Midden-Oosten (Hamas, al Qaeda en Hezbollah). Morgenthau was inmiddels bezig om een schikking te treffen met de bank in Manhattan waar het geld langs stroomde. Het bleek dat het hier om de Bank of America (de twee na grootste bank in de V.S.) ging, die het geld ontving een bank in Montevideo, Uruguay, genaamd Lespan (eigenaar van de Gales Casa Cambiaria).
De deal die Morgenthau aan het voorbereiden is, is niet de eerste. Vorig jaar trof hij een schikking met de
Israel Discount Bank of New York
, een filiaal van de
derde bank van Israël
. De IDBNY had illegaal 2,2 miljard dollar vanuit Brazilië doorgesluist. Eerder hadden de twee grootste Israëlische banken,
Hapoalin
en
Leumi
, hun filialen in Brazilië
gesloten
wegens soortgelijke problemen met rekeningen, nadat internationale druk op de Israëlische regering was uitgeoefend.
De bank in Montevideo was al eerder betrokken bij een grootscheepse witwaspraktijk: Beacon Hill Services was in 2004 veroordeeld voor het doorsluizen van meer dan 9 miljard dollar, grotendeels vanuit Brazilië.
Op 23 maart 2004 liet dominee Moon zichzelf op Capitol Hill kronen tot King of Peace (video) door joodse, katholieke en islamitische leiders. En nogal gênante vertoning voor de aanwezige wetgevers, zo prominent op de bakermat van de republiek:
Afterward, Moon told his bipartisan audience of Washington power players he would save everyone on Earth as he had saved the souls of Hitler and Stalin -- the murderous dictators had been born again through him, he said.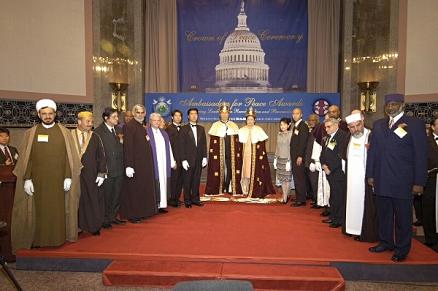 Alt-F4 lezers kennen Moon uit De mensenversnipperaar als de eigenaar van de Washington Times, die wegens witwaspraktijken en omkoping in '84 de gevangenis in draaide, kort nadat de hoofdonderzoeker plots van het dak was gevallen.
Begin jaren negentig bezocht Moon meerdere malen het huidige lid van de As van het Kwaad, Noord-Korea, voor zaken. Inzet was vooral de bouw van een groot religieus centrum rond zijn geboortedorp. De Defense Intelligence Agency (DIA) volgde de verrichtingen van Moon met grote interesse, vooral vanwege de nucleaire aspiraties van dat land:
Between 30 November '91 and 7 December '91, Moon visited North Korea and was granted a meeting with President Kim. Their discussion included the reunificaion of South Korea and North Korea, North Korea's nuclear facilities inspections and Moons assurances to encourage South Korean and North Korean citizens residing overseas to begin investing in North Korea.
Halverwege de jaren negentig verschuift de aandacht van de Unification Church naar Zuid-Amerika. Zo startte Moon de conservatieve krant Tiempos del Mundo. De ontvangst daarvan was weinig welkom, onder andere door banden die hij had aangeknoopt met Stroessner. In een publiciteitsoffensief probeerde Moon het tij te keren door George en Barbara Bush als promotieteam in te schakelen bij de lancering van de krant in Buenos Aires. Naar verluidt ontving Bush Sr. in totaal zo'n 10 miljoen dollar voor divers lobbywerk.
Waarom Zuid-Amerika? Moon legt uit:
Geographically speaking, Uruguay is in exactly the opposite position to Korea. If you were to drill straight down in Seoul, Korea then you will end up in Montevideo.
Door die speciale geografische betekenis bleef het niet bij een krant. In Montevideo nam hij een meerderheidsbelang in de Banco de Credito. Na malversaties en witwaspratijken overleefde de bank in 2002 de valutacrisis niet. En in de eerder genoemde tri-border region stichtte hij de New Hope East Garden, een nieuwe tuin van Eden voor z'n kerkgemeenschap. In de bovengeciteerde speech noemt Moon nog wat gunstige geografische omstandigheden van zijn paradijstuin:
In South America Father saw places where it took a bulldozer one week to create a natural landing strip. These small planes are able to land on the grass or even sand. It isn't so much of a problem. In the near future we will have many small airports throughout the world. Unification Church members will be in charge of operating them and you can live your lives on that income.
En als verkeer via de lucht niet volstaat, kunnen leden van de kerk nog altijd de onderzeeër pakken:
The reason for the idea of submarine villages is because there are so many restrictions due to national boundaries worldwide. If you have a submarine you don't have to be bound in that way.
Saillant: de DIA meldde dat in '94 Moon 12 Russische onderzeeërs had doorverkocht aan Noord-Korea
Ondertussen zien de lokale autoriteiten in Zuid-Amerika de Unifaction Church steeds meer als een front voor drugshandel. Een artikel uit de Irish Times van 2004:
Since 1999, Rev Moon has built his personal empire which begins on the marshy banks of the River Paraguay and stretches beyond the hazy, level horizon through 600,000 hectares of arid land - equivalent to more than two Luxembourgs [..]
"The fact that they came and bought in Chaco and on both sides of the Brazilian border is very telling. It is an enormously strategic point in both the narcotics and arms trades and indeed the available intelligence clearly shows that the Moon sect is involved in both these enterprises." [..]
"The Moon sect is a mafia. They seek to subvert government control and are effectively building a state within a state. I believe they are hoping the local population will leave so they have unquestioned authority in the zone and are free to do whatever they want."
Bij het volgen van de vliegtuigen stuitte Zutman in het vorige artikel op bedrijfjes uit het Iran-Contraschandaal. In Limos naar Watergate kwam dat schandaal al zijdelings ter sprake. Ter aanvulling de nodige Moon-trivia:
Moon stortte de eerste $100.000 in het door Oliver North voorgestelde Nicaraguan Freedom Fund.
Toen het schandaal eenmaal in de openbaarheid kwam startte Moon's American Freedom Coalition het "Emergency Project to Support Colonel North's Freedom Fight in Central America."
Notice
: Undefined variable: name in
/home/tj/var/www/alt-f4.org/comments.php
on line
3
Notice
: Undefined variable: email in
/home/tj/var/www/alt-f4.org/comments.php
on line
4
Notice
: Undefined variable: url in
/home/tj/var/www/alt-f4.org/comments.php
on line
5
Notice
: Undefined variable: com2 in
/home/tj/var/www/alt-f4.org/comments.php
on line
6