Het transparante budget
28 juli 07:35, 2005
Ask the Iraqis who got paid on time whether they were satisfied with our work. Ask the security-sector employees who received their hazardous-duty allowance (a bonus on top of their base salaries that resulted from the difficult security situation) about our competence. These are the opinions that matter. That we were able to pay the right people and on time and that as a result Iraqi government workers did not demonstrate or riot during our tenure meant we helped keep American marines and soldiers from being placed in additional danger. That is certainly something to be proud of.

The system is now up and running. Security personnel are paid, the budget is transparent, and Iraq is headed toward a modern banking structure.

Simone Ledeen, voormaling CPA-adviseur, 9 juli 2004
Vorige maand verscheen er een rapport in opdracht de Democratische Afgevaardigde Henry Waxman, getiteld U.S. Mismanagement of Iraqi Funds. In dat rapport wordt beschreven hoe de Coalition Provisional Authority (CPA, geleid door Paul Bremer) het budget voor de wederopbouw van Irak beheerde. Gelukkig voor de Amerikaanse belastingbetaler kwam dat geld niet uit zijn zak, maar uit bevroren Iraakse tegoeden en het Development Fund for Iraq van de V.N. Het beheer van die twee fondsen werd overgedragen aan de CPA, een onderafdeling van het Amerikaanse Ministerie van Defensie.
Wie verzorgde dat mismanagement precies?
Een wat ouder artikel in de Washington Post biedt een aardig inkijkje. Het ging ongeveer zo:
Het Pentagon plukt een aantal namen uit de cv-databank (Young Leaders Program) van The Heritage Foundation, een conservatieve denktank aangeprezen met een lovende testimonial van Rush Limbaugh, de uitbater van Club G'itmo. Op 16 september 2003 ontvangen een aantal twintigers een mailtje dat met een goed werkend spamfilter nooit in de inbox terecht was gekomen: "This is an amazing opportunity to move forward on the global war on terror". Het Ministerie van Defensie zoekt mensen om de International Donors Conference voor te bereiden in Irak. Een aantal van de twintigers beantwoordt het mailtje positief en wacht een uitnodiging voor een gesprek of een antecedentenonderzoek af. In plaats daarvan ontvangen ze een week later een mailtje waarin een postpakket wordt aangekondigd met informatie over hun vertrek naar Baghdad. Op 1 oktober komen elf frisse jongens en meisjes aan in de Green Zone, voorheen Uday's Playground, waar ze worden ondergebracht in het Presidentiële Paleis.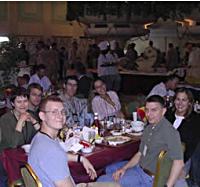 Bij aankomst blijkt de CPA met onderbezetting te kampen. Bovendien zorgen ervaren stafleden van de CPA ervoor dat ze zich rap uit de voeten maken wanneer ze met de dagelijks groeiende Iraakse puinhopen worden geconfronteerd. Al snel zijn zes jongeren (the brat pack, hiernaast aan de Thanksgiving kalkoen) verantwoordelijk voor het budget van het land: "The group's primary responsibility was to hand out money."
Hoeveel geld werd er uitgedeeld?
Een genietende Casey Wasson wilde het niet vertellen, maar noemde het bedrag waar ze mee rond liep "aanzienlijk". Het bovengenoemde rapport vermeldt dat na aantreding op 19 maart 2003 de CPA het beheer kreeg over 23,3 miljard dollar. Het was de bedoeling dat deze "ill-gotten gains of Saddam Hussein" werden aangewend "for the benefit of the Iraqi people". Toen op 28 juni 2004 het land werd overgedragen aan de Iraakse interim-regering was er nog 3.7 miljard over. Tussentijds is dus 19,6 miljard uitgegeven.
Uiteraard is een deel van dat bedrag (zo'n 1,6 miljard) verdwenen naar Halliburton (voormalig C.E.O Dick Cheney), volgens een KPMG-audit ruim 200 miljoen teveel. Halliburton heeft waarschijnlijk een giro-nummer, maar het leeuwendeel van het budget verdween in de modern banking structure van Simone Ledeen (inderdaad: de dochter van het onderwerp van eergisteren).
Hoe werd dat geld uitgedeeld?
Hieronder staat een diagram met 21 zendingen contant geld naar Irak tussen april 2003 en juni 2004. In december werd een record gebroken: "the largest pay out of U.S. currency in Fed history" schreef een beamte van de Federal Reserve. Vlak voor de overdracht werden de bedragen flink opgeschroefd. Een andere beamte zuchtte: "Just when you think you've seen it all ... the CPA is ordering $2,401,600,000 in currency to be shipped out on Friday June 18th."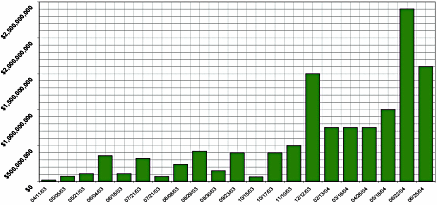 Hoe verstuur je in totaal 12 miljard dollar in contanten? Op een standaard pallet kunnen 40 cashpaks worden gestapeld, met ieder 16.000 biljetten van $100. In totaal zijn 484 pallets, zo'n 330.000 kg papier van New York naar Baghdad gevlogen met C-130 transportvliegtuigen.
Frank Willis, transport-adviseur van de CPA, vergeleek de situatie van eind 2003 met het Wilde Westen. Hij stelde onderstaand kiekje ter beschikking, waar hij samen met twee collega's poseert voor 2 miljoen dollar die aan Custer Battles (Transforming Risk Into Opportunity) werd uitgekeerd voor de beveiliging van burgervluchten op Baghdad International Airport, die nooit plaats zouden vinden. "Bring a bag" zei Willis nog tegen Mike Battles. Meer smeuïgs over Custer Battles is te vinden in de verklaring van Willis.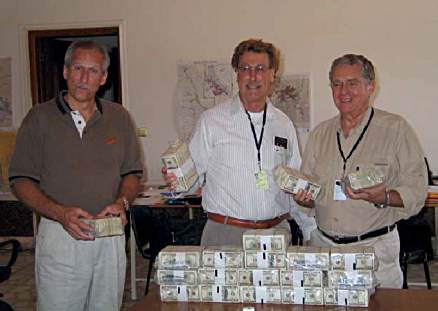 De New York Times publiceerde daags na de installatie van de Iraakse interim-regering een zure column waarin de krasse prestatie van de CPA door het slijk werd gehaald met de beschuldiging van vriendjespolitiek. Terecht werpt Simone Ledeen die kritiek van zich in de hierboven geciteerde reactie op de site waar de columns van haar vader schitteren. Hier is natuurlijk geen sprake van nepotisme, maar van de gebruikelijke lafheid en incompetentie.
Of hebben we hier te maken met een vorm van creatieve destructie?
Naschrift:
Men loopt op het internet kans om vader en dochter in het wild tegen te komen. De redactie heet beiden van harte welkom.
Notice
: Undefined variable: name in
/home/tj/var/www/alt-f4.org/comments.php
on line
3
Notice
: Undefined variable: email in
/home/tj/var/www/alt-f4.org/comments.php
on line
4
Notice
: Undefined variable: url in
/home/tj/var/www/alt-f4.org/comments.php
on line
5
Notice
: Undefined variable: com2 in
/home/tj/var/www/alt-f4.org/comments.php
on line
6