21 Miljoen Negers
19 september 07:05, 2005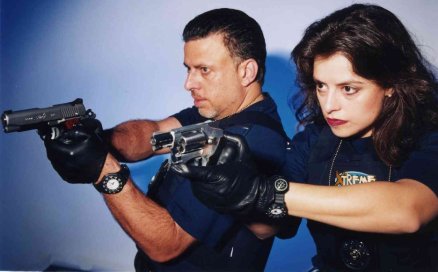 Na de overstromingen in New Orleans is het FEMA binnen de Verenigde Staten flink onder vuur gekomen. De kritiek was flink, dat zelfs George W. niet in staat was om 'Brownie', zijn politieke vriendje, te beschermen. Ook zei Bush, in een ongewone bui : "To the extent that the federal government didn't fully do its job right, I take responsibility.". Een verslag van wat er te N.O. aan rampen niet werd bestreden beschreef alt-f4 reeds twee weken geleden. Het FEMA (Federal Emergency Management Agency) is echter ook om andere redenen bekend. Opgericht in 1979 door president Carter, was de opzet om de federale rampenbestrijding samen te voegen in één organisatie. Deze organisatie had geen ander doel dan het bestrijden van (de gevolgen van) rampen. Dit verhaal begint echter op een heel andere tijd en plaats in de Washingtoniaanse bureaucratie.
Operation Garden plot

In 1967 richt president Johnson de National Advisory Commission on Civil Disorders (de 'Kerner Commission') op, in reactie op de grootscheepse (rassen)rellen in Amerikaanse steden in die tijd. Deze comissie brengt een rapport uit met onder meer de volgende aanbeveling:
The Army should investigate the possibility of utilizing psychological techniques to ventilate hostility and lessen tension in riot control, and incorporate feasible techniques in training the Army and National Guard units.
De Army Task Force, onderdeel van de commissie, begint in 1968 meteen met het plannen en organiseren van
Planning Packets
oftwel
contingency plans
voor elke stad in het land waar kans bestond op onlusten van minderheden, studenten of vakbonden. Daarvoor transformeert zij zichzelf tot
Directorate of Civil Disturbance Planning and Operations
. De vuurdoop komt al snel: na de moord op Martin Luther King worden de rellen in 19 steden bestreden met 21.000 legertroepen achter de hand, aangestuurd vanuit een centrum alwaar een gloednieuwe computer gevoed wordt met alle incidenten in het land. Mid 1968 heet het Directoraat inmiddels wat algemener
Directorate of Military Support
, runt het een 24 uur per dag bemande
domestic war room
en raakt men op het Departement van Justitie bezorgd over het feit dat het Directoraat veel meer geld en middelen heeft om op te treden. Het Directoraat heeft er
zin in
.
In 1971 brengt de Senate Comittee on Constitutional Rights o.l.v. Sam Ervin een rapport waarin wordt bevonden:
Military Intelligence had established an intricate surveillance system covering hundreds of thousands of American citizens. Committee staff members had seen a master plan - Garden Plot , that gave an eagle eye view of the Army-National Guard-police strategy.
Operation Garden Plot
breidt zijn domein uit naar alle vormen van grootschalig protest, en oefent veelvuldig met teams bestaande uit mensen van het leger, de politie, en geheime diensten. Aan deze
war games
wordt in die tijd enthousiast meegedaan vanuit de staat Californië.
Operation Cable Splicer

In mei 1968 wordt door het Directoraat een symposium/workshop gehouden op het gebied van onlustbestrijding. Dit gebeurt in Californë op de lokatie van de San Luis Obispo Academy, opleidingsintituut van de National Guard. Enkele honderden mensen van leger en politie zijn aanwezig. Deze workshop is genaamd: 'Operation Cable Splicer'. Dit smaakt naar meer, en wordt in februari 1969 opgevolgd door 'Operation Cable Splicer II', alwaar op verschillende lokaties in de staat oefeningen gehouden worden door dezelfde doelgroep. Op 10 februari opent, voor een zaal vol generaals, mensen van de verschillende agencies en politiefunctionarissen uit het hele land, gouverneur Ronald Reagan de bijbehorende conferentie:
You know, there are people in the state who, if they could see this gathering right now and my presence here, would decide that their worst fears and convictions had been realized: I was planning a military takeover.
De maand erna worden de oefeningen en
war games
in de staat uitgevoerd op iedere niveau van de lokale (staats-)regering. Reagans grap lijkt niet ver van de waarheid. Andere uitspraken op deze conferentie:
[..] if the Constitution prevents the police from gathering political intelligence then, the Constitution goes too far.
Chief Deputy Attorney General Charles O'Brien

[..] free speech, civil rights, rights to assembly have all become clichés [..] Dissidents go beyond ... honest dissent, honest and proper use of the right of free speech.
Deputy Attorney General Buck Compton
Denkelijk dat Compton onder het maximaal toegestane 'honest dissent' de gang naar de stembus verstaat, en dat hij iedere vergoeilijking van antistaatsactiviteiten ontoelaatbaar vindt.
Een van de resulterende aanbevelingen van de conferentie is om een nieuwe opleiding op te richten, alwaar doorlopende traingen worden gevene voor politie, National Guard en leger, met als geformuleerd doel:
a nucleus of officers (both law enforcement and military) at every level of government who were conversant with the doctrine, tactics, of each other.
Het
California Specialized Training Institute
wordt in 1971 geopend. Gouverneur Reagan kiest zijn oude vrindje "General" Louis O. Giuffrida als de leiding van deze school. Uit de financieringsstromen wordt echter duidelijk dat de federale regering ook het belang deze opleiding inziet. De school is uitvinder van het fenomeen 'stadsmariniers', oftewel: SWAT-teams. Een eerste staaltje van kunnen wordt getoond bij de (live op TV verslagen) vernietiging in 1973 van de Symbionese Liberation Army, de kidnappers van Patty Hearst. In de daarop volgende jaren zal Giuffrida tesamen met State Attorney General Edwin Meese Ronald Reagan van advies blijven dienen op het gebied van openbare veiligheid, ook al zijn er weinig tot geen openbare onlusten (meer) om zulk een alertheid te noodzaken.
Continuity of Government

In 1981 wordt Ronald Reagan president. Binnen een maand benoemt hij Giuffrida tot chef van de FEMA. Giuffrida, ook wel omschreven als een 'security obsessed person', ziet (net als Reagan) het zwaartepunt van de rampenbestrijding uiteraard op een heel ander gebied dan wat oorpronkelijk de bedoeling van de FEMA was. De cultuur verandert radicaal: op het hoofdkwartier van de FEMA komen banieren te hangen: 'SECURITY IS EVERY BODY'S BUSINESS'. Het telefoonsysteem wordt vervangen door een 100% afgeluisterd systeem, en een bijbehorend memo aan stafmedewerkers adviseert: 'Calling to say you will be home late could result in a fine or separation from the job'.
FEMA doet onderzoek naar onderwerpen als: de veiligheid van kerncentrales tegen milieuactivisten (zeker als die met terroristen gaan samenspannen), het verdoven van activisten in tijden van onrust, microgolfkanonnen ter bestrijding van rellen, etcetera. Het is niet verwonderlijk dat de liaison officer naar de National Security Council, ene Oliver North, graag aan deze plannetjes meedoet. (Zijn betrokkenheid bij het FEMA-plan om in geval van nood de Bill of Rights buiten werking te stellen is nooit helmaal duidelijk geworden.) Ook wordt bijvoorbeeld onderzocht hoe de FEMA binnenlandse paramilitaire commando's kan opzetten en bewapenen.
Een andere obsesssie van de nieuwe FEMA was ook het 'Continuity of Goverment'-plan (COG), waarin in tijden van (nuclaire-) oorlog, de complete Federale regering vervangen kon worden door een schaduwregering, samengesteld uit onbekende (veiligheids-) functionarissen, die vanuit een netwerk van ondergrondse facilities de macht naadloos zouden kunnen overnemen. De ondergondse lokatie van Mount Weather zou hierin een centrale rol vervullen.
In 1984 worden deze plannen geoefend in een grootscheeps oefenprogramma: 'Readiness Exercises '84' (REX-84). In een van de oefeningen, Operation Night Train, wordt op een escalatie van de oorlog in Nicaragua geoefend, en dan met name de actie om de plots binnenvallende 400.000 illegalen van over de grens met Mexico binnen 6 uur op te pakken en in militaire kampen vast te zetten. Een vreemde premisse, die plotse 400.000 illegale Mexicanen, als de grens tussen de VS en Mexico in die tijd ook al potdicht zat. Zouden die Mexicanen niet een codewoord kunnen zijn voor Amerikanen?
Zo schrijft John Brinkerhoff, ondergeschikte op het gebied van national preparedness programs op 30 januari 1982 een memo:
The scenario outlined in the Brinkerhoff memo resembled somewhat a paper Guiffrida had written in 1970 at the Army War College in Carlyle, Pa., in which he advocated martial law in case of a national uprising by black militants. The paper also advocated the roundup and transfer to "assembly centers or relocation camps" of at least 21 million "American Negroes."
Het Amerikaanse leger laat zich ook niet onbetuigd, en zo wordt in United States Army Field Manual 19-15 'Civil Disturbances' uit 1985 voor de commandant in het veld de doctrine als volgt uitgewerkt:
The president can employ armed federal troops to suppress insurrection, domestic violence, unlawful assemblies, and conspiracy if such acts deprive the people of their constitutional rights and a state's civil authorities cannot or will not provide adequate protection
De beschikbare hulpmiddelen worden gespecificeerd:
... the M234, which is a nondeadly force measure, to the machine gun, which is the most deadly force measure
Massa-arrestaties behoren uiteraard ook tot de mogelijkheden:
[..] authorities must be prepared to detain large numbers of people [..] detention facilities. [..] if there are more detainees than civil detention facilities can handle, civil authorities may ask the control forces to set up and operate temporary facilities. [..] The temporary facilities are set up on the nearest military installation or on suitable property under federal control [..] supervised and controlled by MP officers and NCOs trained and experienced in Army correctional operations. Guards and support personnel under direct supervision and control of MP officers and NCOs need not be trained or experienced in Army correctional operations. But they must be specifically instructed and closely supervised in the proper use of force [..]
In 1985 wordt Giuffrida gewipt, mede door toedoen van de CIA en de FBI. De FEMA wordt op een zijspoor gezet.
Het vervolg

President Clinton pakt de draad met de FEMA weer op in 1992, en de organisatie gaat onder leiding van James Lee Witt weer terug naar de oorspronkelijke doelstellingen. De inhoudelijkheid keert terug, en de oorspronkelijke taakgerichtheid staat weer op de eerste plaats. Dit duurt tot 2001. Na 9/11 wordt het Department of Homeland Security opgericht, en wordt o.a. ook de FEMA van zijn zelfstandgheid beroofd. Kenmerkend voor Bush' stijl van regeren is het gebruiken van allerlei overheidsinstanties als smeermiddel voor zijn politieke vriendjes. De resultaten daarvan zijn in dit bestek het beste te karakteriseren met twee linkjes naar (pers-)artikelen van vorige week:
Alt-F4.
Continuity of, ja van wat?

Na 1985 is de denkwijze over COG, operation Garden Plot en resulterende crowd control technieken natuurlijk niet verdwenen. Zij is eerder verspreid geraakt, en onderdeel geworden van het normale curriculum van bijvoorbeeld politie, de National Guard of het leger. De Patriot Act, met het bijbehorende Department of Homeland Security, heeft het mogelijk gemaakt dat de oude coördinatie weer terug is gekomen, zonder concurrentie van CIA of FBI deze keer. Hoe dat werkt als er een natuurramp uitbreekt is aardig te zien aan deze getuigenis van Dumas Carter, 1 van de 6 agenten die achterbleef bij het New Orleans Convention Center:
We did this in front of 20,000 detainees. I call them detainees because the city sent them to a place where they could be detained, and that's all that happened, they were inconvenienced and detained. [..] We handed him over to the feds--who, by the way, are very good at making ID cards, and have really pretty uniforms.
NOPD officer describes the days after Katrina
Blijft de vraag:
Lafheid & incompetentie als politieke keuze?
. Moelijk om antwoord te geven. De plannen voor het uitroepen van een staat van beleg in de VS waren zeker aanwezig, en terdege voorbereid. Echter is de basis van deze doctrine met enige moeite ook te zien als een vorm van incompetentie? Of de transformatie van een gebrek aan realiteitszin in beleid? De gebeurtenissen rondom de ramp in New Orleans maakt duidelijk dat er geen vastomlijnde agenda was. Er is naast de geconstateerde
lafheid
en
incompetentie
echter ook gedrag van de overheidsdiensten waarvan de oorsprong terug te voeren valt op elementen van de doctrine: het aanzien van de (hoofdzakelijk zwarte) bevolking als
bedreiging van de openbare orde
.
Leeslijst:
Andere referenties:
Notice
: Undefined variable: name in
/home/tj/var/www/alt-f4.org/comments.php
on line
3
Notice
: Undefined variable: email in
/home/tj/var/www/alt-f4.org/comments.php
on line
4
Notice
: Undefined variable: url in
/home/tj/var/www/alt-f4.org/comments.php
on line
5
Notice
: Undefined variable: com2 in
/home/tj/var/www/alt-f4.org/comments.php
on line
6